allergies
« Previous Entries
Thursday, September 13th, 2012
As I type this post, I need to remind myself to take deep breaths. Things will be ok. The storm will end and there has to be some sort of rainbow coming. Of course, at the same time, my inner Eeyore does not believe it. I want to sit here and scream. Wednesday has not been a good day. I sent the little kid off to kindergarten in tears again. Once home, I did some work and then called to get blood test results from the ENT for him. Those were a-ok, but the radiologist does not agree with the doctor on his assessment of the x-ray.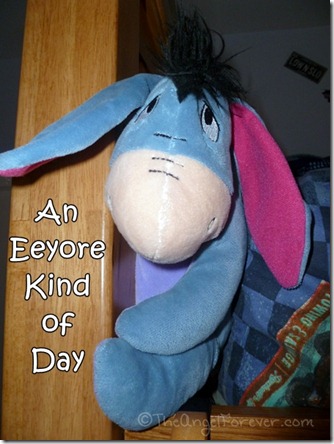 I held it together as I waited to hear back about scheduling a follow-up appointment with the ENT. Knowing that surgery for my son may be needed. Then, JSL's teacher wanted to talk to me. Apparently, they wanted to do further speech testing. JSL had just "graduated" from speech therapy in June after two intensive and amazing years. My sweet little guy is so nervous with all of the changes that he isn't confident in his speech. All of the hard work has him talking slow and fragmented, which messes up the articulation. Of course, being stuffed up and having a hard time breathing will also make you do those things.
Then, it was a mad dash to get NHL and shuttle him to Hebrew School. Traffic was horrible, but we just got there before class started. Then things happened that blew my mind. I do not have words for what I witnessed. Thank goodness I went with NHL to the classroom and he did not go alone. We left and now wait to see what will happen. Memories of my Hebrew School experiences came flashing back. I will NOT allow this to happen to my child.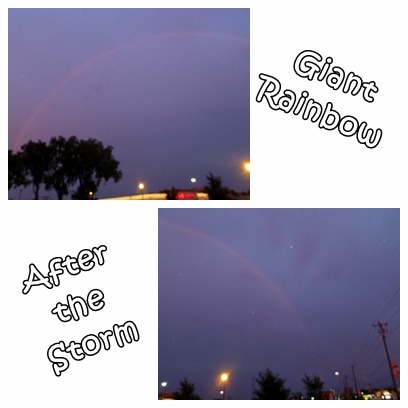 There is more that I want to write about, but that will come later. So much to share that may help others, but first I need to make sure we are set with the news and developments that happened over the last few months. For now, I will remind myself that I am blessed with my family, support system, and must just keep swimming.
How do you remind yourself to keep going and look for the rainbow?

Saturday, September 8th, 2012
Dear JSL,
Thursday morning, you and I went to a new ENT. Our mission was to see if he can help us to figure out why some things are going on with your nose and voice. The waiting room was really kid friendly, I know you and I were both impressed.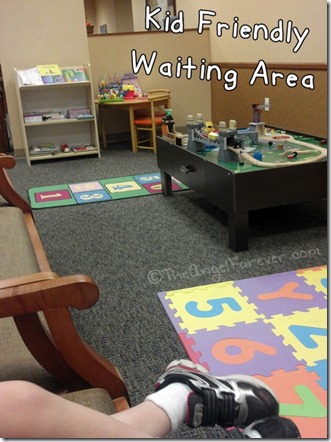 When you were called back, we went into the Mickey Mouse room. It was bright, cheerful, and had lots of your favorites all over the walls. In addition to this, they had a television with Disney Junior on. You were content. The doctor came in and talked with us and decided he wanted you to go for an x-ray. There was an imaging place downstairs. He said if we did it quickly, we could bring the CD back upstairs and have him read it immediately.
Thanks to a chest x-ray at the cardiologist, you are a pro at getting x-rays done. The technician handed us the CD and we went back up to wait to see the doctor again. This time we were put into another room with Winnie the Pooh and friend. You were getting a little bored at this point and wanted to go to kindergarten, but you did well.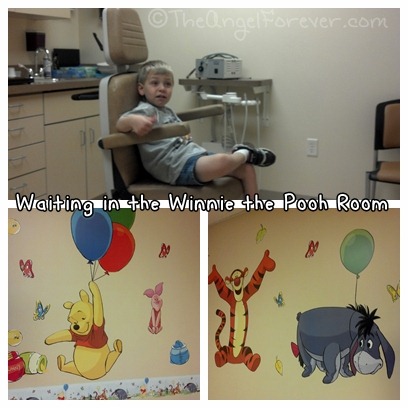 Your x-rays did not show anything, so we believe that an allergy is still to blame. The doctor told me he wanted to do some blood tests to check more items. When I picked you up from school, we went to one of the local hospitals. After over an hour, they realized they did not do the test there. At this point, you had been crying and had no idea why we were waiting so long in a strange room. Good thing it never was done. While you were at school on Friday, I found out the script was not right and more items should have been on it.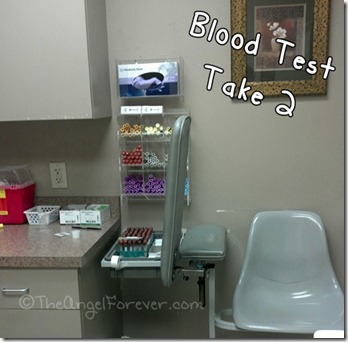 After school Friday, we took NHL to Nana and Papa and we went to LabCorp. I made an appointment online and noted it was for a child. When we got called and went back to the room, you started to cry. The technician was fantastic. She talked to you and we made a deal to close your eyes until she had the needle in and was getting the blood. Sure enough, she got one of your veins on the first try. On Monday, I am going to call to find out her name to say thank you again. When we left, she handed you a row of stickers almost as tall as you are and we went to the store to pick out a present. After the fiasco with the lab on Thursday, Daddy and I wanted to get you a little something special.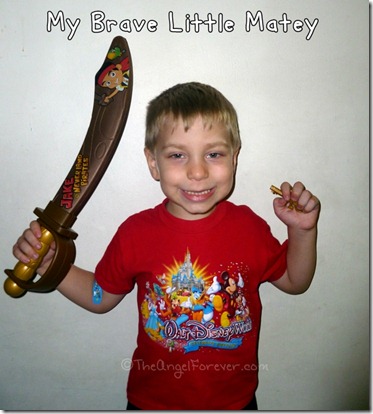 Now here's to hoping we get some answers and have a much more quiet week of getting used to kindergarten. Thank you for being such a brave little boy and doing so well.
Love,

Monday, September 19th, 2011
This weekend, we went to visit my brother and his family. My niece, SG, turned four on Saturday, so it was time for a birthday celebration. When we arrived, her cake was sitting on the dining room table. Check this out and guess the theme: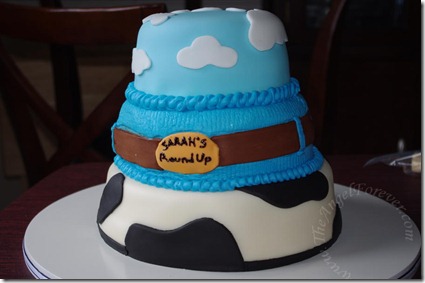 This gorgeous cake was made by a co-worker of my sister-in-law. Here is her business card in case you happen to live out in western NY.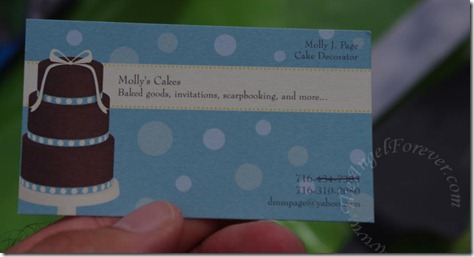 Not only are Molly's Cakes delicious, her work is gorgeous. She also worked around a slight complication for my niece. SG is highly allergic to eggs. As you can probably guess, this can make baked goods complicated. We make cupcakes with no-egg substitute in them for birthdays to allow her to enjoy what everyone else is eating. Molly made SG's top layer of the cake with no egg. It was a pumpkin cake. The bottom two layers had chocolate and vanilla with egg. Oh and the fondant was a new kind that she was testing. While I did not try any, others raved about it.
Did you guess the theme of the party? Here's a little more decorations to help you out: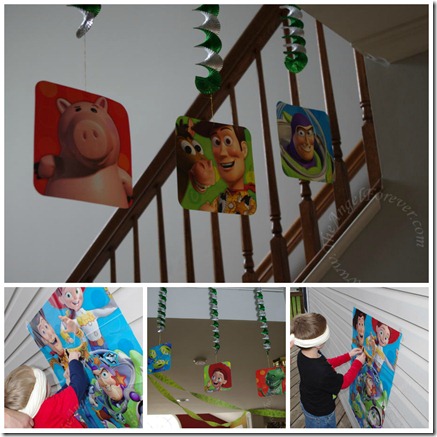 Here is  a photo of the cake with the cute little toppers added right before  everyone enjoyed the cake: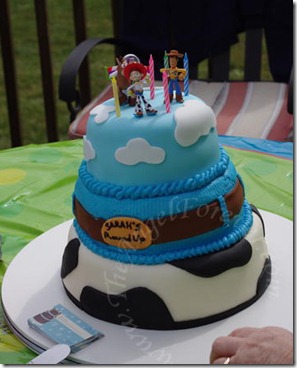 The birthday girl seemed very happy with her layer. Check her out with her cloud cake layer.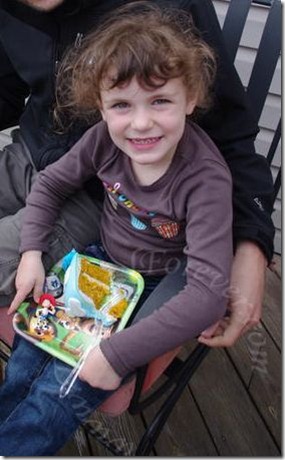 Of course, seeing SG's cake made me realize how much I would still love to take a Wilton Cake Decorating class. They are given at several of the local craft stores. One of these days, I may. I think I am ready to explore with fondant, but then again – I really love my piping fun with cupcakes.

Sunday, June 27th, 2010
Nothing like spending the night of your 9th anniversary on the road with your kids (please note the extreme sarcasm here). That is exactly what we were doing Thursday evening on our way to a long weekend with my in-laws. Not that I have anything against my in-laws, but the road from here to there is a bit nerve wracking to say the least. You see, travel from here to there requires driving through roads that border the Bronx and other parts of New York City, and going over two large bridges. By the time we arrived at the Long Island Expressway, I was curled up in a fetal position with my eyes closed and sprouting new gray hairs by the minute. My biggest mistake of the trip was opening my eyes at one point when TechyDad yelled out "Holy Cow!" Let's just say that NYC drivers are rather daring to say the least. Luckily, we arrived safely and got the kids into bed.
Friday morning, we all headed out to the Atlantis Aquarium. We had been there before when NHL was three (JSL's age) and so much had changed. The boys had a lot of fun exploring things, but both really loved the sea lion show.
Those were a few of the pictures that I took with my camera. TechyDad took many more of the show, the kids and inside and out of the aquarium. No doubt he will be sharing them and the video of the sea lion doing her dance coming soon.
We had a very nice visit with my in-laws. I did not enjoy myself as much as I could have thanks to my asthma. Usually, I have issues there because of their dog. Lacey has passed away and I actually went there having lung issues. After my sinus infection came and went at my cousin's wedding, my asthma really kicked into high gear. This seems to be something that happens with any small illness since I had the flu in October. It is safe to say that my rescue inhaler has become my best friend since I realized the cough was really my airways being constricted and needed to be opened from an asthma attack. The heat and humidity outside and even inside really made it difficult to breathe and sleep.This week I am hoping to call my allergy/asthma doctor to get an appointment. Obviously, I need some help getting my lungs up to speed and maintaining them if I get a cold or something else.
On that note, I am off to rest in my nice cool room and enjoy the AC that is making it a bit easier to breathe at the moment. More photos and items to share coming soon.
Tuesday, April 20th, 2010
This spring has been wild and wacky, weather wise and beyond. So many things going on here there and everywhere. One minute, we are outside in shorts, the next, bundling up to stay warm. Of course, the cooler days allowed me to finally break out the coat that I got while attending the Disney Social Media Moms Celebration. I love this since it reminds me of all of the amazing people that I met and the good times at Disney World. It will be actually be sad to put it away until the fall. Here I am enjoying a cooler day outside. Please excuse the frizzy, wind blown hair.
When you look around outside, the flowers are coming up and trees are showing their glorious spring colors. This one was taken outside of NHL's school. Not the best picture, but like the rest, taken on the fly with my cell phone.
Like the insects, my kiddos are confused. One day they are able to play outside in the sun without a jacket, the next it is rainy or windy and time to stay inside. JSL is definitely antsy. At almost three years old, he begs to spend time outside. Once the laundry was done today, I took my allergy medicine and we played before going to pick up big brother. We bought some new chairs and I sat and did this while soaking up some much needed vitamin D:
I was able to finish another knitted cloth all while watch this:
Days like this make me thankful for the time at home with my boys and the simple things in life.
« Previous Entries