baking
« Previous Entries
Monday, May 20th, 2013
Making cupcakes is easy to do and I adore decorating them. My problem over the years has always been in doing all of the preparations at home and then transporting the finished cupcakes in one piece to the destination of choice. In the past, I would I often bake the cupcakes at home and then take them to finish off the frosting and such in the location they were going to be displayed in.
This all ended last year when I finally took the advice of a friend and bought a cupcake courier that would transport 36 fully decorated sweet treats on the go. The first time I used it was to transport my son's Kermit the Frog cupcakes to his family birthday party at the lake.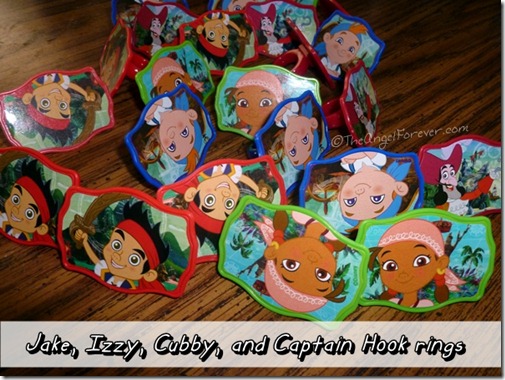 JSL's birthday was last week and he wanted me to make pirate cupcakes to bring to his kindergarten classmates. We picked out some Jake and the Never Land Pirate rings to put on top for each of the kids. To make sure I had enough for all of the children, teachers, and other staff members that we may see,  36 would need to make the trek to school. I made the cupcakes the day before and allowed them to cool. I stored them right in the cupcake courier and moved the trays around as I was ready to decorate each dozen. It made for an easy system where I could pipe frosting, add sprinkles, and place a Jake and the Never Land Pirates ring on top.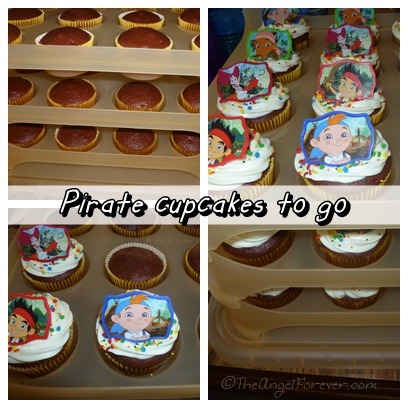 A short time later, I was able to grab the entire container and place them into the car. I made it to school with minimal cupcake damage (some frosting that was piped slid off a few).  The best part was seeing JSL's face and watching him gobble up the treat with his friends.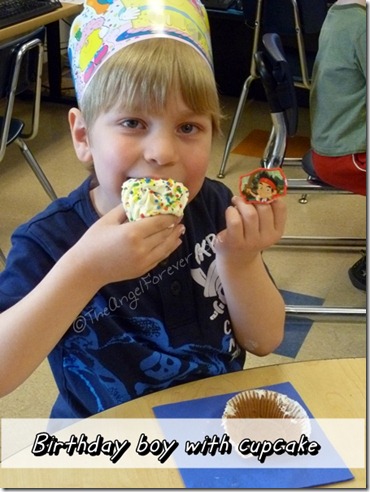 I now know that the courier purchase last year was one of the best investments ever. I do not have to worry about making cupcakes and taking them places. I can bake, make them, and go.

Monday, September 24th, 2012
Each year, I ask the boys to think about the kind of cake and theme that they want for their birthday. Every year, I hold my breath waiting and wondering what they will select. Last year, NHL wanted lions and it was a challenge, but we made it happen. This year, he is really into Harry Potter and the Muppets. I was not too sure where this would go. At first, I was going to attempt sorting hat cupcakes, but as time crunched for the family party on Labor Day, my patience dissolved. Thank goodness NHL agreed that he liked the Kermit the Frog cupcakes that I found online. The original that I saw was posted on Simply Being Mommy.
NHL agreed that he liked them. Before we settled on anythingm I wanted to purchase items to make the crucial Kermit eyeballs. They were the focal point of these cupcakes. To do this, I ordered black edible markers and we bought some Mentos. The black marker worked beautifully on the Mentos, but there was a catch. The kids did NOT like the strong mint flavor. I reached out to my Facebook and Twitter friends for ideas on other possibilities. In the end, I finally let go of my type A personality and settled for cute, functional, and something the kids would like.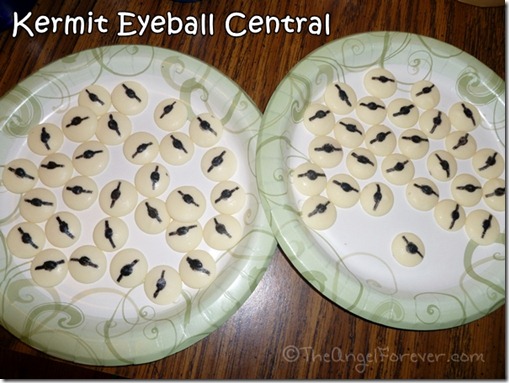 Yes, I settled on white chocolate melting wafers. They were not perfect because the texture was not as smooth as the Mentos, but they worked. I had to go quickly because it was a warm day and the marker did not dry on the rough surface of the chocolate. Once they were done, they were placed inside the refrigerator to chill while I baked some cupcakes. The band-aids shown below were simply inspiration and were not used since baking went smoothly.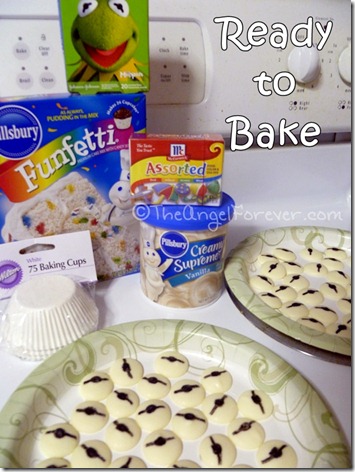 Cupcake baking went according to plan. Once they were all cooled, the cupcakes were placed into the amazing Cupcake Courier
that I finally bought (will write more about that another day). Getting the frosting really green took patience. If I made these again, I may check out a gel based food coloring to get a stronger green color.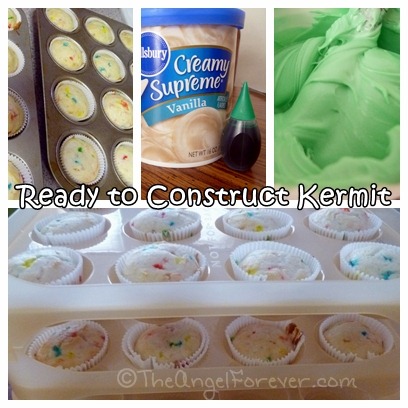 I found that it was easiest to frost and decorate the cupcakes while they were sitting on the shelves of the courier. Trying to place them back in after they were finished was not the easiest. Here is how they looked as I was working and finishing up.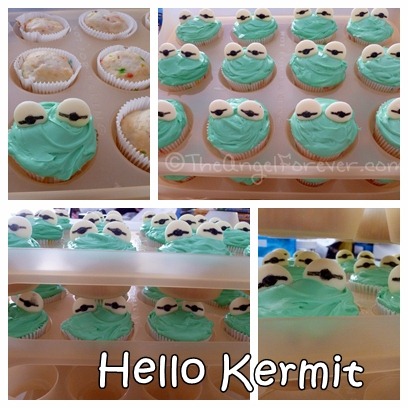 The best part was that transporting the cupcakes was easy. I put the entire courier into the refrigerator for the night before, then pulled it out, and we were ready to head to the lake. The cupcakes made it all the way there and it was easy to pull out the trays to display for everyone to select the Kermit that they wanted.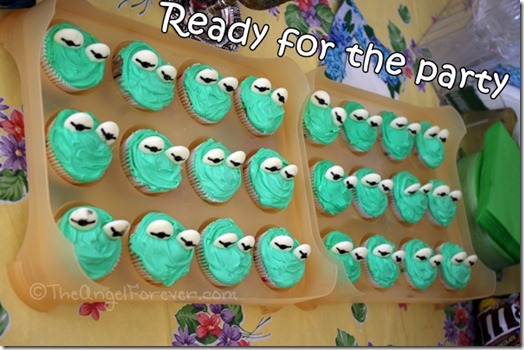 Now, I brace myself to see what cupcake creation the boys ask for next, or what I may try now that I have my new courier, corer, and other goodies. If you have any suggestions, I would love to know.

Tuesday, April 10th, 2012
It's no secret, we like cupcakes in our house. There are several cupcake specialty bakeries in our area and we feel that it is our duty to check them all out. Just doing a cupcake search on my blog will give you a lot of items to look at on the topic. I also like to make cupcakes as part of birthday celebrations for the boys, including the most recent Lion Cupcakes.
When I heard that Sourcebooks had a new series out that worked around cupcakes, I was excited to receive an advanced copy of the book that just came out last week.
About The Cupcake Club: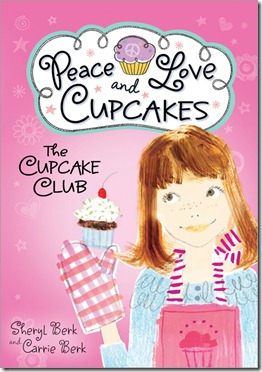 Meet Kylie Carson.

She's a fourth grader with a big problem. How will she make friends at her new school? Should she tell her classmates she loves monster movies? Forget it. Play the part of a turnip in the school play? Disaster! Then Kylie comes up with a delicious idea: What if she starts a cupcake club?

Soon Kylie's club is spinning out tasty treats with the help of her fellow bakers and new friends. But when Meredith tries to sabotage the girls' big cupcake party, will it be the end of the Cupcake Club?
The Cupcake Club: Peace, Love, and Cupcakes
– Written by Sheryl Berk and Carrie Berk – Sourcebooks Jabberwocky – On sale April 2012 – ISBN 9781402264498 – Paperback 208 pages – Ages 9+ – $6.99
What I Thought:
The cover of this book made me drop what I was reading to start reading. I was especially intrigued since I knew that it was written by a mother and daughter team. What I don't think I really realized (too distracted with Passover preparations) was a bit more about the pair. Carrie Berk is the 9 year old author that wrote The Cupcake Club with her mother Sheryl Berk. Sheryl Berk is a New York Times bestselling co-author of Soul Surfer (on my to read list since my students always had my copy out). Carrie is a seasoned cupcake reviewer. She has traveled all over the world and written about the cupcakes on her website called Carrie's Cupcakes Critique. Carrie is also on Pinterest, Facebook, and Twitter (all found on her website).
As soon as I started reading the story, I became attached to Kylie Carson. This four grader is still struggling to be accepted in her new school. She likes different things than most of her peers and struggles with keeping troubles to herself. What troubles? Well, Kylie is the victim of a bully and her name is Meredith. Meredith gets great joy in the world when she humiliates Kylie in any way. Kylie is afraid that if she tells an adult what is going on that it will only get worse.
Thankfully, when Juliette, the drama teacher steps in to mentor Kylie her world quickly changes. Juliette tells her about the way she was picked on as a child and how she took up baking to help. This is when The Cupcake Club was born. We follow along on the adventure to recruit three more members and watch how they befriend each other.
Will Kylie stand up to the bully? Read the first book in this new series to find out!
I really enjoyed The Cupcake Club. It read quickly and brought up some great discussion topics like bullying, building self esteem, not giving up, making friends, forgiving, and more. My only small criticism of the book is that I have a hard time visualizing fourth graders taking on so much. As the mother of an almost fourth grader, I think the kids should have been a bit older to be doing so much on their own. Once you read the book and learn about the success of their business, you will understand. Even with this little item, I still thoroughly enjoyed the book. I also love that at the end of the book Carrie and Sheryl include the recipes that they talk about within the story. They sound delicious and will have to be tested after Passover.
I know I look forward to reading more adventures of Peace, Love, and Cupcakes. Now, I am going to share a fun video of Carrie making some fun cupcakes.
What have you read recently? Please be sure to link up to your book posts in the comments below. Include something you read on your own, with a child, or someone else. Tuesday Tales are all about spreading the love for books.
BTW – A giveaway for this book will be coming soon on The Angel Forever thanks to Sourcebook, so stay tuned!

Disclosure: I received this book complimentary of Sourcebooks in order to facilitate this review. No other compensation was given. The opinions expressed in the review are my own. An Amazon Affiliate link is included in this post for the book mentioned. I will receive a percentage of money for the sale should you opt to buy the book through that link.
Sunday, February 12th, 2012
Tuesday is Valentine's Day and families all over will be getting ready to send there children things into school for celebrations. One of my boys will be doing this on Tuesday, while the other will have to wait until kindergarten. NHL's class is having a little gathering where they will exchange Valentine cards and have some snacks.
I knew we would not have enough time to make any of the really cool Valentines that I have seen on Pinterest – like the ones from Zakka Life below.
It would have been great to make them, but the reality check is not enough time to get the items needed and to construct them. Thanks to this, I went to the store and bought some that I knew NHL would love. I do believe that Agent P would approve as well.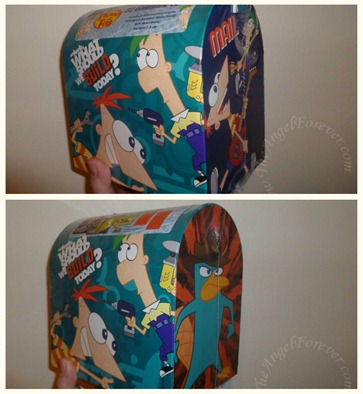 So this weekend, NHL will sign them and get them ready. Then we will try to figure out what snack to make to bring into his class. I have a feeling I may try one of the cool items that I pinned in my <3 Day Items board on Pinterest.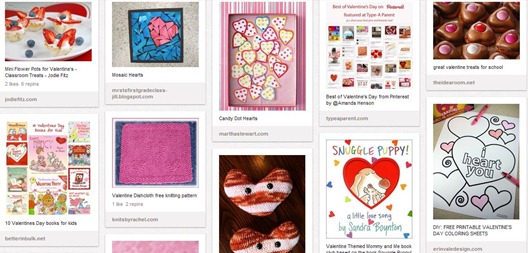 There are just so many great things to be found on Pinterest. If you want to see what I have pinned in mine, just click on my board below and it will take to there now.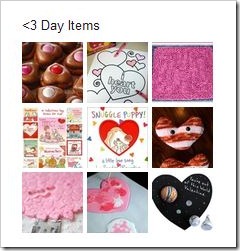 So what are your plans for Valentine cards, crafts, and/or baked goods for Tuesday? Please share below!

Monday, January 2nd, 2012
It is hard to believe that 2012 is here. Once again, the year went by with a lot of fun, photos, and memories. Here are just some of the highlights from the year that was 2011.
January:
Mother Nature started her tricks with a lot of snow that came our way. We had fun making memories with the sled in our own yard.
I started writing Education posts at The Disney Driven Life and introduced it to everyone. Thank you to J.L. for the amazing opportunity. I look forward to getting back on track in 2012.
NHL lost three more teeth during the first three months of the year. Much relief as they came out without dental assistance.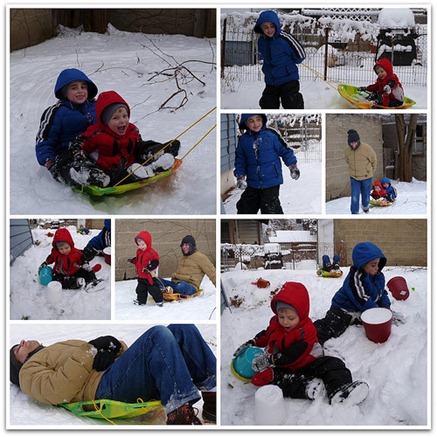 February 2011:
The Snowpacalypse welcomed the month of February threatening 18-30 inches of snow. It left lots of the white stuff and tons of ice damage. Our neighbors probably had a laugh with knee-highs on our roof.
With all of the freezing cold, even the little guy was trying to ride Tony Pony to Disney World to escape. Of course, we were gearing up for Disney Social Media Moms Celebration 2011 in March.
We continued to take the boys to introduce them to hockey. They had a blast checking out all of the extras between the on ice action.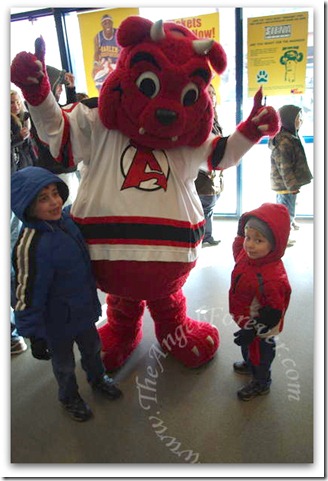 March 2011:
Mother Nature teased us with warmth to melt snow mountains early in the month, only to knock us down with an ice storm to remember. Crackling trees and ice pelting the house is hard to listen to in the dark.
A magical trip to Walt Disney World for the Disney Social Media Moms Celebration allowed me to see amazing friends, learn, and have fun with my family. Lots of items from that trip were shared throughout the months ahead.
Of course, the reality world hit hard once we got back from our magical adventure. Tough decisions were ahead and left my head spinning. All of this made me remember the wise words of Rene Syler – The Good Enough Mother.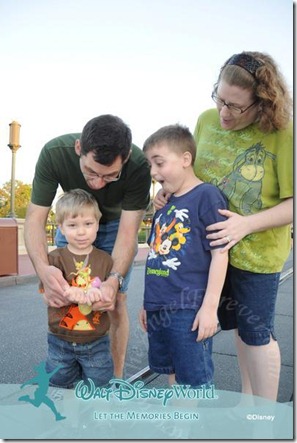 April 2011:
Passover preparations were dominant this month. Making lists, shopping, and getting the house ready. Of course, we also captured memories of the holiday itself.
Lots of moments where I wished I was not the adult who had to make decision. Thank goodness, JSL helped to keep me smiling along the way.
A routine visit to the dentist for NHL revealed the need to see an orthodontist. We made the appointment for several months later in June, but knew the missing adult tooth was going to be something to contend with.
May 2011:
Even moms need field trips. Yes, the weekend before Mother's Day, Cutestkidever and I jumped into the car for a lunch date with Rene Syler.
JSL's 4th birthday and new love for Jake and the Never Land Pirates required working on a theme for his party. Supplies were bought and cupcakes were made.
The sun coming back also provided an opportunity to test out our new grill, plant some veggies, and attempt to regrow our front lawn.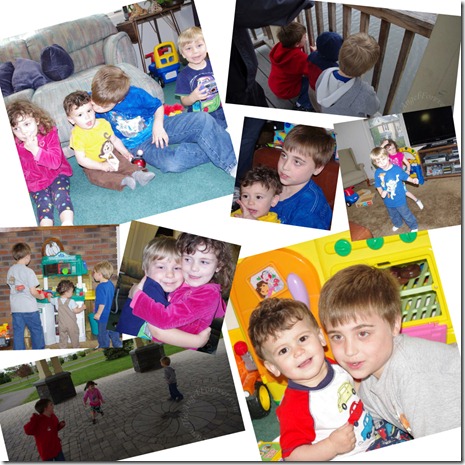 June 2011:
After taking NHL out of a school he had been in since kindergarten, TechyDad and I watched as our second grader started to flourish in a new school. Once again, we started to believe in the education system. This entire drama made it SO hard to bite my tongue and keep a lot of things to myself.
Father's Day we spent a fun day together. We had lunch out, went mini-golfing, and had dinner with Nana and Papa. It reminded me of how special these moments together are.
The end of June marked a major milestone for TechyDad and me. We celebrated out 10th wedding anniversary. Memories of our special day, honeymoon at Walt Disney World, and everything over the ten years together came flooding back. Of course, the day of our actual anniversary was a house nightmare. A plumbing fix resulted in us moving out for several days.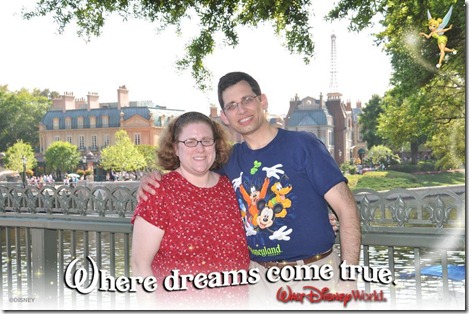 July 2011:
The month started with a visit out to see my brother and his family for 4th of July. While there, we went cherry picking and beat our previous record. A day at Niagara Falls was also included in the fun adventures.
Both of the boys were home with me for the entire summer. We looked for fun activities to do. We often ended up at the library for learning and crafting.
We also spent a lot of time at Michaels crafting our way around the world. Yes, Michaels and Crayola teamed up to make a great passport of crafts for kids to do that were mostly free. The kids learned so much and we found some great new crafts to try later on.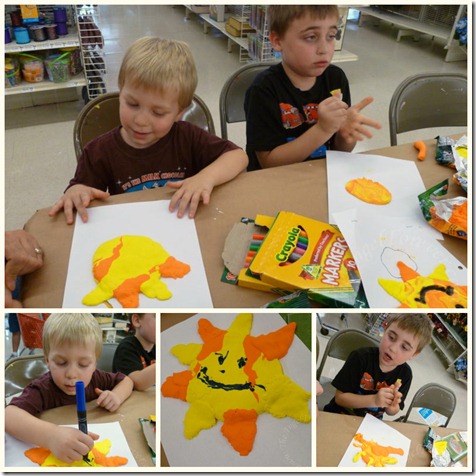 August 2011:
At the end of July, we started to think about a magical getaway to celebrate our 10th anniversary. Shortly after this, we booked a fantastic trip to relive our honeymoon at Walt Disney World. Everything was planned from the hotel, dining, and place for the kids to stay over Labor Day.
NHL turned 8 in August and requested lion cupcakes. We documented the construction process and birthday celebration.
The end of the month was heart breaking. We watched as Hurricane Irene wrecked havoc up and down the east coast. Thanks to the fear of the kids being stuck with no power and our flight getting canceled, we postponed our big trip to Disney. Being responsible adults was tough.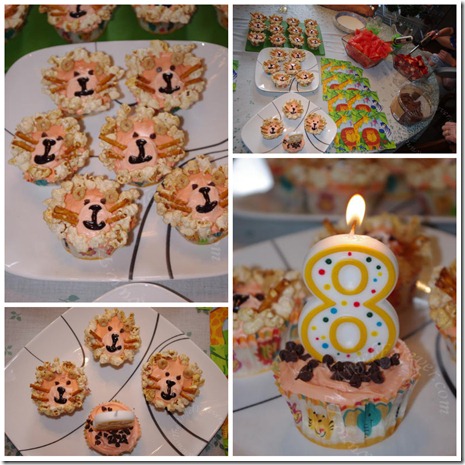 September 2011:
The boys started back to school after Labor Day. NHL loved his new school and was settling into third grade. JSL thrived at his familiar nursery school and we had lots of fun going apple picking with his class.
As a Type-A personality, I am a planner. So it was very rare for me to pack up in just a few days notice to head to New York City for the first ever SheStreams Conference. It was an amazing time seeing friends, learning, and getting away for a weekend. A huge thank you to all of those that made it a magical and empowering weekend.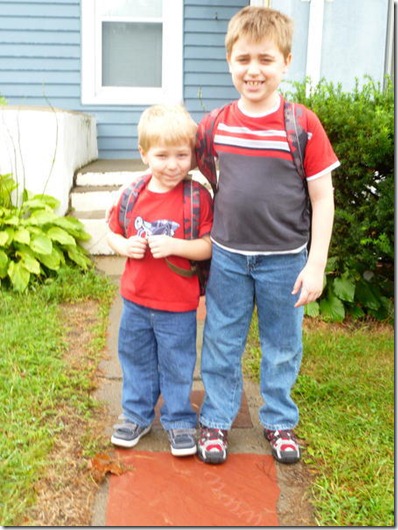 October 2011:
As a third grader, NHL started to take band in school. He picked percussion instruments and drum practice even got a Disney touch thanks to Nana and Papa.
During the month of October, two large packages arrived to host parties. The boys loved learning and playing with LeapFrog items during the Learn, Create, and Share Party. The LeapPad had been an amazing addition to our family learning electronics. HexBugs also invaded our house for some glow-in-the-dark holiday fun.
Halloween was a lot of fun thanks to everyone staying healthy. NHL was Darth Vader, JSL was Jedi Tigger, and even TechyDad dressed up. Of course, Snowtober threatened to make things more interesting just a day before heading out.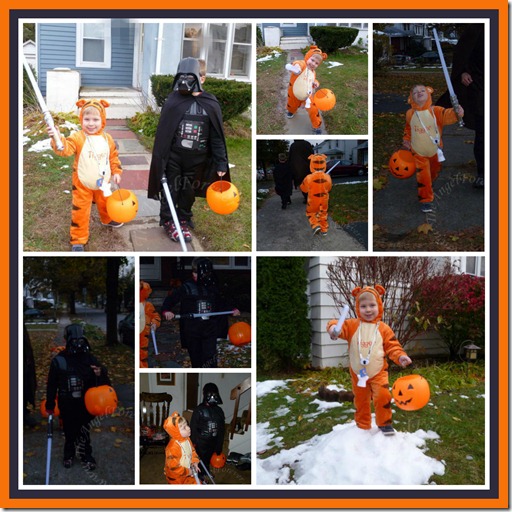 November 2011:
The start of the month meant going to a fun event for bloggers at Price Chopper, headquarters. The Price Chopper Holiday Cheer afternoon showcased endless holiday entertaining ideas. Of course, I wanted to highlight the Decadent Desserts line.
This was also the month that my entire family fell in love with Susan Egan. I had been lucky enough to see Susan at Disney Social Media Moms in March, but her new CD review was a hit in our house. My little guy even had a crush on her and certainly did care more than Nina.
The boys learned about what an aufruf is and spent a lot of time with family in November during Thanksgiving weekend.
December 2011: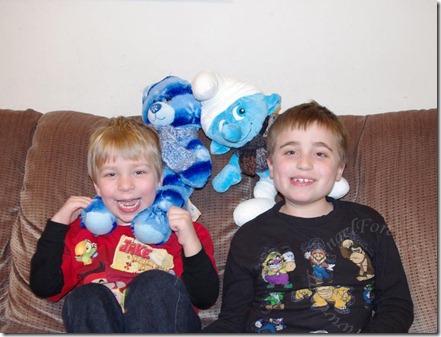 There were so many other things that made 2011 special and amazing. Thank goodness that is what archives are for. We can look back, laugh, cry, remember, and reflect.
What are some of your favorite part of the year that was 2011?

« Previous Entries