birthday
« Previous Entries
Monday, May 20th, 2013
Making cupcakes is easy to do and I adore decorating them. My problem over the years has always been in doing all of the preparations at home and then transporting the finished cupcakes in one piece to the destination of choice. In the past, I would I often bake the cupcakes at home and then take them to finish off the frosting and such in the location they were going to be displayed in.
This all ended last year when I finally took the advice of a friend and bought a cupcake courier that would transport 36 fully decorated sweet treats on the go. The first time I used it was to transport my son's Kermit the Frog cupcakes to his family birthday party at the lake.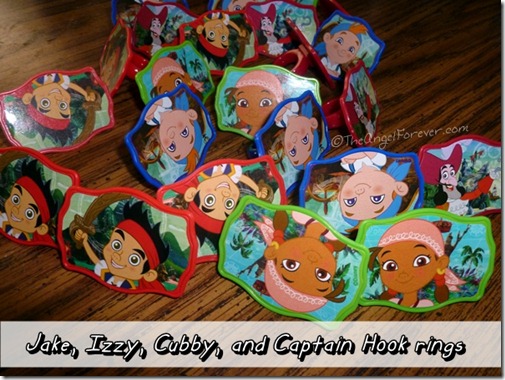 JSL's birthday was last week and he wanted me to make pirate cupcakes to bring to his kindergarten classmates. We picked out some Jake and the Never Land Pirate rings to put on top for each of the kids. To make sure I had enough for all of the children, teachers, and other staff members that we may see,  36 would need to make the trek to school. I made the cupcakes the day before and allowed them to cool. I stored them right in the cupcake courier and moved the trays around as I was ready to decorate each dozen. It made for an easy system where I could pipe frosting, add sprinkles, and place a Jake and the Never Land Pirates ring on top.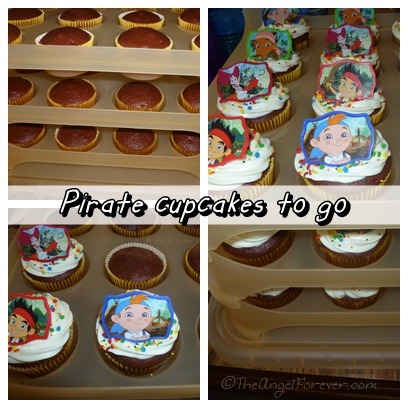 A short time later, I was able to grab the entire container and place them into the car. I made it to school with minimal cupcake damage (some frosting that was piped slid off a few).  The best part was seeing JSL's face and watching him gobble up the treat with his friends.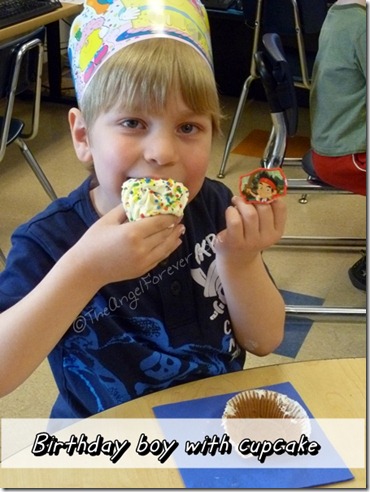 I now know that the courier purchase last year was one of the best investments ever. I do not have to worry about making cupcakes and taking them places. I can bake, make them, and go.

Tuesday, May 14th, 2013
Dear JSL,
For months now, I have been teasing you and begging you not to turn six. Of course, I knew that no matter how I wished and begged it was not really going to happen. Although I look forward to watching you grow up and become more independent, I am going to miss these moments because they are going so quickly.
My Kindergarten Kid is going to be heading into first grade soon. Not only did you learn all of your alphabet and letter sounds over the last year, you learned to read and write. Your sweet little messages makes me smile and I adore how you know just what to do or say to everyone to make them feel loved and special. Here is a look at your fifth year.
To celebrate being five, the two of us set out on an adventure last year. We started to read The Magic Tree House books. Over the months, we caught up to where the author was writing. Of course, Perry and Jake were always close by and you loved going to Nursery School. It was also the time where you learned how to ride your new scooter. (May 2012)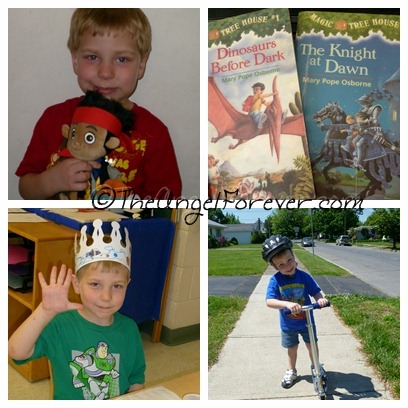 A lot of milestones happened soon after you turned five. You said goodbye to your amazing speech teacher and to everyone at nursery school. Suddenly, you were my new Kindergarten Kid. We had a few weeks together before NHL was finished with third grade. We went to craft events and had a lot of fun together. (June 2012)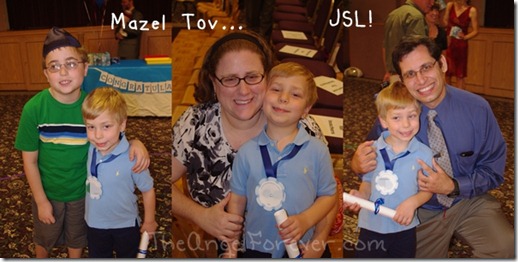 Over the summer, you, NHL, and I continued to have fun going to crafting events, checking out items at the library, and exploring other items. You quickly discovered that you really like mini-golf when we went with Nana and Papa for the 4th of July. Later in the month, you and I went out alone and made a new special friend while looking for a birthday present for NHL. (July 2012)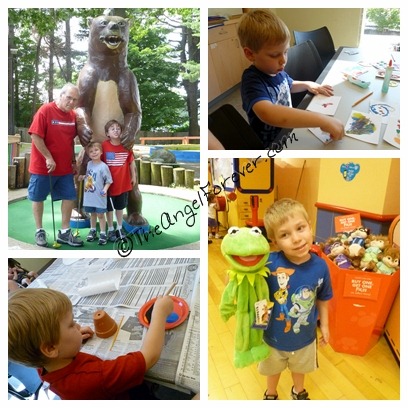 The reminder of the summer was filled with crafts, reading, going to the park, and birthdays for Daddy and NHL. We also went on a few special trips to Hoffman's and then, before we knew it, it was time for Kindergarten Orientation. (August 2012)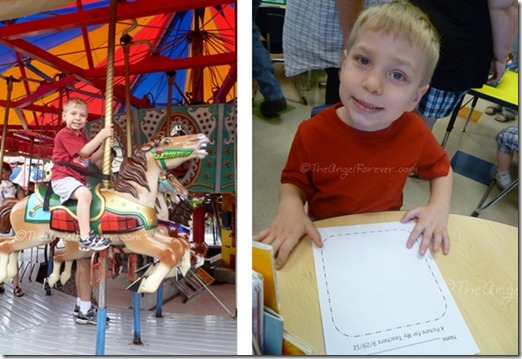 September was a tough month for both of us. Taking my baby to kindergarten was hard, but it was a big adjustment for you as well. Soon we had a new routine that we continue to this day. Each morning, we practice the Kissing Hand so we both feel better about being apart each day. You also expanded your ducky collection, got a new baby doll, and started Hebrew School that month. (September 2012)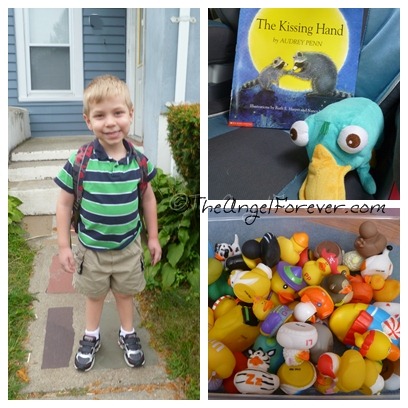 The Fall saw another hurricane threaten to come into the area. While you were home two days, we did crafts and played. We also went on your first kindergarten field trip to check out the apple orchard. No apple picking since the crops had a bad year. When the weather was nice, you played on your scooter and enjoyed looking at caterpillars. Halloween meant that Captain America saved the day for all of us with his fantastic smile. (October 2012)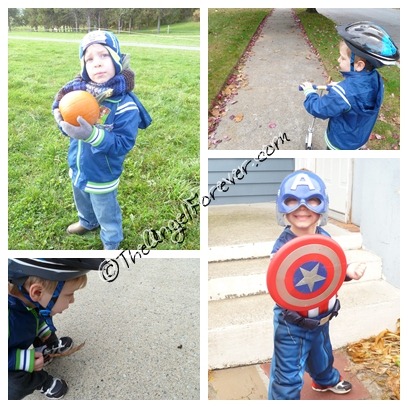 As the weather grew cooler, we worked on reading more and you started to get homework from school. Thanks to the book fair at your school, we found Pete the Cat and you fell in love with this silly singing feline. Thanksgiving weekend meant that cousins came into town and you loved seeing them and playing with some early Chanukah presents. (November 2012)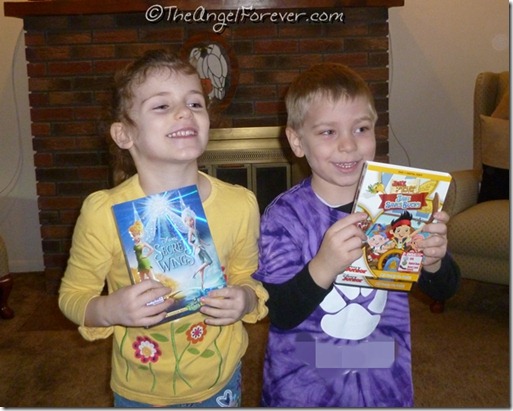 As 2012 came to a close, you were keeping busy. You finished up Art Club, became the Star of the Week, and stayed with Nana and Papa for a few days. You also fell in love with my new laminator. Together, we made Disney map projects for you to use on pirate play. Of course, you also loved lighting Chanukah candles, playing in the snow, and spending time with NHL and me during winter break. (December 2012)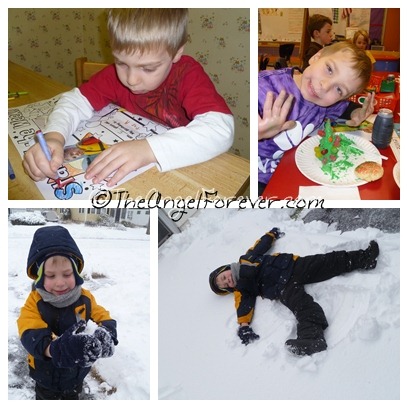 2013 started off and we spent a lot of time trying to stay warm outside of school each day waiting for NHL. At home, you loved doing homework, working on your reading, and making crafts. You spent some time helping me with reviews about iPad apps as well. While we never made a giant snowman, you loved creating one for a school project to share with your friends. (January 2013)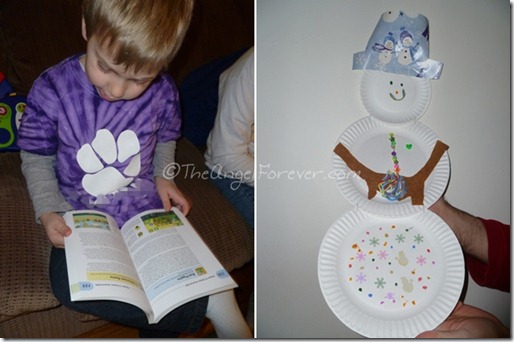 Snowstorms and power outages happened a few times over the winter. You had so much fun helping us to make forts and playing inside them. There may not have been snow outside, but you were keeping warm. You loved spending time in your fort with NHL using your LEGOs. Slime was also a big hit during winter break. You spent many hours using that over and over again. (February 2013)
After a long winter, you were ready for the spring and could not wait to get outside. You loved getting to test out your new Big Wheel and racing up and down the block. This was also the time we convinced you that you could read to all of us. It was so much fun sitting down to listen to you read us all a book. I quickly saw that my "baby" was growing up way too quickly during this time. (March 2013)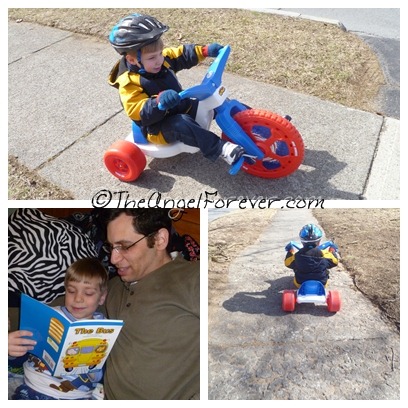 After we celebrated Passover, we spent time going out to places in our community. You adore going to the NY State Museum and had so much fun checking out all of the CANStruction items featured there. In addition to this, you loved meeting new authors and illustrators at the Book Festival. You were so proud of the book that you picked out, the drawing you made, and wearing your wizard hat. (April 2013)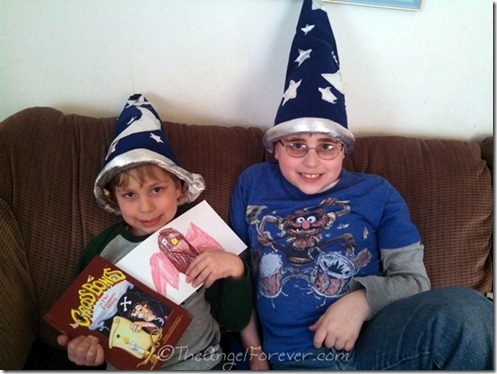 Now I look at how grown up you are and can hardly believe my eyes. In six short years, you have changed so much, but at the same time you are still the sweetest little guy who genuinely wants to help and make others happy.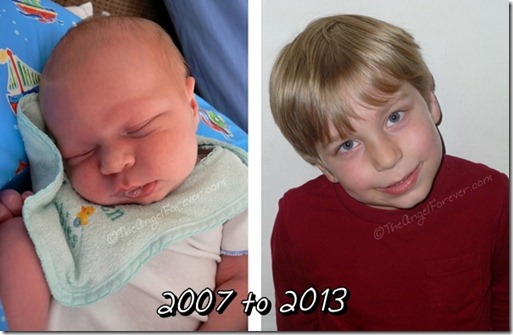 Though I have tears in my eyes as I type this, I am excited to see the little boy that you are becoming. I can not wait to see more of your personality come alive in the years ahead. Thank you, JSL, for letting me be a part of this journey with you. As much as I am sad to see you get older, I am excited.
Happy 6th birthday sweetie and here is to many more happy and wonderful memories ahead.
Love,
Mommy
Past B-day posts to JSL:
Sunday, December 9th, 2012
Today is my birthday and it is back to reality. Last night, TechyDad and I flew home from Orlando. We were at the New Fantasyland, Test Track, and Splitsville media event. We spent four magical days at Walt Disney World exploring the new items, learning about future items coming to Disney, and walking miles. We saw old friends, met new ones, and had a wonderful time as a couple wandering around the parks when we had free time.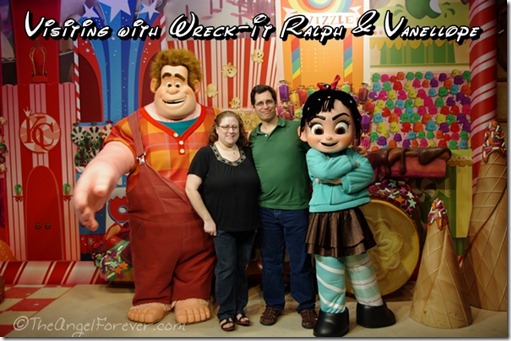 Friday evening we had reservations to celebrate my birthday dinner at Les Chef de France in Epcot. Dinner was delicious and it brought back the eight years of French that I took in school. Here is a look at my meal.
To start, I had the soupe a l'oignon gratinee. I have to say it may be the best French Onion Soup I have ever had. Next it was filet de saumon, pommes de terre ecrasees au beurre et ciboulette, sur de tomate et poivron rouge (that's Broiled salmon, Smashed potatoes with butter and chives, served on a tomato and red pepper sauce). The salmon was cooked to perfection and it was fantastic. The meal ended with TechyDad and I sharing dessert (the sorbet was beyond amazing).
Today, we will have a nice evening with the boys catching up on things from the last few days. More on the rest of our Disney adventure coming soon. So much to share about New Fantasyland and beyond.

Disclosure: TechyDad was invited to the New Fantasyland media event December 5-7. Disney paid for his travel, our park tickets, room, along with some extra surprises. I was his guest and invited to special events, but paid for my travel and an extra night at the resort.
Friday, December 7th, 2012
I have always dreamed about being at Walt Disney World for my birthday. This year, I am coming very close to this dream thanks to our trip for the New Fantasyland media event . You see, I will actually be leaving for home just hours before my birthday. Of course, this means I will be celebrating my birthday Friday evening.
TechyDad told me to pick out a restaurant to have my birthday dinner at. I really want to go to California Grill at The Contemporary Resort, but there were no reservation available. Since we want to be at Epcot and Hollywood Studios that evening, I looked at those locations, and The Boardwalk for options. In the end, I decided to try something new. When we had to cancel our Labor Day 2011 trip, one of our meals was going to be at Les Chefs de France. So yes, I will be eating at Epcot on my almost birthday in a French restaurant under the Eiffel Tower.
So my question to you this week:
If you could eat at any location and/or restaurant for your birthday, where would it be and why?

___________________________________________________________________________
Thanks to Kailani at An Island Life for starting this fun for Friday. Please be sure to head over to her blog to say hello and sign the linky there if you are participating.
Aloha #232
Monday, December 3rd, 2012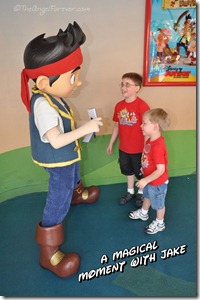 One of the beautiful things about Walt Disney World is being able to watch your children's interactions change with characters. My youngest has gone from hiding under tables at Chef Mickey in May 2009, to requesting a visit with a favorite pal to get an autograph before leaving.
In May, we were at Hollywood Studios in the morning for our last day of a family trip. JSL reminded us that we did not have Jake's autograph in our book. After going on some rides and having breakfast, we went over to the Disney Junior area to meet up with Jake. Once again, the cast members who are limited to no words and only body language impressed me. Jake noticed JSL's birthday button. The photo on the left was taken just after he pointed it out.
Then, NHL said something about what he was writing and Jake started to "joke" with him. He cracked NHL's serious side and genuinely made him laugh and smile. The kids were even more in love with Jake.
When this was over and NHL read the message to JSL, the little guy's shy smile came shining through.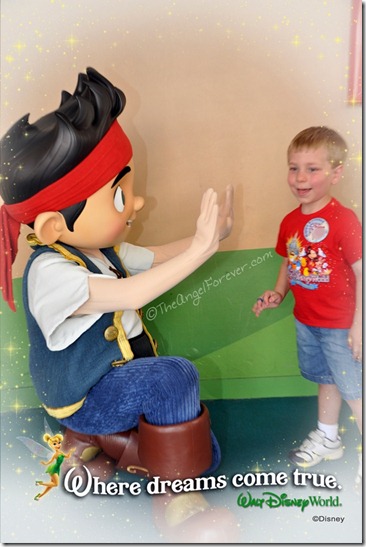 Two kids happy, smiling, and laughing. Yes, Jake had won my heart and I knew that this memory would be something that we would all remember for a long time.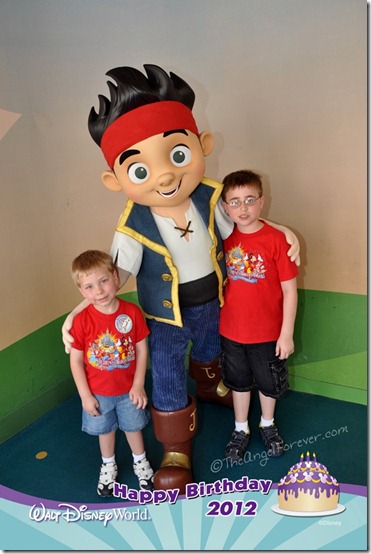 Thank you Jake and Walt Disney World for yet another magical moment that we will never forget thanks to capturing it on camera.
Do you have a priceless moment with a Disney character? I would love to know all about it.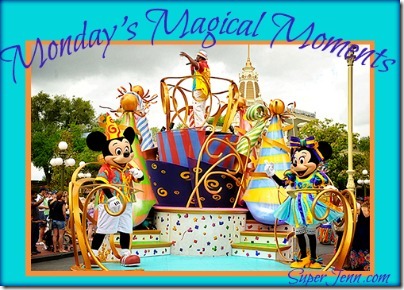 This post is part of the fun over at Super Jenn and her Monday's Magical Moments Meme. To join in the fun and link up, head on over to the linky there.

« Previous Entries