books
« Previous Entries
Tuesday, May 21st, 2013
While I love to read paper books and eBooks, there are times when I really enjoy listening to a book. Audio books have come a long way. Where you used to have to listen to books on multiple CDs, you can now get MP3 and other formats to purchase or borrow from libraries. As I have written before, check and see if your local library has a digital lending area. The Upper Hudson Library System does, as well as the New York Public Library. I often browse both collections for new reads on the go.
Over the weekend, when my son was sick, I wanted to listen to a book while he watched a movie. This allowed me to crochet and hear something. The first thing I did was to reinstall the OverDrive Media Console for Android onto my new phone.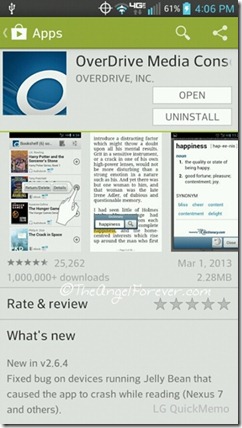 Once I had the app, I knew that I wanted to add a book. I clicked on the "Get Books" icon at the top right and proceeded to add in my accounts with the two library systems. Now, when I am on the go, I can use my 4G LTE connection or Wi-fi to download new books on my account.
From here, your experience will be slightly different depending on the library that you are visiting. On the NY Public Library landing page you can select the type of book that you would like to search. I typically do an advanced search. Here I can select MP3 audiobooks that are available to download now. I can also specify publishers, genre, and more. As you can see, simply looking for MP3 audiobooks that were available now gave me a large number of options that was a bit overwhelming.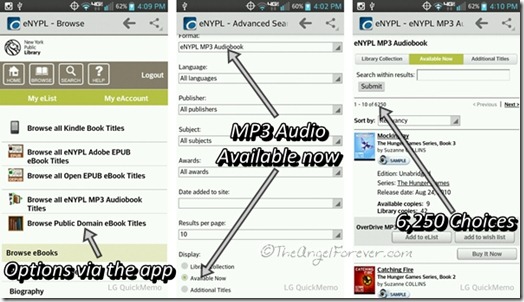 Thanks to my GoodReads list, I saw a book title that looked familiar. Sure enough they had Bitter is the New Black by Jen Lancaster. I selected the title, checked it out, and within seconds it was downloading to my phone. Once you select your book to listen to, you can see the player and navigation pages below.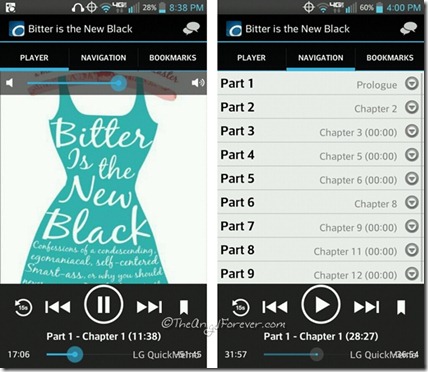 When you need to stop, you simply pause and close the app. The next time you begin and press the play button it will begin right where you left off.
Have you ever used the OverDrive Media App? I would love to know if you have any audiobook suggestions. As always, Tuesday Tales is about spreading love for books. Please share what you have read recently. Be sure to link up to your book posts in the comments below. Include something you read on your own, with a child, or someone else.

Disclosure: I used the Lucid 2 by LG phone that I received as a member of the Verizon Lifestyle Bloggers to assist me with this post. All pictures were taken via the QuickMemo™ on the phone. As a member of the Verizon Lifestyle Bloggers, I share ways that I use my cell phone to make life easier. There is no other compensation. I am a long time Verizon customer, and all opinions are my own.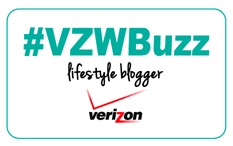 Tuesday, May 7th, 2013
Disclosure: I received some books by Mo Willems to review and help celebrate Pigeon's 10th birthday courtesy of Disney Publishing Worldwide. No other compensation was received and all opinions are my own. As big fans of this author and illustrator, we were thrilled to participate in this big day for Pigeon and Mr. Willems.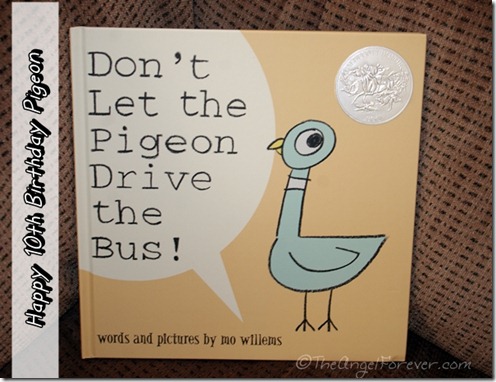 Over the years, I have read a lot of books with children while babysitting, in college, in my own classroom, and with my own two boys. There are times when you may think you have read a book, but then you realize you missed something big. Enter Mo Willems' famous Pigeon into my world. It isn't that I am unfamiliar with author and illustrator Willems. I mean, check out my youngest son's latest collection that he is reading to me.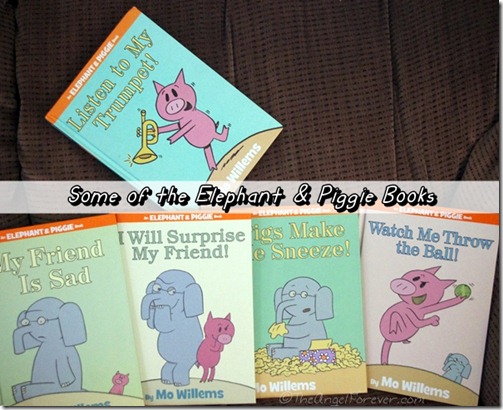 My kids adore Elephant & Piggie books along with Willems' classic Knuffle Bunny. That's what I am not sure how I managed to miss reading Don't Let the Pigeon Drive the Bus! The other day a package arrived from Disney Publishing to celebrate Pigeon turning 10.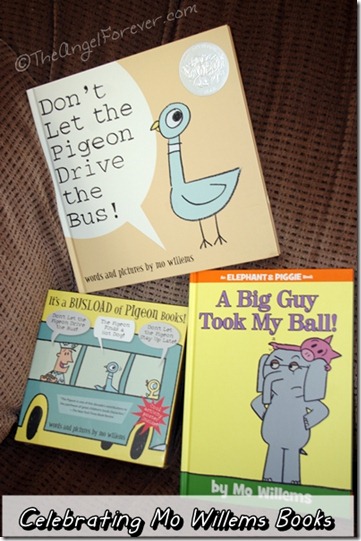 I am not joking when I say the kids were beyond excited about the box of Mo Willems books. The kids immediately snagged the books and wanted to read them together. First, JSL read to NHL A Big Guy Took My Ball! (An Elephant & Piggy Book coming out May 21).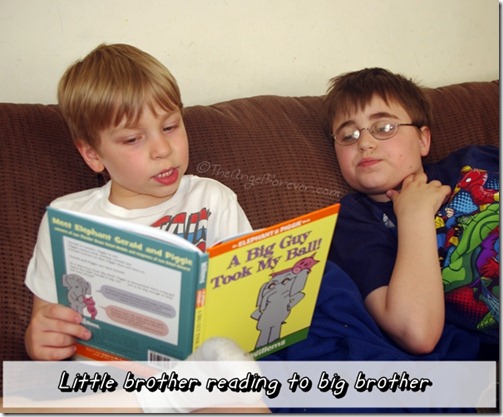 A Big Guy Took My Ball! (Elephant and Piggie Book)
(Affiliate link to Amazon) – ISBN 1423174917 – Written and Illustrated by Mo Willems – Disney-Hyperion – May 2013 – 48 page hardcover book $8.99 – Ages 6-8
After this, I lost track of a lot of what was happening because they were so happy and we decided to make dinner. Fast forward to the next day when JSL started to ask me questions about hot dogs out of the blue. I had no idea where this was coming from. Later on, he sat down with me to read Caldecott Honor book Don't Let the Pigeon Drive the Bus!
Of course, when we were finished he begged to continue on to read the other books in the Busload of Pigeon Books collection. This small hard cover book collection includes the original Pigeon book, along with The Pigeon Finds a Hot Dog! and Don't Let the Pigeon Stay Up Late! This was clearly my ah-ha moment. Now I knew why my fussy eater was suddenly curious about hot dogs. Thanks to Mo Willems , Pigeon, and the cute little Duckling, JSL was now intrigued with hot dogs.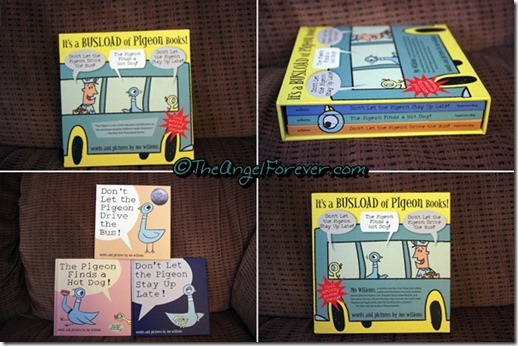 It's a Busload of Pigeon Books!
(Affiliate link to Amazon) – ISBN 1423175891 – Written and Illustrated by Mo Willems – Disney-Hyperion – April 2013 – 120 pages in 3 mini hardcover book collection $24.99 – Ages 2-6
This box set of smaller sized Pigeon books is now available to help celebrate this famous bird's 10th Birthday. This set, along with other Mo Willems books and items make fantastic baby shower gifts, and birthday presents for young children.
In addition to this, Don't Pigeonhole Me!: Two Decades of the Mo Willems Sketchbook
(Affiliate link to Amazon) will be coming out June 18. This book for adults will feature 20 years of sketches and ideas from Mr. Willems. The foreword of the book is written by another world famous children's book author and illustrator, Eric Carle. I know I cannot wait to read this book to learn more about Mo Willems and how his concepts go from notebook sketches to print.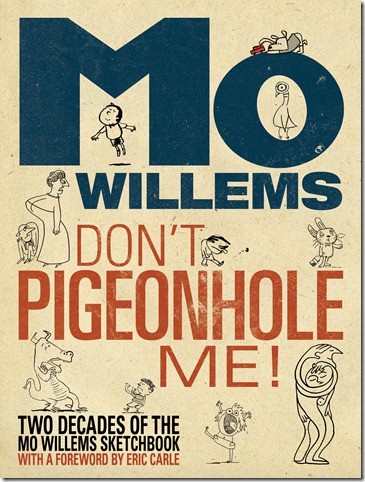 Please join me in wishing Pigeon a very happy 10th Birthday. Now, I would love to know what your favorite Mo Willems book and why. As always, Tuesday Tales is about spreading love for books. Please share what you have read recently. Be sure to link up to your book posts in the comments below. Include something you read on your own, with a child, or someone else.

Additional Disclosures: Three Amazon Affiliate links are included in this post for the books mentioned (they are noted above). I will receive a percentage of money for the sale should you opt to purchase it through that link.
Monday, May 6th, 2013
Going to The Albany Children's Book Festival was an experience our entire family enjoyed. As I have mentioned in two previous posts (Part 1 and Part 2), meeting some of the talented authors and illustrators was wonderful. In addition to that, the kids were excited to read books that were new to them and add to our summer reading list.
What I really appreciated about this festival was being able to see the local authors. Often times, the kids and I forget that we have some wonderful authors and illustrators within the Capital District area. One example of this is author and illustrator Matthew McElligott. I was introduced to Mr. McElligott by my oldest son after he went to NHL's school and spoke with the children. I was so curious, I immediately went out and read Benjamin Franklinstein Lives! and adored it. I am hoping to read this and the other books in the series with the boys, plus I know JSL will like the picture books by McElligott as well.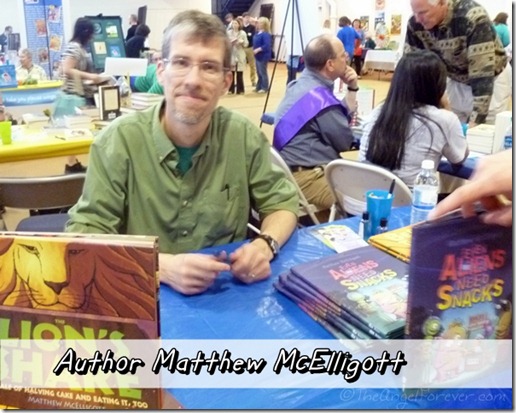 Of course, then there is the moment that you recognize someone and feel so very naïve. That moment was when we wandered over to the table with author and illustrator Daniel J. Mahoney. Mr. Mahoney looked VERY familiar. Of course, it was NHL that realized why. NHL knows his son and I had absolutely no idea about his books none. Ooops! Now that we are on radar, JSL and I are looking forward to Monstergarten which is coming out in July. No doubt we will also look at some of the other books he has written and illustrated.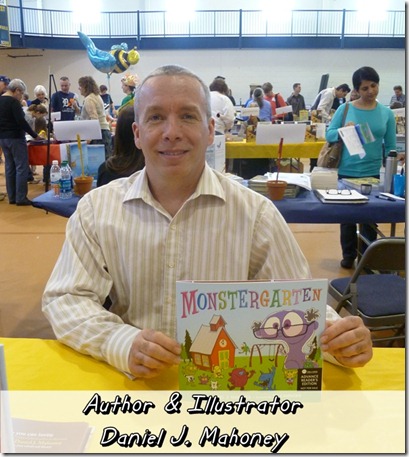 The kids had a lot of fun talking with author and illustrator Jef Czekaj when they brought their passports over. He even drew a cute little cartoon critter next to his name. I reminded the boys that we had read at least one of his books over the summer. Yes, I recall the kids reading Oink-A-Doodle-Moo multiple times and laughing and enjoying it a lot. I know we will be looking at more of Mr. Czekaj's books this summer.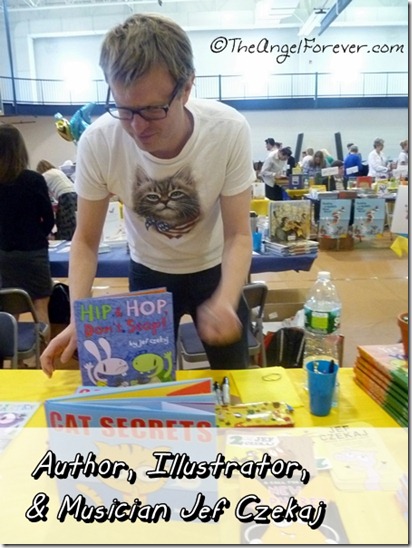 After this, the kids spotted a table set up to make some monster drawings. Local teacher, author, and artist Ira Marcks. Mr. Marcks actually had a station set up for kids to create their own Monster drawings. He talked with the boys as they were making their colored pencil creations. He also shared some of his camps and other local events that we will be investigating for the summer. His book Witch Knots is a graphic novel that really highlights his work.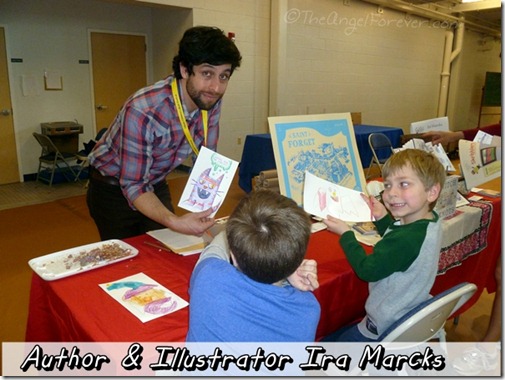 After two monsters were drawn, we took the boys to get their prize for getting a lot of autographs in their booklets. Then it was time to select books so we could purchase them and go home. As I wrote in Part 2, NHL immediately knew what book he wanted to get. JSL, had some troubles selecting a book. We must have gone back to several tables over and over again. Thanks to this, we now have more books to add to the summer reading and several birthday present ideas for the kindergarten kiddo. In the end, my little Matey fell for author and illustrator Victor Ramon Mojica's book Captain Cross Bones in the Treasure Hunt. I think Mr. Mojica sold the book by interacting with JSL and giving him a cool autographed poster of Captain Cross Bones. I also know we will be checking out Barbara Mojica's Little Miss History book because they also looked like something the boys would adore.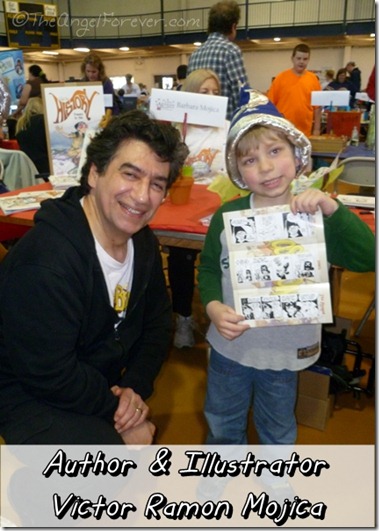 Check out my little Wizards after we got home and were looking at our books and other items from some local vendors and libraries. You can see they love their new hats and were ready to dive into their new books.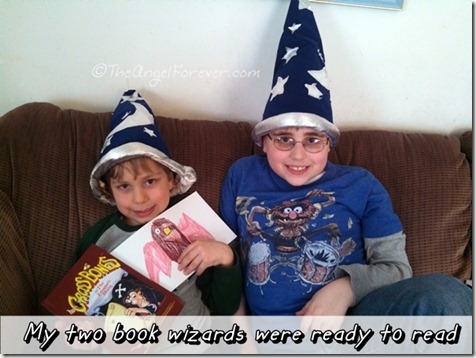 If you hear about a children's book festival coming to your area, I urge you to make the time to take your kids. This experience was beyond anything I could have imagined. It helped my boys to come out of their shell, gain confidence, and ignite their desire to read even more new and wonderful books.

Tuesday, April 30th, 2013
In part one of my posts about The Albany Children's Book Festival, I wrote about some of the first authors and illustrators that we were able to meet and talk with. By this time, the boys were running ahead to check things out. While I was still chatting with Jennifer Berne and Diane deGroat, they continued on along the row of tables. When I caught up with them, they were over with author and illustrator Jeff Mack. I immediately recognized his illustrations from Bunnicula and was thrilled to see that the series now has a Ready-To-Read options for younger readers. In  addition to this, Mr. Mack is the author/illustrator of the Hippo and Rabbit books for Beginning Readers (getting these for JSL's birthday), Clueless McGee chapter books, and many other picture books. The kids loved that he signed their books with a cute little illustration.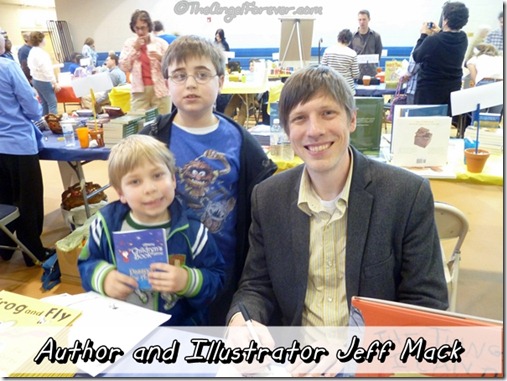 While I was chatting with someone I know from Albany Kids Out and About, the boys kept moving ahead. When I arrived, JSL and NHL were mesmerized with a private storytelling for just the two of them at a table. The book was Pig Kahuna and it was written and illustrated by Jennifer Sattler (on the left below). She was not the one that was reading the book to the boys, that was author and co-owner of the The Flying Pig Bookstore Elizabeth Bluemle (on the right below).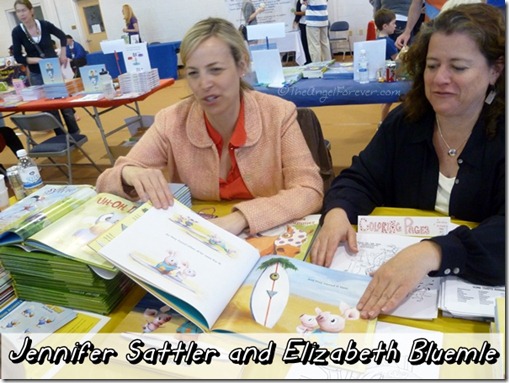 My heart melted watching the faces on my kids, so I took a photo to share.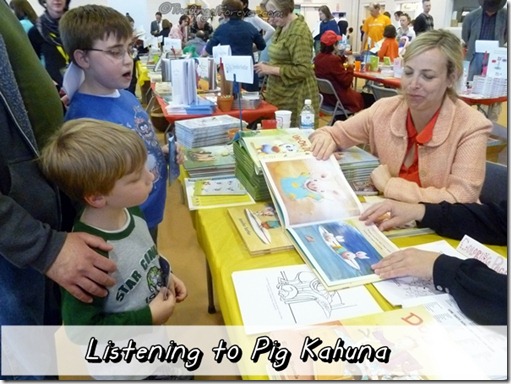 These two women were amazing, they spent quite some time with NHL and JSL. You could tell that they get children and love to interact with them. In addition to Pig Kahuna, Ms. Sattler has also written and illustrated quite a variety of other picture books that are now going onto our summer reading list and the kids can't wait to see Pig Kahuna Pirates! coming in Spring 2014. Ms. Bluemle has written several books for kids including How Do You Wokka-Wokka? which are also going onto our must reads this summer. From here, we walked to the end of the row of tables and met author Julie Berry. At first, the boys were getting a little antsy from being in the room for a while. Then something clicked with NHL. As Ms. Berry talked with us about her Splurch Academy for Disruptive Boys series he perked up. He liked that the books also included illustrations, drawn by Ms. Berry's sister Sally Faye Gardner. When it came time to select a book to purchase, he wanted to go back to get the first from this series.
We started reading this book together and I think we are both hooked. NHL has already asked us to order the next three books. This is huge for a reluctant reader who is not typically into fiction books (my Aspie loves reading about math, science, and history). I love that this even helped us to find new books that he wants to read. The next part of this series will introduce you to some very talented authors and illustrators that are from the Capital Region. I must say we have a lot of amazing people creating children's books in our area. Oh and I will also share how JSL finally selected the book he wanted to purchase at the event (it was not an easy task). Oh and if you are curious about the books we read, more will be featured on upcoming Tuesday Tales so stay tuned.

Monday, April 29th, 2013
Books are a big part of our lives. As a teacher, I started a huge collection and now our boys have added a lot more to the mix. When we saw that we would be in town for The Albany Children's Book Festival on April 27, 2013, we knew that we would have to go.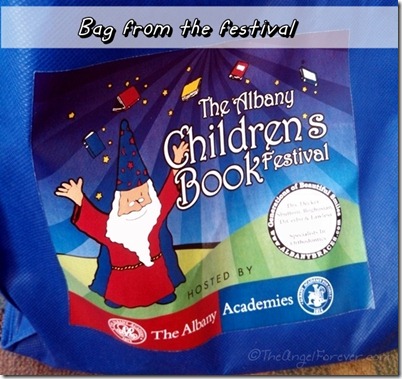 When we first walked into the main room, the boys were not entirely sure which way we should go. Each of them had been given a little passport like book to collect autographs of authors and illustrators. If they did this, they could show it to get a special wizard hat later on. Looking back, I wish I had taken more photos and been able to chat with the authors and illustrators more because it was a fascinating experience.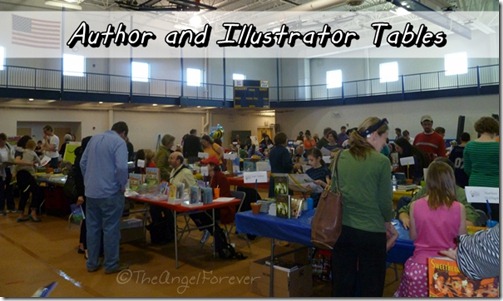 At first, the boys were a little shy and unsure of where to find the people in their different books. Soon after, they were ready to get autographs from anyone and everyone at a table and see what books were on their tables.
One of the first tables we went to was with author Amy Gordon. NHL noticed one of her books called Return to Gill Park and we learned that it is part of a series that she has written. She signed the boys' book, we took a photo, and I grabbed her card to add these books to our reading list.
Sitting next to Ms. Gordon was author Laurie Calkhoven and many of her history based books. TechyDad was very intrigued with her picture book I Grew Up to Be President. I am excited to see more historical books that NHL may not be reluctant to read. Her Boys of Wartime looks like great historical fiction books that we will add to our summer reading list.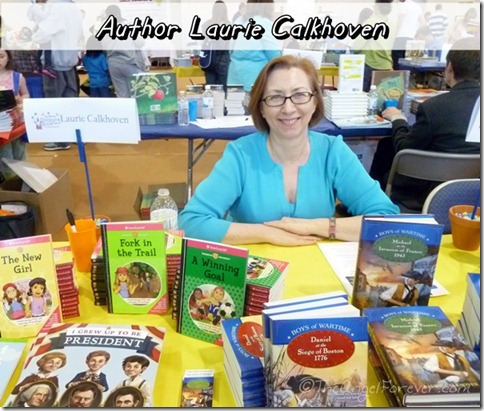 From here, we wandered around some more looking at a lot of tables and trying to take in all of the amazing books around. That is when I spied a book that I had been sent from a publisher in 2010 and was excited to meet the author. Jennifer Berne was beyond sweet and fun to chat with. When I asked her to pose for a picture, she immediately pulled over Calvin Can't Fly. Now I can't wait to read some of her other books like Manfish: A Story of Jacques Cousteau and On a Beam of Light: A Story of Albert Einstein that is coming out in May. We are also super excited to hear that Calvin will be back for a sequel.
While I was talking to Ms. Berne, she introduced me to the woman sitting next to her. At first it took me a minute and then I realized I knew her work. Yes, she is the brilliant illustrator behind the pictures in Pioneer Woman's books about Charlie. Diane deGroat was too funny talking about how Ree is more famous than she is. I explained that my son was in love with Charlie thanks to her drawings and wanted to tell his own story while looking at her illustrations in Charlie the Ranch Dog.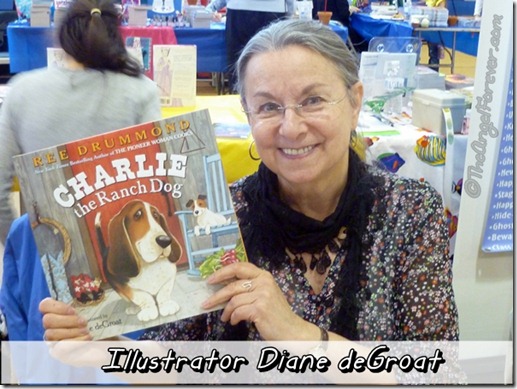 There is a lot more to share, but I am going to break this into a few posts so I can highlight the people that we were able to meet and take photos with.
I would love to know if you have met any authors and illustrators and what your experience was. This was so much fun for the boys, especially after they heard about my tour with author Ridley Pearson a year ago in Epcot.

« Previous Entries