deals
« Previous Entries
Sunday, August 26th, 2012
Over this summer, I have written about the reading program that the New York libraries were running. I love that each local branch can do things differently to encourage children to read. Thankfully, this summer I have not had to really push the boys to read. Keeping track of the books that have been read, now that is another issue in itself.
While shopping for books at Barnes & Noble, the woman helping us asked if we had taken a Summer Reading Journal for the boys to fill out. While I had heard about the program, and we had done it in the past, I forgot to do it this year. We took two of the forms home to fill out.
What is the program? Basically, Barnes & Noble encourages children to read over the summer. When they read eight books and fill out a form, they are eligible for a free book at their local store. The journal must be completed and brought into a store by September 4, 2012. Then, they may pick from a book on the list features within the journal. This weekend, we took the boys to our local store to select their books.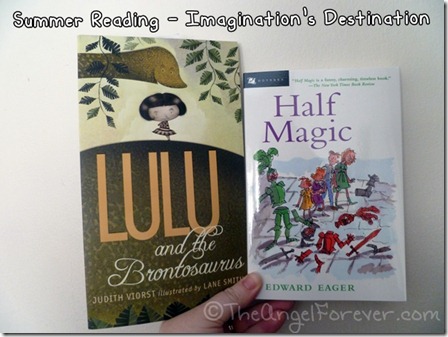 There were 18 books on the list, but not all of them were still on the section for the reading program. The boys picked out the books above. JSL likes dinosaurs and thought the new chapter book would be fun to start reading together. I can not wait to read LuLu and the Brontosaurus by Judith Viorst with him. TechyDad sold NHL on the quirk in the book Half Magic by Edward Eager.
I thought I would share this with others in case you were not aware of this. To print the reading journal at home, you can go here. The journal lists the books that may be available to select from when you get your reward. In addition to this, Barnes & Noble has an activity kit that teachers and parents may want to look at. It has some interactive sheets that look like a nice resource.
A huge thank you to Barnes & Noble for running this program. As an educator and parent, I love that you are encouraging literacy and introducing children to new books. Enjoy and happy reading with your family!
Monday, July 23rd, 2012
Raise your hand if you receive daily e-mails from Groupon. My e-mail not only has something from Groupon each and every day, it also has items from Living Social and Double Take Deals. There are probably a few others, but these three seem to have had some great local and national deals in recent weeks.
Just before Passover, I bought the boys subscriptions for the National Wildlife Federation magazines through Living Social. It was a very good deal and was the perfect Afikomen gift. The boys have been keeping up on animals with Big Backyard and Ranger Rick. The best part is they love reading and getting something special in the mail.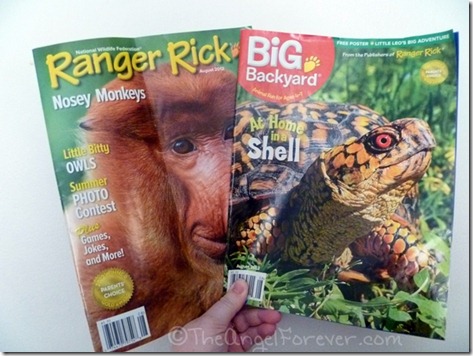 In the past, we have also bought deals for local bakeries to have an extra special treat at Fluffalicious or Sweet Temptations. For a while, nothing really caught my eye. A week or so ago, I saw a half off coupon for a local restaurant that we really enjoy. I bought two of those and we used one of them for lunch this weekend.
This weekend, I bought two other deals. TechyDad and I are hoping to go on a date night one day soon. We have never been to The Melting Pot and have always wanted to try it. Thanks to Living Social, I bought a $30 voucher to use for $15. Not too shabby for a fun and different date.
While looking for something to do with the kids, a Groupon for frozen yogurt store that is new to the area caught my eye. My parents told me that they had tried it while visiting my brother once. We bought a deal and used it for something special after shopping on Sunday. Enter Lemon Tree Frozen Yogurt into our lives.
So many options different froyo flavors and lots and lots of toppings.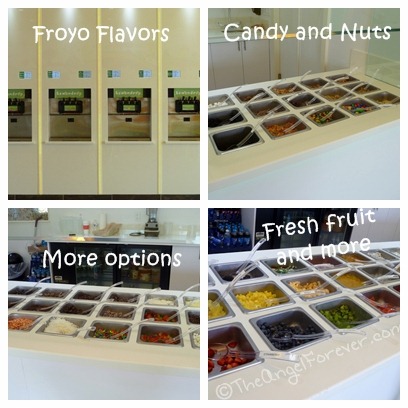 The boys had a lot of fun experimenting with items since we had the amazing Groupon deal. Check out the fun look at Lemon Tree: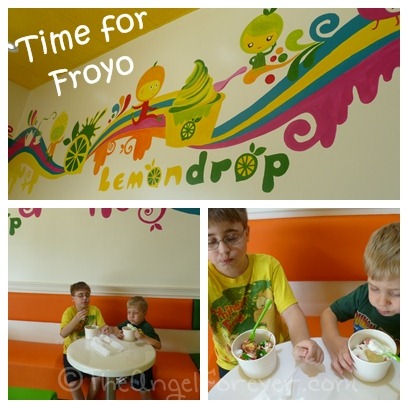 The coupon e-mail deals are a great way to try a new location for fun, food, or something else. What deals have you tried and enjoyed with one of these companies? If you know of other great deal websites, please share below.

Wednesday, March 9th, 2011
I wish we were able to go to the movies to see films when they are on the big screen. The reality is that we can not afford to do this too often given the price of a movie experience. Of course, this does not stop us from having a family movie night. We are able to make our own Whirly Pop Popcorn, curl up on the couch, and watch a rented DVD. It's all about family time. Now thanks to a Global Influence campaign (see my disclosure below), I have some fun news to share with you.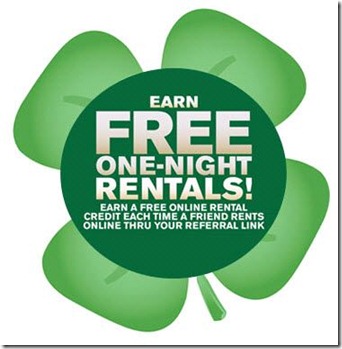 Details about the Lucky to Have Friends Like You from Redbox:

From today to St. Patrick's Day (Thursday, March 17th), Redbox is giving everyone a chance to receive as many free one night movie rentals as you can. What's the catch? Nothing more than telling your friends and family via spreading the word about the fun.
How does it work?
Sign up at www.redbox,com/luckyus
Redbox will e-mail you a unique web address for your referrals.
Each time someone reserves a movie online through your unique web address, you will get a credit for a one-night DVD rental FREE.
If your friend has never reserved a Redbox DVD online before, they will also receive a credit for a free one-night rental.
Please note that rental credits are valid for 10 days after they are deposited into your account. This means you can have quite a nice movie filled March.
So what are you waiting for? Head on over to score some free movie nights with your family and friends. Then spread the lucky news by e-mailing it, posting to Facebook, and sending Tweets to everyone you know.
Disclosure: This is a sponsored post from Global Influence and Redbox. For sharing this information, I will be receiving compensation.
Friday, November 27th, 2009
I have to admit, I do not think I have ever gotten up before the sun comes up to go to Black Friday sales. My mother never did it, so I never caught the bug. Sure, there are things that interest me, but I am not into fighting crowds of people hounding the same deal of which there are not enough to satisfy the masses. I would rather stay home, cozy and warm in the house. My hubby works today, so the boys and I will stay home and do something special together. If we venture out it will likely be to a quiet lunch location and maybe the newly library.
On Thanksgiving I did head out shopping. I pulled out the newspaper and looked at the CVS and Rite Aid ads. A few things were very interesting to me because they were free or 99 cents. NHL was up and watching the parade while JSL and TechyDad still slept. I went to CVS first. The items I bought were close to $50 on sale, once I used my ECBs (which were expired, but this store accepts them), my total was $3.50 for the tax.
I could have done a little better had my coupons not disappeared. Still this was a great deal and I still have almost $35 of ECBs to use for another CVS visit. Oh and the candy was free with ECB and needed so I would not forfeit additional ECBs that I had to use.
After this I went to Rite Aid and had my $5 coupon from Fall Spending. I almost bought NHL the $20 Guitar Hero for the Nintendo DS, but my trusted friend that works at a gaming store said it was not a good plan for a child. So it was a no go. I spent just about $20 on sale items – my coupon. Of the $14 that I spent out of pocket, $12 will be coming back in Rite Aid rebate. The cost of the Hot Wheels cars was $3, so this was a fabulous deal, even without my missing coupons.
So, I bought all of the above items for under $7 out of pocket! It was so nice and quiet in the stores Thursday without many bargain hunters. Sure, I would love some of the deals on Black Friday, but I will enjoy the day home without the crazy stores. Now to see if there are any Cyber Monday specials.
My question this week:
Will you or have you already gone out to shop this Black Friday? What are your favorite places to go to? Please feel free to share the deals that you got.
BTW – Be sure to check out three giveaways that are going on right now: Softlips Winter collection, Movie Moments Prize Pack (4 movie tickets and cereal), and Sweet Ones Prize Pack. Another one for the kids will be coming soon (hint – it will be a Crayola product).

_____________________________________________________________________________
Thanks to Kailani at An Island Life for starting this fun for Friday. Please be sure to head over to her blog to say hello and sign the MckLinky there if you are participating.
Aloha #76
Tuesday, February 10th, 2009
With the tough economic times more and more people are clipping coupons. Count me into this mix. JL and I work as a team to do this. He has been quite pleased with the amount that I have saved using coupons at places like CVS, BJ's and the grocery store.
One problem we have had is file folder that we used for the coupons. Here it is:
This was great when we first started to be serious about couponing, but we quickly outgrew it. There were not enough sections for different categories. Plus when we began buying extra Sunday papers it was filled too quickly. Here is a fresh new pile of coupons that I cut yesterday and another stack of inserts ready to be done.
Many bloggers have been talking about systems to use with coupons. Several mentioned binders and baseball card holders for the coupons. We had the binders and tabs already at home. A week or two ago we bought the card holders. This weekend we finally started the process of moving things into the binder.
I usually pull out the soon to expire or expired coupons, cut new coupons and JL organizes them into the binder. It is a great system and we hope to save even more with it. Here is what I bought on my most recent CVS trip. I was using the old coupon system. I had coupons from the Sunday paper, CVS coupons, and ECBs. I spent less than $2.50 out of pocket on everything in the photo.
Hopefully with this new coupon binder we will be able to save even more!
« Previous Entries