exercise
« Previous Entries
Monday, October 15th, 2012
As a child, I have strong memories of playing parachute games at school and during girl scouts. The parachute we used was huge. Lots of girls from our troop and others could gather around it to play games, run, jump, sing, and have a great time. Fast forward to this summer when I won a parachute from Let's Play on Selfish Mom. On Saturday, we had a party to share the Unreal Candy (more on that soon) that we had received. Since the weather was beautiful, we packed up the scooters, helmets, parachute, and some other outside toys.
The kids all had a great time playing with the parachute. I actually wish I had taken some time to research some parachute games for them to play before we arrived. Unfortunately, I forgot to do this. Thank goodness, kids have great imaginations. They were able to make things up. Once back home, I looked on Pinterest and found a bunch of games that I remember playing as a child. Kid Activities had a great variety, but Woodlands Junior School had fantastic photos of their suggestions. The kids actually managed to do some variations of two of them, and added a new superhero approach.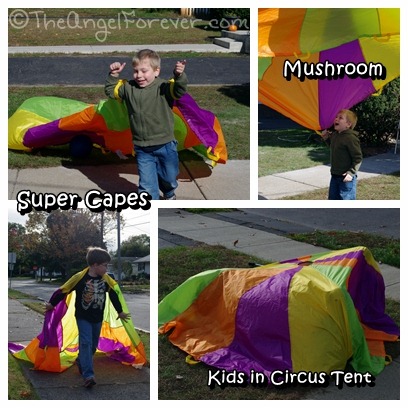 We tried a variation of popcorn, but the balls we had were too big for the parachute. Next time, I will make sure we pull out some bean bags or other smaller items to use. Of course, the parachute was also a great place to sit down and watch the kids as they were running, jumping, and playing together for some fun in the sun while the sun was shining.
Have you ever played parachute games as a child or with your children? I would love to know what you have done so I can add to my list of possibilities for when the weather cooperates.

Thursday, October 11th, 2012
We live in a part of the country that is lucky enough to experience all four of the seasons. My favorite really is the fall. The weather is not too cold, hot, or humid like other times of the year. Typically, there is not a lot of snow, we do not need to wear heavy jackets, and usually we can do a lot outside. This year, the weather has not allowed us to get to our favorite family activity for the fall. We love to go apple picking. We are able to explore the orchards together. It is fun to watch the kids running around and picking apples that they proudly snack on. Then, when we get home TechyDad, the kids, and I think about items the make. One of our favorites is to get the apples ready for our own fresh applesauce. Eating it warm out of the crock makes it seem like a special treat.
Since the weather is not cooperating, we probably will skip the apple picking and possibly go to get a pumpkin at a local farm. Then we can bake up the pumpkin seeds to have a tasty snack. Until that time, the kids love to explore the blocks around the house on their scooters. They enjoy collecting colorful leaves, pine cones, and other items that nature has left on the ground. Just the other day, my youngest hopped off of his scooter to save a caterpillar that was in the middle of the sidewalk.
Together Counts is a program for all of us. Their goal is to inspire families to lead healthy and active lives. Energy Balance is key and the main principle with their pledge. This means that the calories that we eat are the ones that we burn. Together Counts brings together more than 200 retailers, food/beverage manufacturers, restaurants, sporting goods stores, insurance companies, non-governmental organizations, and professional sports organizations to get the message across. For additional information, head to the Together Counts website learn more and take their pledge on finding balance and moderation. Families need to get eating and active together while practicing moderation.
For more information and ideas, you can head to the Together Counts Facebook page, look for them on Twitter, and also on Pinterest.
Please be sure to join Together Counts for their Twitter party on 10/17 from 8-9 PM EST using hashtag #TogetherCounts. More information on Resourceful Mommy with details about the prizes.
So have you made the Together Counts pledge yet? If not, what are you waiting for?

Disclosure: I wrote this post as part of a compensated Global Influence campaign. As someone who strives to find balance, I love the principles behind Together Counts and am happy to share this with my readers.
Saturday, April 14th, 2012
Dear NHL and JSL,
Spring break is basically over. It has been a relatively relaxing one spending time with both of you. Thanks to Passover, we stayed close to home most of the time. The weather was cooler and did not allow us to pack a picnic for the park.
Just before break, JSL and I went shopping to get a few things. While there, I walked by the big display of kick balls. I knew that NHL wanted one after using them at school. We walked over and picked one out. Little did I know that it would be very popular with the two of you. So much so that we HAD to get a second one.
The two kickballs went with you and Daddy to the park the other day where you played Volley-Basketball. A few days later, we went back to the park together. It was fun watching the two of you play, run, and get so much energy out. You truly did seem to enjoy having your own kickballs and even made great games using both of them together.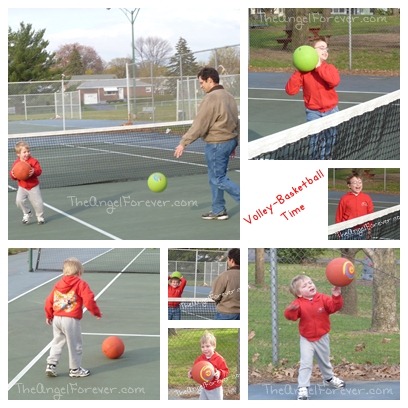 Yes, some days it is the simple things that make me smile and the two of you so happy. I know this will be something we do over the summer.
Love,
Mommy
Saturday, March 24th, 2012
Dear JSL,
Thank you for being my workout buddy. This week, you have really helped me to exercise and make sure that I got my workouts in. Although I like to get things done while you and NHL are at school, it did not happen two of the days. Wednesday, you came home from school and I asked if you wanted to do a special exercise DVD with me. You were so excited. I even let you pick which one that we got to do.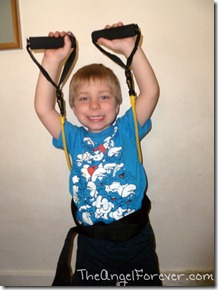 Much to my horror, you picked the Leslie Sansone DVD that has the jogging within the miles. You liked the blue case out of her five that I own. You stood next to me walking, kicking, and smiling. The kick-backs confused you a bit, but you kept with it. The sweetest part was you wanted to hold my hand as we did the parts that went forward and back. As the second mile was winding down, you were starting to get cranky. I would have tried to push in another mile, but I knew it was getting late and we had to get ready to pick up NHL.
Thursday, I was so busy with laundry and a few projects that I never had a chance to get my workout in. You told me that was ok that you would cheer me on. So I got out my Walk Booster to do some resistance work while walking. Since our living room was so warm and your nose drippy, you did not want to participate. You made sure I had water and watched. You were mesmerized by the item I was wearing. So much that Friday afternoon you greeted me and begged to test them out. I had to take a photo since you were so proud.
Thank you for keeping me going and cheering me on. Watching you with all of your energy keeps me inspired to walk, kick, and sweat up a storm!
Love,
Mommy
BTW – In case you are curious about the DVD's that I used. These are the two that I tried with JSL this week. They are linked to an Amazon Affiliate where I will receive a percentage of the sale should you purchase them when shopping. I bought these and three other Leslie Sansone DVDs with my own money over the years.
Thursday, March 8th, 2012
While touring the main room of the Kidz Expo at the Empire State plaza this weekend, it reminded me that this is the time that we need to sign our children up for sports and even look at summer camp options. With two young boys, I have a feeling we will be registering for soccer and possibly karate. The return of more consistent mild temperatures shows that spring is just around the corner. The robins have returned to the area and soon children will be out and about on playgrounds, fields, and beyond.
For those of us living in the Capital Region, it is time to dust off the sports equipment. Then, we need to figure out what activities our children want to do before summer break and sign them up. Does your child prefer baseball, softball, karate,  swim lessons, tennis, soccer, or something completely different. There really are so many possibilities these days for our children to try.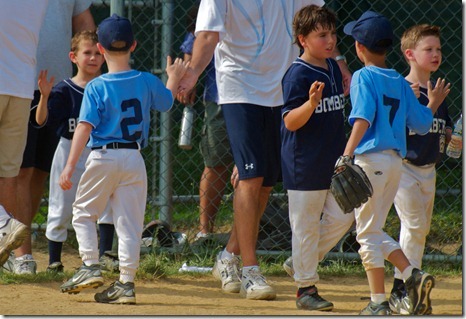 I still remember going with my parents to the old Westland Hills Park as a child. We spent many spring days at practice and games. The memories I have of parades, fun with friends, and banquets for trophies at the end of the season are priceless. When I look back at the photos of those days, it still makes me smile.
In addition to the physical fitness benefits from participating in a sport, there are many other items that your child will learn. The activity will also help them to get energy out and reduce some stresses that exist in their life.
Teamwork Time
For kids that participate in group sports, it allows them to be part of a larger team with a goal of working together. Your child belongs to a group and together they have common interests on and off the field. This time also allows them to learn to encourage their friends and cheer them on. Often, being part of a team gives a child the opportunity to shine in one way or another, even if they are not the best at the sport. Sports help develop teamwork and leadership skills. It does not take long for the kids to see that they have to work together and communicate for success.
Life Lessons
No matter what sport you play, you must develop some sort of self discipline. Listening to your Karate teacher, following the instruction of your coach, or taking time our of your day to practice. Kids realize that they must do these items to accomplish their goals and see it makes them feel good. Whether playing baseball, running track, or swimming in a league – kids see after time that winning is not everything. Kids that are part of a sporting ritual see that sometimes you win and sometimes you lose. Understanding the importance of being a good sport whether you win or lose is a major life lesson for children in elementary school. We all know it is not nice to gloat or be a sore loser. Participating in a sport helps children to see how others cope with disappointments, successes, and keep going.
What sports do your children participate in? Please chime in on the comments below and let me know so I can check into them for my kiddos. Always looking for new and exiting options for our family and no doubt others are as well.

Disclosure: Parts of this post were previously used on another project, but new additions have been made to update it.
« Previous Entries