friends
« Previous Entries
Friday, April 26th, 2013
I adore the world of social media and what it has meant for me. I have been able to meet people that have had a huge impact in my life. Many have become real life friends that I have also been blessed to meet in person. The two amazing women below are Amy Lupold Bair and Shannan Powell. They are the force behind Resourceful Mommy Media.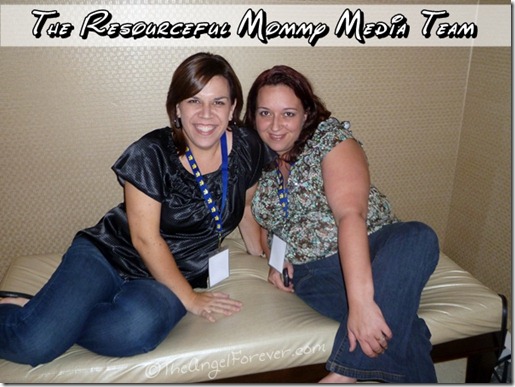 Looking back, I am not even sure how I met Amy, but I have to guess it was probably on Twitter and may have had something to do with Walt Disney World. I instantly made a connection with @ResourcefulMom (that's Amy) because she was also a teacher that was no longer in the classroom. We had two children that were similar in age, husbands that refused certain social media platforms, and our love for all things Disney went back to trips with our families when only one park ruled the Orlando land.
This past year, I have watched as Amy wrote her first book and now it is being launched. Yes, Raising Digital Families for Dummies is officially coming out and I already purchased my Kindle copy a short time ago.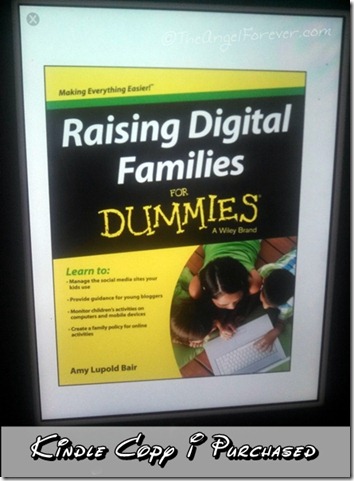 Amy's passion for social media is clear to everyone that knows her. In this book, she helps other families to see how to guide their children in the ever changing digital world that we live in. I look forward to exploring her book and working on a plan for our family.
Now, I am asking you to please help me to congratulate Amy and join her for the Twitter launch party on Monday, April 29. There is more information about it on her website, along with magical prizes being given out.
Once again a big Mazel Tov to my friend Amy on her first of what will likely be many books.

Disclosure: NONE – I wrote this because I am supporting a friend!
Friday, January 11th, 2013
Is there someone in your life that needs a hug, or maybe you do? January 21 is National Hugging Day™ and the perfect time to surprise someone that needs a good hug. Of course, everyday should and could be a day for a hug and I think I am a firm believer of this. I mean just look at this photo of my boys getting along and hugging each other, it could be contagious: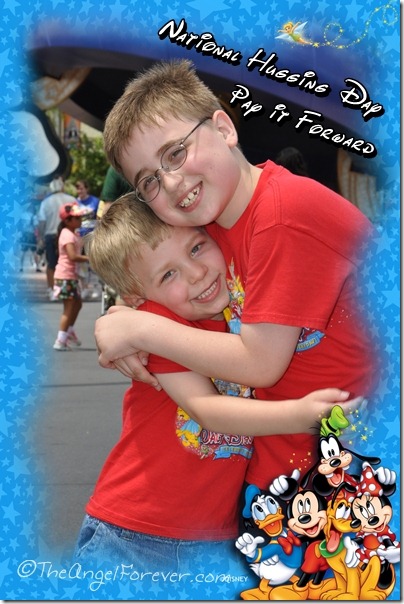 Now, thanks to my bloggy friend Holly from Tropic Home and Family, I am going to Pay it Forward with someone else that I would like to give a hug to. I wish I lived closer to my friend Shannan (From Cribs to Car Key). She is such a strong woman, fantastic mother, and great person. She never judges, always listens, knows how to make me laugh, and dishes out great advice. Here we are together after we conquered the African Trek at Walt Disney World (thus the crazy hair).
Shannan has been there through a lot of drama in my life and helped me to keep a level head. She probably doesn't realize how much she means in my life, but I am putting it out there for her to officially know. Thank you Shannan for always being a DM, PM, phone call, Tweet, text, or Skype call away. I know I will never be able to express what you mean to me, but you are like a virtual sister to me who I can complain to and gab about Disney with. Now we just have to figure out a way to get our states closer and meet up in person soon.
A huge thank you to Holly for sharing this idea – love it. It was also great to finally meet you and your family in December. FYI, she gives out a great hug as well.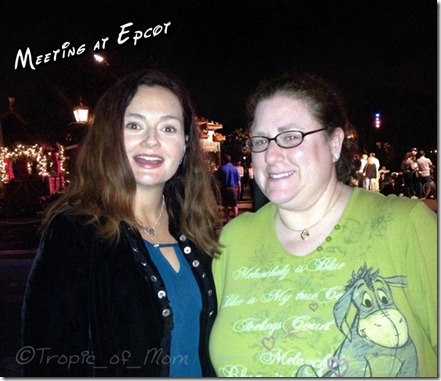 My question this week is inspired by Holly:
If you could give a hug to anyone right now (near or far), who would it be and why? If you would like to participate in Holly's Pay it Forward project, click on the button below (those two cuties are Holly's boys).

___________________________________________________________________________
Thanks to Kailani at An Island Life for starting this fun for Friday. Please be sure to head over to her blog to say hello and sign the linky there if you are participating.
Aloha #237
Sunday, October 28th, 2012
Right now people up and down the East Coast of the United States are getting ready for what meteorologist and the media have dubbed the Frankenstorm. Hurricane Sandy has also caused lives to be lost in her path, and more destruction from extreme win and rain are likely. Thanks to Hurricane Irene just over a year ago, we have all learned to listen to weather reports and take them seriously. It is better to be more cautious about things than have regrets later on. The hardest part, the waiting game and watching the always changing news reports. Where will Sandy make landfall, where will she go after that, and how much wind and rain will everyone really see. A huge thank you to my friend Sandy in Pennsylvania for sharing this photo from the news in her area.
To all of my friends and family who are in the line of Hurricane Sandy, stay safe. Our thoughts and prayers are with you as we get ready for what she tosses your way. It certainly looks to be windy, rainy, and possibly issues with flooding in many areas. We have had to regroup with the boys just in case we can not go out for Halloween on Wednesday. I asked someone the other day if the Capital Region has ever canceled school for a hurricane or tropical storm, and it does not seem like it. Lots of Nor Easters, but nothing that combines the two together.
While I am nervous, this time I am able to concentrate a lot more on the reality of the storm. With Hurricane Irene, I was forced to cancel a 10th Anniversary Trip to Walt Disney World with TechyDad. That distraction meant that I was not thinking about food if we lost power. I went grocery shopping very early Saturday morning. We usually get groceries on Sunday, so we needed items. I avoided the crowds and bought thing that were needed and useful should we lose power.
Please remember safety first. If you need to evacuate your area, do it immediately. Your life and loved ones are worth so much more than material items.

Friday, June 1st, 2012
Let's be honest, we all have something in the back of our mind that we really, really, really want. I'm not talking a new car, house, or vacation. I'm talking something more in our immediate reach. I suppose you could put a tablet/iPad into this category. Even that is often something that many of us would use for professional needs, not just a desire.
Disney fans will likely be familiar with the Dooney & Bourke collection that are made for the parks.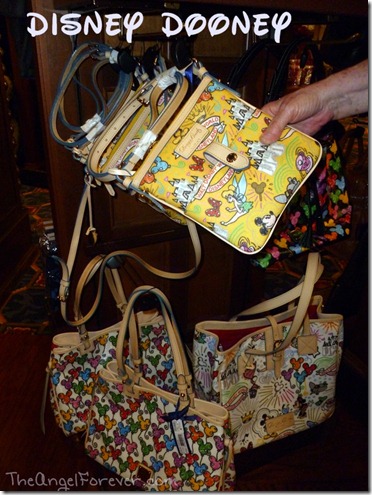 Originally, they were only available at Disney parks and cruises, but now some can be ordered from The Disney Store. I once wrote about saving Pluto thanks to a Dooney. Alas, I did not win, but it was fun trying. While at Walt Disney World, I would stop and swoon over the bags. I could have, maybe should have gotten one, but I was being practical. Of course, I kept taking photos and sharing with my friends on Twitter that often talk about their Disney Dooney & Bourke purchases.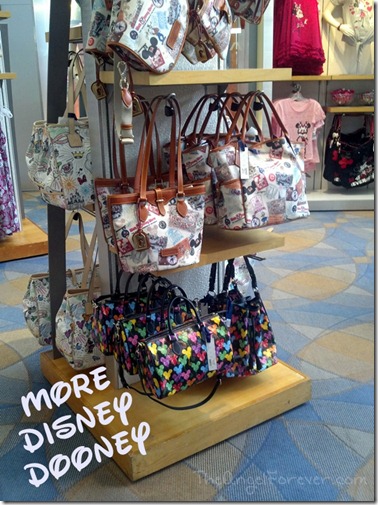 Yes, I even asked Ellen stop in the hall at the Yacht Club to model her cute new bag. It goes so well with her ears don't you think?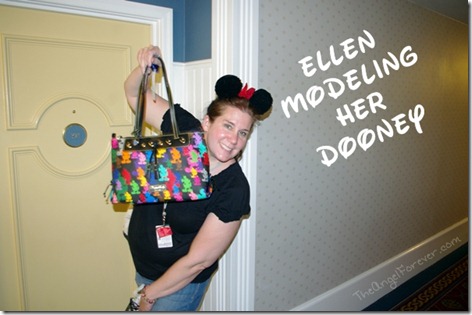 So my question to you is inspired by Disney Dooney & Bourke:
If you were able to splurge on an item you really want, but may not be practical, what is it and why? Remember no house, car, vacation, or item that would be for professional gain.

___________________________________________________________________________
Thanks to Kailani at An Island Life for starting this fun for Friday. Please be sure to head over to her blog to say hello and sign the linky there if you are participating.
Aloha #205
Thursday, May 17th, 2012
From the minute we received the more detailed schedule for events of Disney Social Media Moms Celebration, something caught the attention of my children. Yes, NHL and JSL immediately noted the Swashbucker Soiree, especially after I read them this:
Ahoy matey! Aye – now this is a family dinner you won't want to miss! Brought to you by Disney Junior, join us for a buccaneer-themed evening along the beach with live music, a treasure hunt and plenty of fun for everyone.
The boys literally jumped up and down. They guessed that Jake from Jake and the Never Land Pirates would be there and possibly others. The boys, well, they are good at guessing.
After the Cocktail Reception – Passport to the World welcome, we went out to the beach by the Beach Club Resort to meet up with our families. With one quick look, you could see we were in for an amazing pirate party!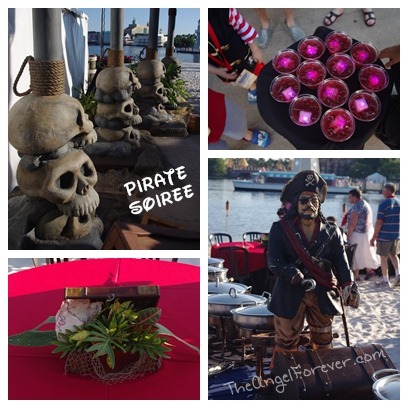 Disney Junior handed out pirate bandanas and pirates greeted us as we walked onto the beach where a pirate band was playing music for all of us to enjoy. Then, it was time not to walk the plank because there was an amazing buffet of pirate inspired goodies for all to devour.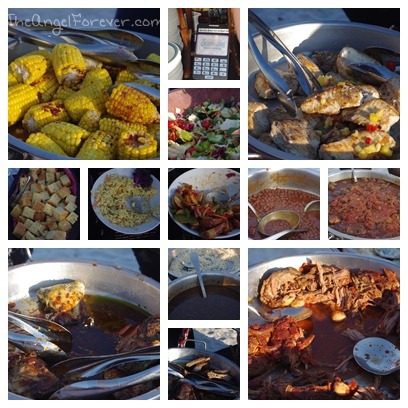 While the boys and Nana and Papa were eating, TechyDad and I were able to chat with some of our friends on the beach. We also caught up with head GEM (Good Enough Mother) Rene Syler and stopped for a photo. TechyDad helped the kids eat while we gabbed and gabbed with Rene and every other person I bumped into.
Of course, my little mateys had a hard time staying by their seats soon after this. You see, once they saw someone enter the area, they did not want to stay at the table. Check out who joined the party below.
Yes, that is Jake from Disney Junior's Jake and the Never Land Pirates. When Jake came out onto the Swashbuckler Soiree scene, many of the kids (including mine) were off to participate in the fun and games. Once NHL and JSL had their photo taken with Jake and the pirate slide behind them…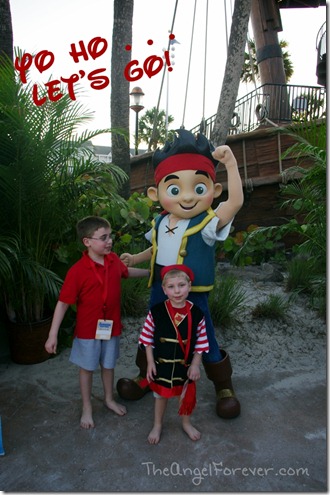 They had to beware of other pirates. This colorful crew of pirate misfits were teaching the kids how to perfect their pirate pose for the camera.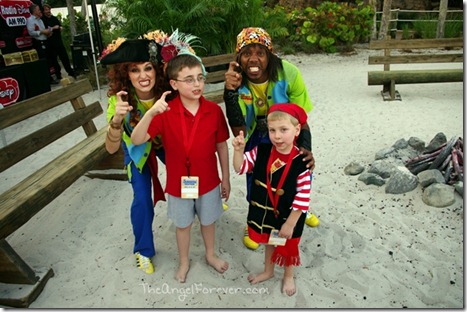 Looking back on it, I wonder if they were really just trying to help and protect the kids. Soon after this, two scallywags that you may recognize showed up to join the party.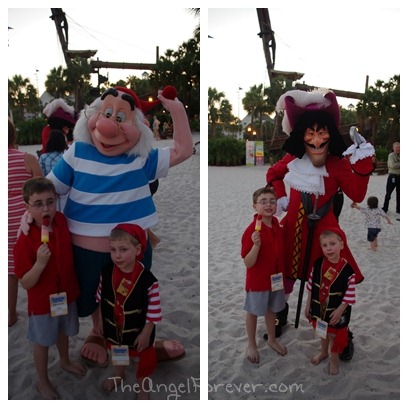 Of course, when you party like a pirate, it is important to stop to enjoy a cool ice cream treat.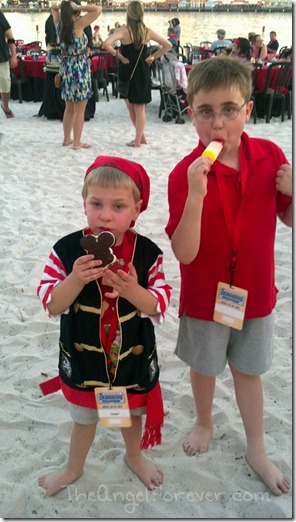 This break also means that it is the perfect time for the Pirate mother to send out an Instagram or two to share photos from the fun.  And for those that finish their Mickey Ice Cream sandwich early, it's always interesting to hide your feet in the sand!
Of course, little pirates that have been up since the wee hours of the morning get tired when the sun sets. We knew that we had many more adventures ahead on Friday and beyond. While others remained to dance in the dark, we went back to our room in the Yacht Club Resort to settle the boys in for some sweet pirate dreams.
More to share and lessons learned from our time at the Disney Social Media Moms Celebration coming soon.

Disclosure: Although we paid for our own trip to Disney World to attend the Disney Social Media Moms Celebration, we were given an incredible deal from Disney. Also note that Disney never asked us to blog about this event. As a long time Disney fan, it is my pleasure to share my experiences from the event.
« Previous Entries