fun
« Previous Entries
Wednesday, December 26th, 2012
Whether you are visiting a Disney park for a birthday, honeymoon, anniversary, or no real reason at all – there is always a reason to celebrate. During our last visit to Walt Disney World, we were there to celebrate the opening of New Fantasyland. We would also be leaving hours before my birthday. As we went into the parks for a few last hours, we happened to get there just in time to experience most of the Move It! Shake It! Celebrate It! Street Party at The Magic Kingdom. The fun atmosphere seemed to take away the sadness about going home soon and the photos seem perfect for the "Celebrate" theme this week.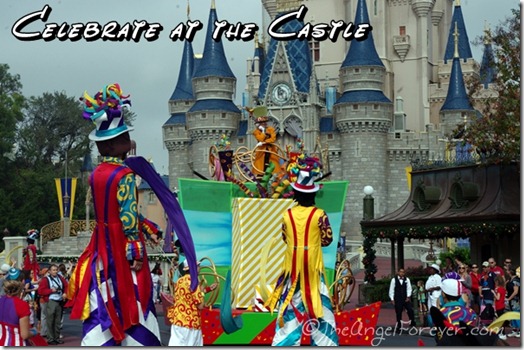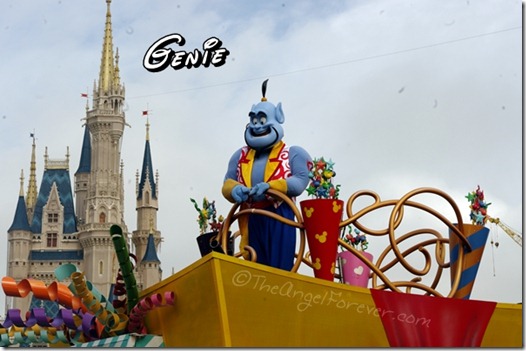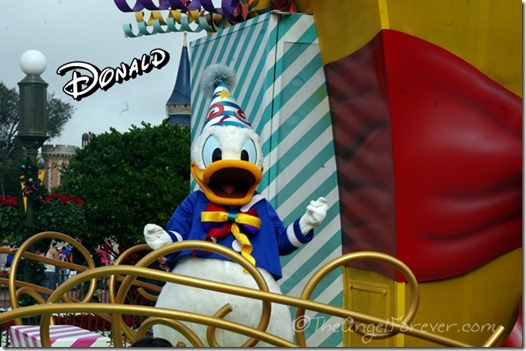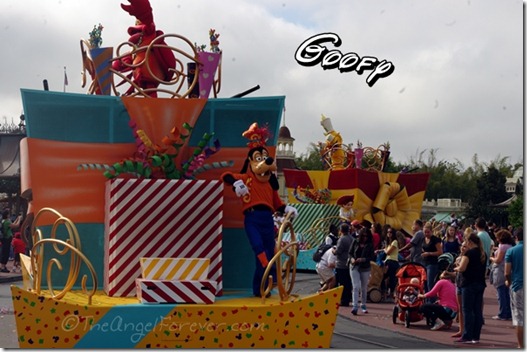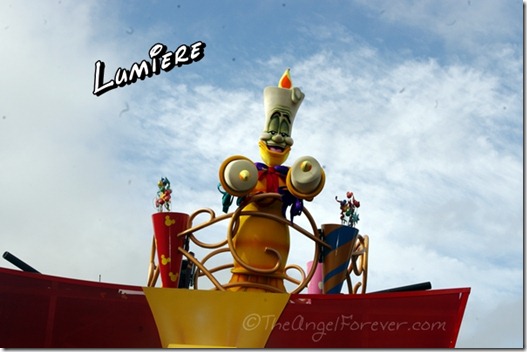 Be sure to stop by Focused on the Magic by clicking on the button above to join in the Disney magic this week.

Disclosure: TechyDad was invited to the New Fantasyland media event December 5-7. Disney paid for his travel, our park tickets, room, along with some extra surprises. I was his guest and invited to special events, but paid for my travel and an extra night at the resort.
Monday, October 29th, 2012
For weeks, the boys have been preparing for Halloween. This was the first year that JSL picked out his own costume and did not wear something that he inherited from his big brother. NHL knew just what he wanted to wear and JSL had to go with a slightly different choice (they don't make Buzz Lightyear costumes past a certain toddler size). We have had everything ready, just sitting there and waiting.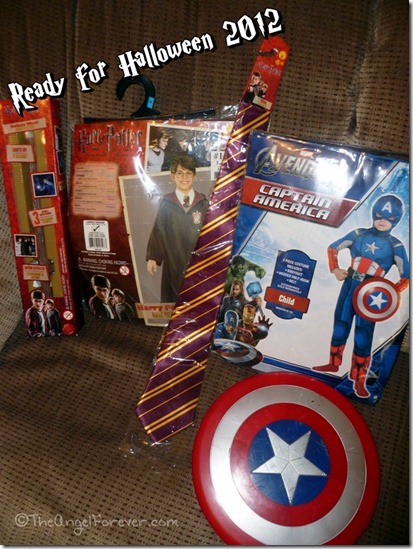 I knew that the weather was not looking too great for a while. The other day, I picked up some cookies to bake for the boys just in case we could not go out in the rain. The only reason I did this is because I did not buy candy to give out to kids trick-or-treating this year. Of course, then the power outage scares made me get some other items (a toy) just in case we can't make the kids those special Mickey Mouse cookies.
The weekend was dry, so it dawned on me that it was time to break out the costumes and get photos of the boys just in case we can not do it on Wednesday. So, we pulled all of the pieces together and got the boys dressed and went outside. It was Harry Potter versus Captain America.
The boys were SO happy to be outside, run around, and show off their costumes to some of the neighbors. It also let us capture the moment and get some fun photos. No, Hurricane Sandy will not ruin Halloween for us, it will just be different.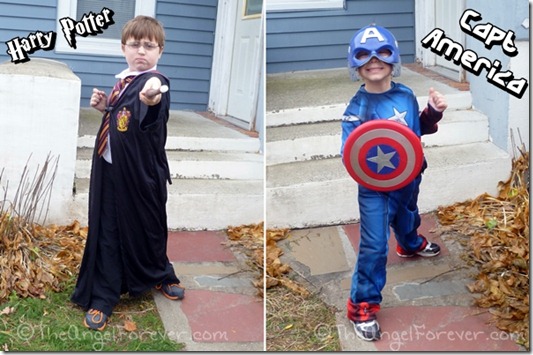 The reality is that the boys could care less about going out to get candy, they wanted to play in their costumes. It was run to watch Harry Potter chasing around after Captain America putting spells onto him. Of course, the little guy had no clue that they were ones that a good wizard should not be making. Oy!
Safe Halloween wishes to everyone, especially those in the path of Hurricane Sandy.

Sunday, October 21st, 2012
Just stepping into a Disney park is a magical experience, now imagine special events that will unfold each and every week with even more fun coming around the next week. On October 17, 2012, Disney Parks announce their new Limited Time Magic for the next 52 weeks. The news was unveiled in Times Square where a giant ice castle was on display in the middle of New York City.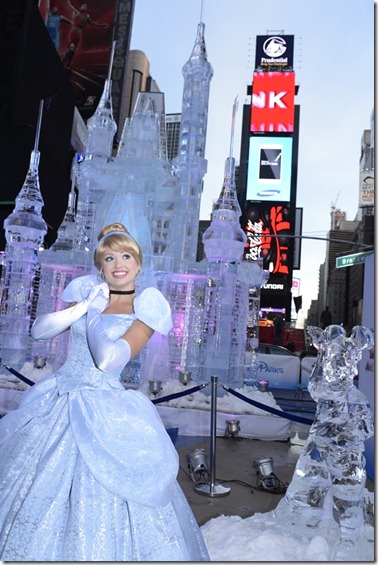 In case you were curious, the ice castle was 25 feet tall, 9 feet deep, and 15 feet wide. It was made with 45,000 pounds of ice. Here is a video from Disney Parks all it featuring Jennifer Mason, Ambassador – Walt Disney World.
If Disney can create this magic memory in the middle of New York City, imagine the items that will be on the agenda this year during the Limited Time Magic. Here are a few of the items that Disney has already mentioned for the Limited Time Magic:
True Love: Celebrate romance and enchantment throughout Valentine's Week with special moments and entertainment geared to lovebirds. Guests can celebrate their Valentine as Magic Kingdom and Disneyland turn up the romance, complete with their iconic castles bathed in hues of red and pink. Disney Princes join their Princesses to meet park guests in special settings, prix fixe menus turn up at select restaurants and Valentine collectibles will be offered for the week.
Independence Week: It's red, white and blue as Disney Parks salutes America with a 4th of July Fireworks Party — for an entire week, with patriotic lighting bathing the Disney castles on both coasts. Mickey Mouse appears in his patriotic finest and guests will find special USA shirts, Ear Hats and other limited-edition souvenirs.
During "Long Lost Friends Week," lesser-known Disney characters will move from the shadows to the spotlight with meet-and-greets on both coasts. Photo opps with characters that could include Flik, Clarabelle Cow, Remy, Tweedle Dee and Tweedle Dum will surprise and delight guests. And Disney guests will even have the chance to vote online for which characters they want to see.
Pirate Week:  Why talk like a pirate one day when you could celebrate these scalawags all week long? The adventures of Jack Sparrow come to life like never before during a bicoastal buccaneer bash in which Disneyland and Walt Disney World become pirate-palooza: pirate bands, pirate meet-and-greets and more.
Dapper Dans Sing Boy Bands: Dapper Dans, the iconic quartet from Main Street, U.S.A., will add a special finale to their show, claiming the title of the "Original Boy Band" and delivering a medley of hits from One Direction, *NSYNC and the Backstreet Boys.
Unleash the Villains: A Friday the 13th in 2013 is a special day, so Disneyland and Disney Hollywood Studios are staying open until the 13th Hour (1 a.m.). Maleficent, Capt. Hook, Jafar and other Disney villains host a dance party, complete with limited-edition collectibles and nighttime mischief on Sept. 13.
Golden Horseshoe Revue: The fabled Frontierland show returns to Disneyland for one month only, bringing back the corny jokes and enduring songs that were often enjoyed by Walt Disney himself.
Yes, it truly does look like an amazing year ahead for guests that travel to a Disney park. For more information about Limited Time Magic, guests should visit www.disneyparks.com.
So will you be heading to Disney in the next year to experience Limited Time Magic? I would love to know all of the details as a life long Disney Parks fan.

Disclosure: I was invited to the event in NYC, but was unable to make it. As a lifelong Disney fan, I wanted to share this information with all of you.
Thursday, October 18th, 2012
Halloween is just around the corner and candy will be flying by by our faces and those of the youngest members in our family. Moderation is the key, but now that is not the only factor. These days we have choices with candy. Thanks to Unreal, we are able to UNJUNK candy eating to a new level.
Over the weekend, we were able to have an Unreal party to let others taste the new candy. We would be putting this to the test: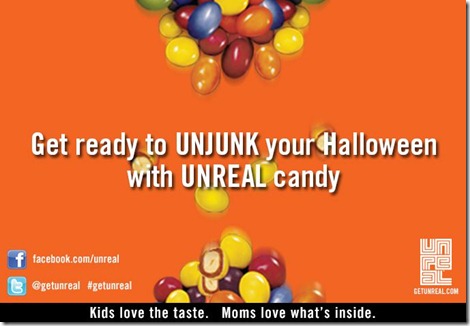 Would kids and others be happy with candy that is:

made with real cane sugar,contains no corn syrup, and is free of hydrogenated oils/fats?
packed with twice as much cacao than other brands?
free of artificial preservatives, colors, or flavors (there is no Red #5 here)?
filled with more protein and fiber?
If you are not familiar with Unreal, here is a video to get you caught up on their story and the product:
UNREAL sent me candy to share with family and friends. My mission was to see what they thought of the Unreal candy that is UNJUNKED and reinvented. Since it was a beautiful day, we took everything outside. Before going out, I put one of each of the Unreal varieties and fact sheets (comparing Unreal and other similar candy) for everyone to enjoy and read.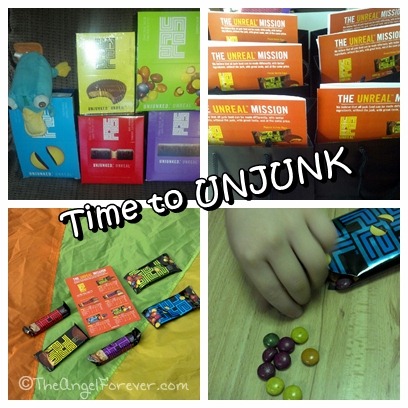 Thanks to the amazing weather, the kids were too focused on playing and not eating. A lot of people took their bags home to try items and got back to me with their thoughts. Of course, a group of us did try the Unreal candy together. Here is a view of the five varieties that are currently available and the feedback that we heard from everyone below.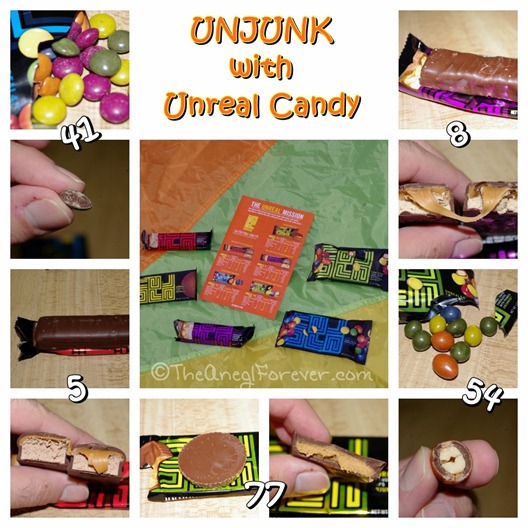 UNREAL 41 (Candy Coated Chocolates) – A crowd favorite with the kids. They were intrigued with the different colors and enjoyed popping them into their mouths. One adult taste tester noted that he thought the chocolate was the best within these. He said he would definitely purchase these for that reason. I know I like these because I can get them for future birthday parties where a nephew with a food dye allergy will be able to eat the candy.
UNREAL 5 (Chocolate Caramel Nougat Bar) – The kids that were not fans of nuts liked this bar because it was easy to bite into with smaller teeth. One adult noted that it reminded her of the taste in her protein bar that she has every day. She said that wasn't a bad thing, just something she thought of. Another tester is diabetic and typically avoids regular candy. She gets some of the sugar free variety from time to time, but they have a lot of additives in them. She really liked the taste of this bar and the nutritional information. As a fan of the leading brand variety of this kind, I imagine freezing these for an even more interesting treat.
UNREAL 77 (Peanut Butter Cups) – There were a lot of peanut butter cup fans in the group. People mentioned that the peanut butter was not creamy, but that the flavor was more "peanuty" than traditional brands. Lots of interest in using these for baking projects because they have significantly less sugar and more fiber.
UNREAL 54 (Candy Coated Chocolates with Peanuts) – While the kids enjoyed the nut free variety, the adults also enjoyed the peanut crunch inside of the chocolate candies. They had a nice amount of chocolate surrounding the peanuts. While people noted the muted colors, nobody cared once they were munching away.
UNREAL 8 (Chocolate Peanut Caramel Nougat Bar) – This bar seemed to be the least popular. It wasn't that there were negative comments, most people did not like mixing these flavors. People noticed that the bar had a lot of fiber, protein, and not many more calories than the nut free version.
General feedback was a lot of interest. We were the only people that had seen them prior to the party and taste testing. Locally, Unreal has been slower to arrive on the store shelves and often is sold out. People really liked the idea of candy being UNJUNKED and the price point not being absurd. The lower sugar amounts, as well as the addition of fiber was a big point of interest amount the women.
I know in our family each member seemed to like something different. We will no doubt be on the look out for Unreal as they start to show up in more retail locations. For those times when we want to splurge on something, I like that they taste good and have none of the questionable artificial additives in them. My boys are also hoping that more varieties will be coming soon.
Have you tried Unreal candy yet? I would love to know what your thoughts are and which candy was your favorite.

Disclosure: I wrote this post as part of a compensated Global Influence campaign. Unreal sent us plenty of candy to share, along with additional compensation for party expenses and my time. All thoughts and opinions are 100% mine and not influenced by this factor.
Wednesday, October 17th, 2012
Every time you go to Walt Disney World or another Disney park, you are part of a story. The rides, shows, Cast Members, and all of the little details are part of the tale. Now imagine being invited to hear a real Disney author talk and then get a tour of Epcot to see where his visions came from. This happened to me in April when I went to the Disney Social Media Moms celebration and heard author Ridley Pearson explain how The Kingdom Keepers and Peter and the Starcatchers were born. After the session, he took a group of us to visit Norway in Epcot and ride on Maelstrom. This only seemed fitting for the Disney Wordless Wednesday theme of Story Telling.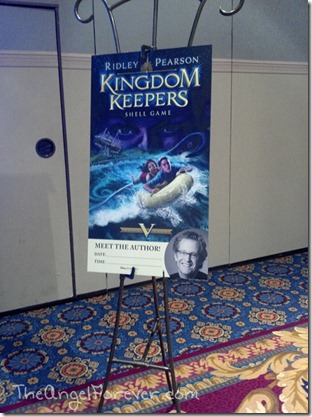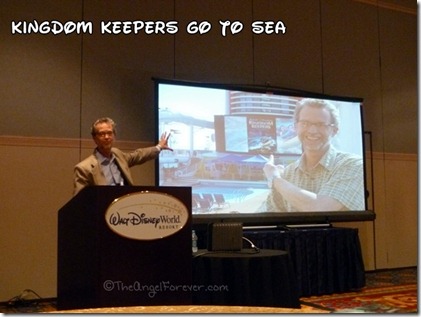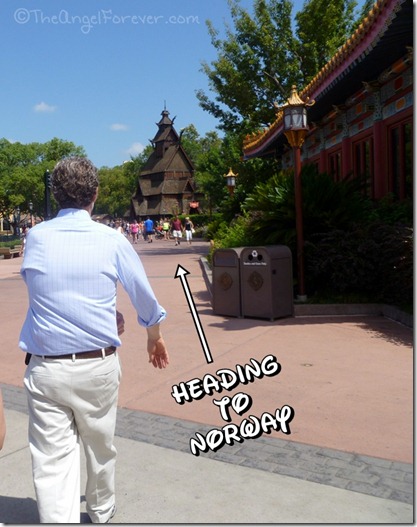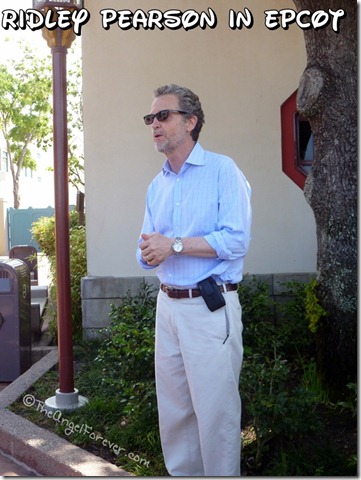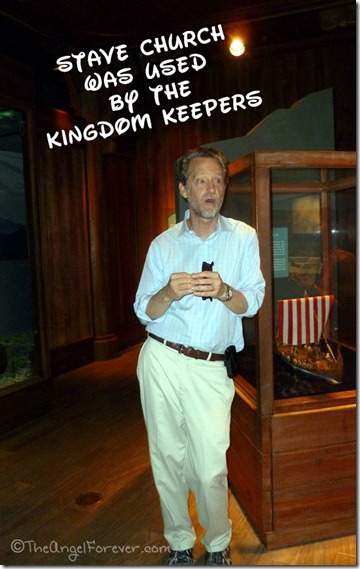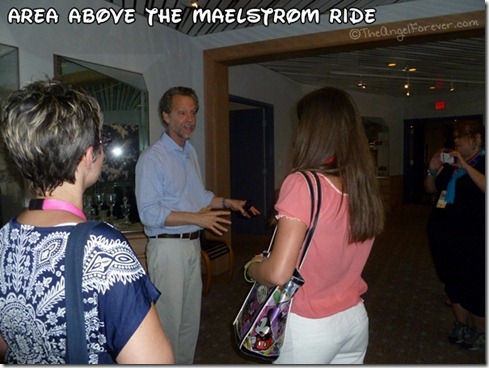 Be sure to stop by Focused on the Magic by clicking on the button above to join in the Disney magic this week.

« Previous Entries