house
« Previous Entries
Next Entries »
Sunday, June 26th, 2011
I always wonder what will happen when we plant our garden. You see, we have a track record with things happening. On the top of my garden worry list:
Will our neighborhood bunnies eat everything?
Will the rain/hail/storms ruin it?
Will the sun/heat/humidity kill it?
Will we get anything to harvest?
Two years ago we had some success, but last year we had nothing aside from some fresh basil. This year we hoped for the best, put the plants in a new location and kept watching. This is what they looked like just over a month ago (May 22 to be exact):
The two small tomato plants are in back, pretty sad looking zucchini plants in the middle, and the small peppermint plant. Check out what they looked like as of Friday. We will start the tour with the zucchini plants. I think you will see that it seems pretty happy.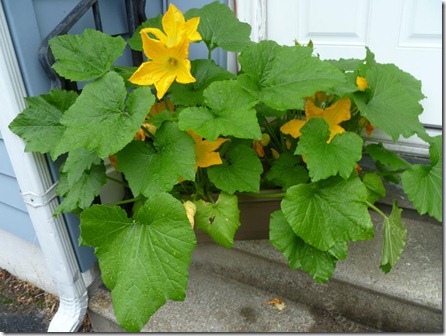 Yes, they are thriving at this point and even have a few other items that have us very excited. Check this out:
Those tomato plants have gotten to the point that they had to move. They were too large for their location and needed a bit of extra support. As you will see, there are also some tomatoes growing on that.
That tiny little peppermint plant has already had leaves plucked from it and consumed by the boys and some neighbors. Check out how it has grown over the same period of time: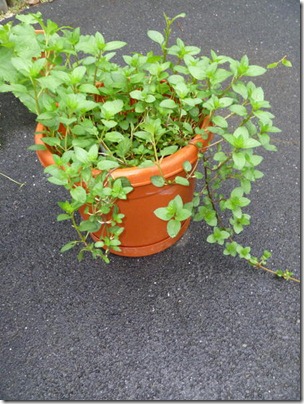 After we bought the initial plants, we found some cucumbers to grow. They had a rough start, but are finally perking up and doing better with a bit more space.
Now we just have to hope that the weather, bunnies, newly found chipmunks, and other natural issues let our vegetables continue to grow so we can pick them and eat them soon.
Did you plant a garden this year? If you did what did you plant and how are things growing?
Please let me know if you posted something about your garden. I would love to stop by and see any photos.
Friday, June 10th, 2011
Weather seems to be in the news a lot lately. Throughout the United States, people have been dealing with severe weather of all kinds. My heart goes out to the people in the flooded areas fighting to save their homes and to those picking up the pieces after the deadly tornadoes.
As I pulled into the driveway Wednesday afternoon, the sky changed from sunny and bright to ominous. It was in the mid 90's, but the wind started to gust. I will admit that I was unaware that a storm warning was in our area. We packed the kids into the house and got them out of their swimsuits and decided to relax in the cooler house.  As I was sitting and doing some work, I heard thunder, saw lightning flickering outside, and then chunks of ice were slamming against the house. Yes, chucks of ice.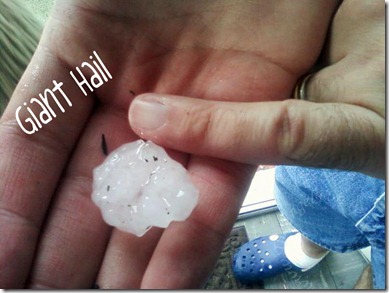 TechyDad was able to get the one above when he ducked outside our front door to snag it to show the boys. A little while later, the sun came out and I went outside to look around for damage. Even though it was still close to 90 degrees, there were still good sized chunks of hail in the grass.

I went to check on our vegetables that we outside. Luckily, everything looked pretty good. We were a bit nervous since hail destroyed cucumbers and tomatoes a few years back.
When I went back around the front, I decided to take a photo of one chunk of ice and then next to my foot to show the difference.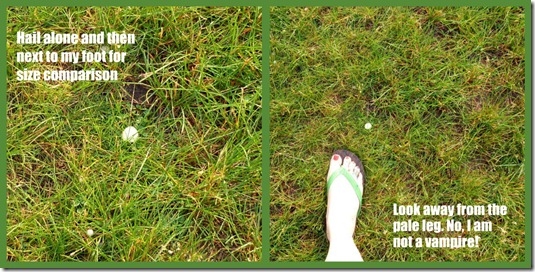 Yes, we get hail from time to time in the Capital District area, but not like this and several times in a few days. Thank goodness everyone was safe and sound. Now we just hope things settle down across the country for the rest of the summer ahead.
My question to you this week:
Do you like summer storms? Would love to know why you do or do not. Please share any unusual weather you have had near you.
Pssst . . . be sure to stop by my Dove Men + Care giveaway along with TechyDad's Kung Fu Panda giveaway to enter for a chance to win some great items.
____________________________________________________________________________
Thanks to Kailani at An Island Life for starting this fun for Friday. Please be sure to head over to her blog to say hello and sign the linky there if you are participating.
Aloha #155
Wednesday, May 25th, 2011
Pssst . . . stop by TechyDad's Dinosaur Train Giveaway to enter for a chance to win some Dinosaur Poop and Hatchers.
Wednesday, May 4th, 2011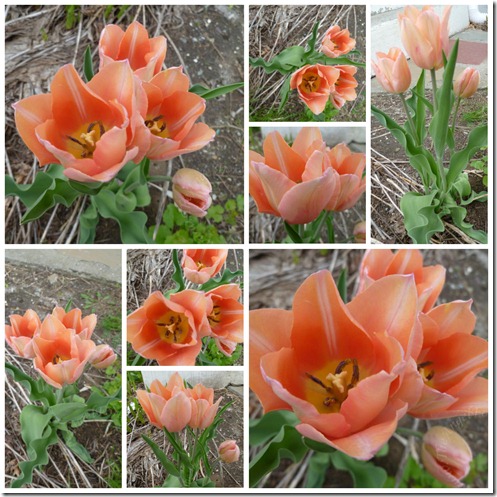 Thursday, March 10th, 2011
It is no secret that space in our house is a problem. We live in an older home, with small rooms, and limited storage areas. Before we moved into the house, we put carpet into the large, open room upstairs and made it our playroom. We used the room a lot before we had Wi-Fi. When JSL was born (he is almost 4), we pretty much stopped using the room. It was just too difficult to maneuver both boys up the steep staircase. Rather than enjoy the space, we used it as a glorified storage area. Here is a photo of it not too long ago:
The boys are bigger now. They are able to climb stairs. More important than any of this, they need more play space – and I want my living room not to resemble a toy store. TechyDad and I have really been working on the room. This past weekend we kicked it into high gear.
When we were finished trying the summer clothing on the boys, we moved upstairs to see what we could do next. Suddenly, I suggested moving TechyDad's old work from home desk to the other side of the room (basically the right corner area of the picture above). Oy! This was a lot more work than you would think. This desk is a monster. In the end we got it moved. Then I hauled toys to the stairs and TechyDad brought almost all of them up to the room. The boys went to visit with Nana and Papa for a while and we finished things up. The new toy wall is where the desk used to be. Here is the new toy area in the largely revamped playroom: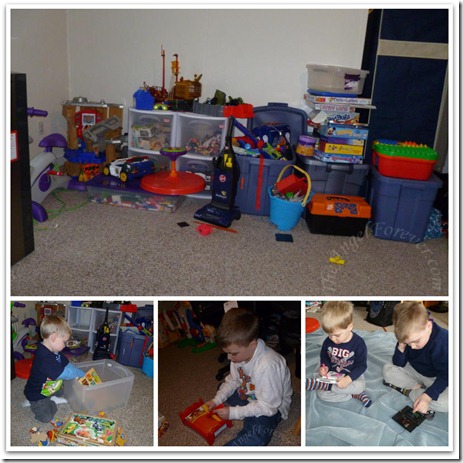 When the boys did not have school on Monday, we spent the entire day upstairs. The kids love the space and are doing really well with putting things back before taking something else out. Here are my happy kids enjoying a space that we should have been utilizing long before now:
The room still isn't perfect over by the desk, but it is getting there. I would say it is 90% finished and very functional. Now we can check that mostly off the project list and work on something else.
So have you tackled a big problem lately? Please feel free to share in the comments below.
« Previous Entries
Next Entries »