jsl
« Previous Entries
Monday, October 29th, 2012
For weeks, the boys have been preparing for Halloween. This was the first year that JSL picked out his own costume and did not wear something that he inherited from his big brother. NHL knew just what he wanted to wear and JSL had to go with a slightly different choice (they don't make Buzz Lightyear costumes past a certain toddler size). We have had everything ready, just sitting there and waiting.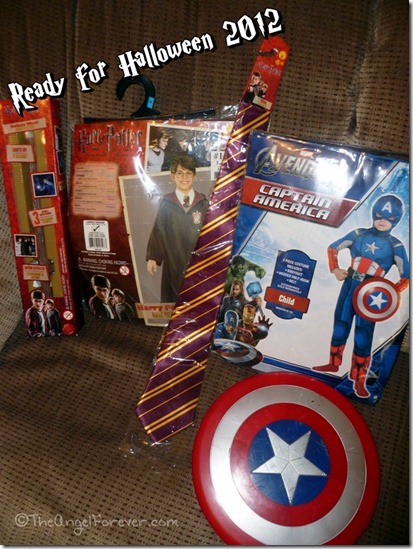 I knew that the weather was not looking too great for a while. The other day, I picked up some cookies to bake for the boys just in case we could not go out in the rain. The only reason I did this is because I did not buy candy to give out to kids trick-or-treating this year. Of course, then the power outage scares made me get some other items (a toy) just in case we can't make the kids those special Mickey Mouse cookies.
The weekend was dry, so it dawned on me that it was time to break out the costumes and get photos of the boys just in case we can not do it on Wednesday. So, we pulled all of the pieces together and got the boys dressed and went outside. It was Harry Potter versus Captain America.
The boys were SO happy to be outside, run around, and show off their costumes to some of the neighbors. It also let us capture the moment and get some fun photos. No, Hurricane Sandy will not ruin Halloween for us, it will just be different.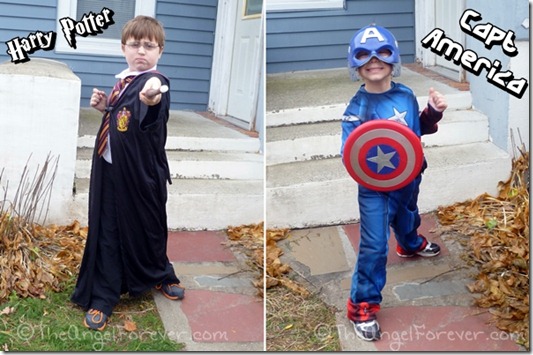 The reality is that the boys could care less about going out to get candy, they wanted to play in their costumes. It was run to watch Harry Potter chasing around after Captain America putting spells onto him. Of course, the little guy had no clue that they were ones that a good wizard should not be making. Oy!
Safe Halloween wishes to everyone, especially those in the path of Hurricane Sandy.

Monday, October 15th, 2012
As a child, I have strong memories of playing parachute games at school and during girl scouts. The parachute we used was huge. Lots of girls from our troop and others could gather around it to play games, run, jump, sing, and have a great time. Fast forward to this summer when I won a parachute from Let's Play on Selfish Mom. On Saturday, we had a party to share the Unreal Candy (more on that soon) that we had received. Since the weather was beautiful, we packed up the scooters, helmets, parachute, and some other outside toys.
The kids all had a great time playing with the parachute. I actually wish I had taken some time to research some parachute games for them to play before we arrived. Unfortunately, I forgot to do this. Thank goodness, kids have great imaginations. They were able to make things up. Once back home, I looked on Pinterest and found a bunch of games that I remember playing as a child. Kid Activities had a great variety, but Woodlands Junior School had fantastic photos of their suggestions. The kids actually managed to do some variations of two of them, and added a new superhero approach.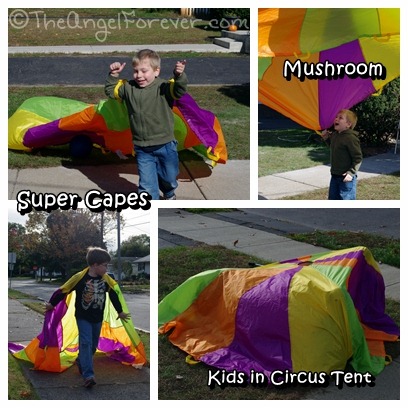 We tried a variation of popcorn, but the balls we had were too big for the parachute. Next time, I will make sure we pull out some bean bags or other smaller items to use. Of course, the parachute was also a great place to sit down and watch the kids as they were running, jumping, and playing together for some fun in the sun while the sun was shining.
Have you ever played parachute games as a child or with your children? I would love to know what you have done so I can add to my list of possibilities for when the weather cooperates.

Saturday, October 13th, 2012
Dear JSL,
Field trips are a lot of fun to go on and, I have to say, I think they are even better as a parent. I had so much fun going with you on your first kindergarten trip this week. We all went to Indian Ladder Farms. It rained in the morning before we went and was chilly. Thanks to that, we had a lot of layers on. I also broke out your rubber cowboy boots in case it was muddy,
We went for a hike and listened to the leader of the group teach all of you about how the mountain formed. Then she showed you some of the fungus that grows naturally in the area. Once our trek was over, she took us over to meet the animals. You were definitely excited about this since we went here last year with nursery school.
Everyone tried to feed the animals, including Rosie, some grass. You were not too sure about this because of her horns. Then, we saw Eeyore the donkey, who we had to keep away from. There were even some baby animals like big Rosie in the area with different critters. Our leader brought out a special guest for everyone to see up close. I was so happy that you agreed to pet the turkey.
After everyone washed their hands, we went to look at the apple area. The woman explained that because of the weather in the spring, Indian Ladder Farms only had about ten percent of the usual apple crop. This was the reason we could not pick our own apples. We still learned about the trees, went into a giant refrigerator, saw how the apples are checked, and then saw the cider making area.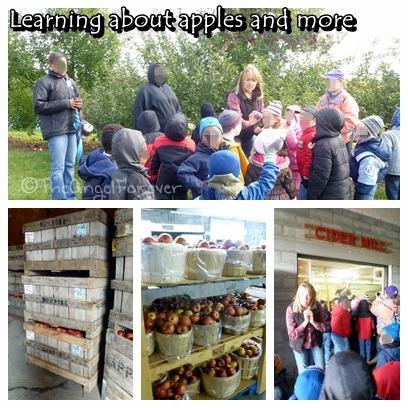 After this, it was time for your class to have lunch. It was a beautiful view, but some pesky bees were not making it an easy dining experience. They kept trying to dive into the apple cider and all of the delicious lunches.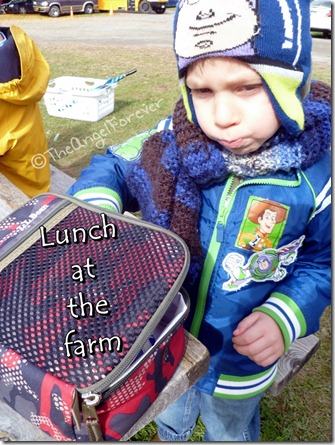 After battling the bees, we followed your class to the pumpkin patch to pick out one to take home. You picked out a great pumpkin, but then we noticed some areas that were rotting, so we went back to get another one.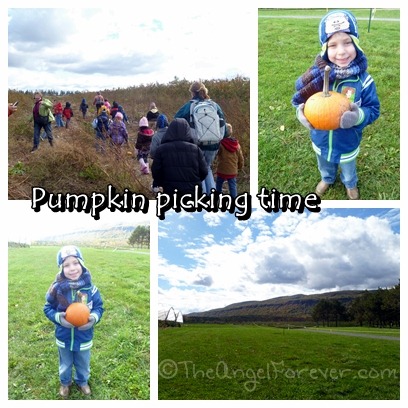 Although it was cool, we were lucky that it stopped raining. Thank you for letting me share this adventure with you.
Love,

Thursday, October 11th, 2012
We live in a part of the country that is lucky enough to experience all four of the seasons. My favorite really is the fall. The weather is not too cold, hot, or humid like other times of the year. Typically, there is not a lot of snow, we do not need to wear heavy jackets, and usually we can do a lot outside. This year, the weather has not allowed us to get to our favorite family activity for the fall. We love to go apple picking. We are able to explore the orchards together. It is fun to watch the kids running around and picking apples that they proudly snack on. Then, when we get home TechyDad, the kids, and I think about items the make. One of our favorites is to get the apples ready for our own fresh applesauce. Eating it warm out of the crock makes it seem like a special treat.
Since the weather is not cooperating, we probably will skip the apple picking and possibly go to get a pumpkin at a local farm. Then we can bake up the pumpkin seeds to have a tasty snack. Until that time, the kids love to explore the blocks around the house on their scooters. They enjoy collecting colorful leaves, pine cones, and other items that nature has left on the ground. Just the other day, my youngest hopped off of his scooter to save a caterpillar that was in the middle of the sidewalk.
Together Counts is a program for all of us. Their goal is to inspire families to lead healthy and active lives. Energy Balance is key and the main principle with their pledge. This means that the calories that we eat are the ones that we burn. Together Counts brings together more than 200 retailers, food/beverage manufacturers, restaurants, sporting goods stores, insurance companies, non-governmental organizations, and professional sports organizations to get the message across. For additional information, head to the Together Counts website learn more and take their pledge on finding balance and moderation. Families need to get eating and active together while practicing moderation.
For more information and ideas, you can head to the Together Counts Facebook page, look for them on Twitter, and also on Pinterest.
Please be sure to join Together Counts for their Twitter party on 10/17 from 8-9 PM EST using hashtag #TogetherCounts. More information on Resourceful Mommy with details about the prizes.
So have you made the Together Counts pledge yet? If not, what are you waiting for?

Disclosure: I wrote this post as part of a compensated Global Influence campaign. As someone who strives to find balance, I love the principles behind Together Counts and am happy to share this with my readers.
Sunday, October 7th, 2012
Right now my brain is whirling around and I feel like I am flying. Flying with dragons, of course, so it is a good thing. Thanks to just getting back from an amazing time at the DreamWorks How to Train Your Dragon Live Spectacular at the Times Union Center. TechyDad was contacted by PR from the show and he shared some of the specifics about it recently. After watching the movie with the boys the other day, I was excited to see what the VIP Hero's Welcome would be all about. As JSL (5) says, it was stupendous!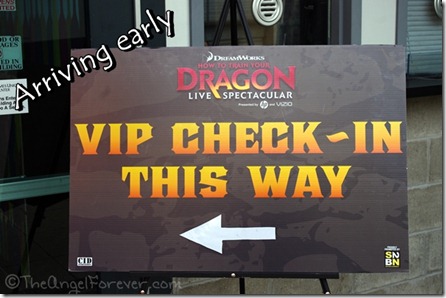 A huge thank you to the amazing VIP tour gentleman who was stationed outside. He was fantastic chatting with us and answering questions from our boys. He told us about previous cities and more about the upcoming shows throughout North America. After this, we were whisked away into the arena before they opened for the show. We received our Hero's Welcome badges, bags, and posters. Then, we were taken to an area to get dressed like Vikings for a family photo.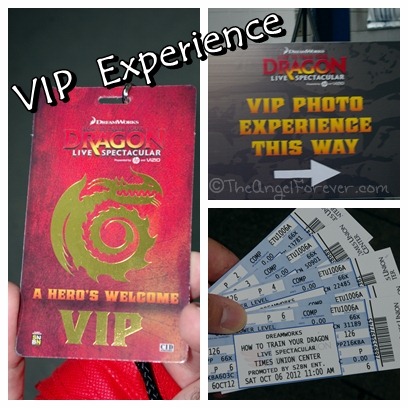 The crew helping to dress our Viking family was fantastic. We never told Papa about this part and he played along and had fun. Before long, the five of us were sporting chic Viking styles for our photo shoot.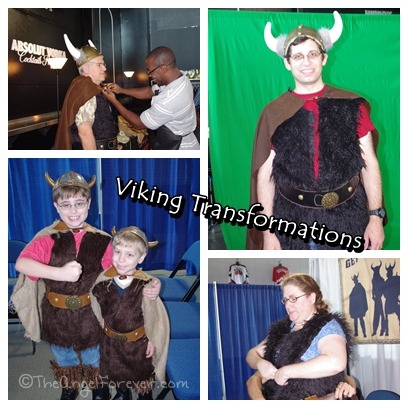 We were not able to get a photo with our camera dressed up, but we took a quick picture of the one they gave us. Yes, I present you with my Viking family in their finest attire and all of their weapons and shields.
Although it took some time to get this done, it was a worthwhile experience. Seeing the smiles on the kids faces and knowing that memories were being made was priceless. After we returned our Viking items to the bins, it was time to wait for the official Hero's Welcome. We went a small area with seats to wait and meet Hiccup and Astrid who are some of the stars from the show.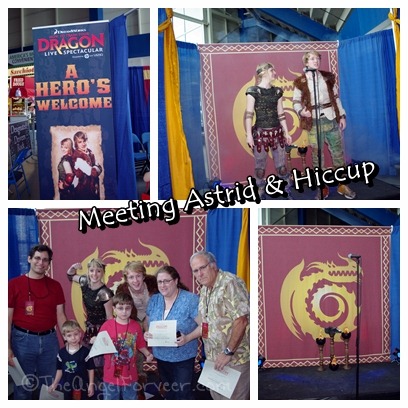 This was just the start of an amazing adventure with the Vikings and Dragons. More coming soon about the show and the Dragons 101 session after the performance. The session after was a geeks dream come true and the VIP team member from this part was also super (wish I could recall his name from the 11:00 am show). If you are in the Capital District and have a chance to see the show before it leaves town, I highly recommend it. It will also be touring to many other cities in the United States and Canada in the months ahead.
If you are interested in attending a show, you can find tour dates and tickets by going to http://www.dreamworksdragonslive.com/tickets.php.  You can also save 25% off the cost of select seats by using the promo code "MOM". Oh and do not forget to think about the VIP packages that you can add on for your family. All of the items seen above were thanks to that.

Disclaimer: TechyDad received tickets and the VIP package to the How to Train Your Dragon Live Spectacular for our family. No other compensation was given and all of the enthusiastic Tweets, Instagrams, and posts that follow are 100% my own opinion of the show.
« Previous Entries