shopping
« Previous Entries
Friday, October 26th, 2012
I have an admission, I love Crayola crayons. Back to school used to be my favorite time of year. Walking down craft aisles and into stores with boxes and boxes of beautiful new crayons. Even though I am an adult, I still love drawing, coloring, and doodling with crayons. If there was more time in the day, I would have mandated coloring therapy with the kids. It's fun, something we can all do, and a way to be creative.
Times have changed. Back to school is not the only time of year to get fun new crayons. Earlier this week I was shopping at Target. When I went down the craft aisle, a new display of Crayola Crayons caught my eyes. They were shiny, different, and intriguing. Check some of them out here:
Aren't they pretty? Since I was in a hurry, I took a few photos to research them when I got back home. There are 12 different flavors, -er I mean types of the Crayola PYO Crayon 8ct that are only available at Target stores. They include:
Born to Rock – Pirate's Treasure – Over the Rainbow – Metallic Magic – Dinosaur Roar – Mermaid Shimmer – Pink Princess – Cupcake My Day – Neon Dreams – Gliteratti – Rocker Girl – Sports Fan
Although I wanted to buy all of them, I decided to wait. I am going to take the boys back to let them pick out their own choices. If you are interested, you can see them on the Target website here. Crayola did not ask me to post this, I am just a big fan and thought they were fun for kids of all ages.
So my question to you this week:
Which pack of Crayola PYO crayons would you pick first and what would you color with them?


FYI – Three book giveaways are currently going on that would make great gifts. Linnea in Monet's Garden (ends 10/30), some classic stories from Silver Penny Stories (ends 10/27), and a Spooktacular Book Prize Pack (ends 11/1). Another fun picture book coming on Tuesday Tales.
___________________________________________________________________________
Thanks to Kailani at An Island Life for starting this fun for Friday. Please be sure to head over to her blog to say hello and sign the linky there if you are participating.
Aloha #226
Saturday, September 1st, 2012
Dear NHL and JSL,
Getting hair cuts for the two of you has not exactly been one of my favorite items to accomplish over the years. I think we often wait until your hair is beyond ready to get a trim because it has always been an adventure. Whether it was bad cuts, too many noises, people that were not friendly with children, or our favorite person leaving – something always seemed to happen.
Over the years, I have documented a lot of your hair cut milestones. There was the time NHL decided to be a barber at six years old and we had a hair emergency. There was the photo shoot of JSL's first hair cut back in November 2008. Thanks to this, it should not be a shock to either one of you that I had to take photos when we finally went to have your hair done at the Snip-Its last weekend (they opened during the winter).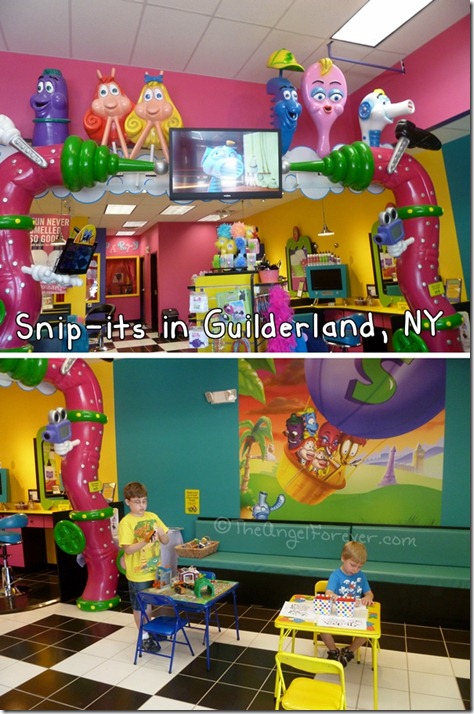 I will admit that I am now kicking myself for not taking both of you here before this time. It was not just a place to get hair cuts, it was an experience. From the moment you walked in, the two of you were mesmerized. Snip-its was bright, beautiful, and beyond kid friendly. The two of you kept busy while I chatted with the owner and filled out some forms to get coupons in the mail. Then, it was time to get your hair done.
Both of you were so quiet the entire time. Neither of you were wiggly, upset, or bothered by the new location. Of course, I do believe I now know the secret of success at Snip-its. Yes, they have a great weapon to keep kids happy and it worked brilliantly.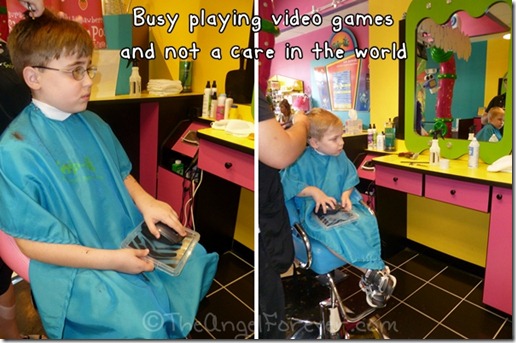 The two of you were more worried about your gaming than anything else. There was a milestone of sorts on this adventure. JSL, you finally had a haircut that used clippers. Since you are going to kindergarten and the amazing hairstylist showed you not to be afraid you agreed. When we asked if it was too short, you said you wanted more off. I have a feeling you would have kept going until you were bald because you were so happy. When it was finally time to go, you used your passes to get your prize.
I know that we will be back to Snip-its because we all had a wonderful experience. The people there were fantastic with both of you, they get working with kids and that means a lot. Thank goodness Daddy was on his toes. Before we went in, we took a photo of the two of you with the figure outside the store. When your hair cuts were done and paid for, we  did another one. Here are the results: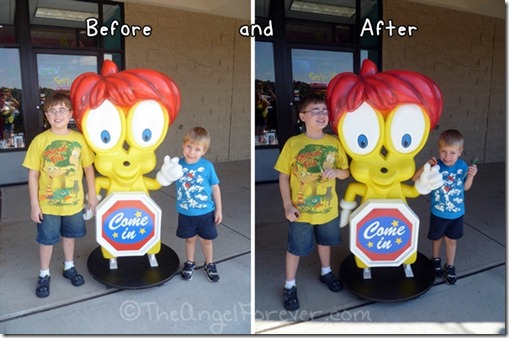 I hope both of you agree that we will be heading back to Snip-its again when your hair needs some attention. We will leave it to the professionals who know what they are doing and work well with kids.
Love,

Thursday, August 30th, 2012
Labeling school items is a sporting event for me. I remember enjoying it when I helped organize my items as a student. Then, it was fun to have fresh items for my own classroom. Now, as the mother of a fourth grader and kiddo going into kindergarten it really gets interesting. I want to make sure that the kids know what is their own and that it stays that way for the entire school year.
A lot of my friends have been raving about Mabel's Labels for a long time now. I would see their items on websites, and, more importantly, on their personal items at conferences and be impressed. When Mabel's Labels reached out to me to try some of my own I jumped at the opportunity.
Since JSL was heading to kindergarten, I asked for his name. We received the Ultimate Back-To-School Combo package. This is what it looked like in the package (name obviously blacked out):
JSL does not start kindergarten until after Labor Day, so we have not completely gathered his items to label yet. Of course, he HAD to test them out. So we pulled out a new doodle notebook that he has for practicing his writing in. Here is what Skinny-Minis looked like on there. His name is partially removed, but you can see the easy to read font and great hockey icon (how did they know he liked hockey?):
For a closer look, I went to their website and made a test view of the different items that we received in the combo: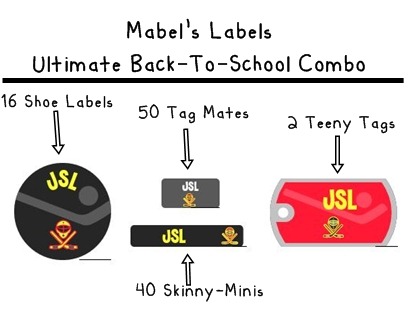 What I love is that Mabel's Labels are durable. After seeing them used by other children and people that I know, they last and hold up to use. They are waterproof, so they will not run if they get wet. They can go into the dishwasher, so the new thermos for lunch can immediately get a hockey label for JSL. I can also use the tag mates to label clothing without ironing or sewing (bonus points in my book). One of the Teeny Tags will be heading onto JSL's generic looking lunch bag that you can not write on.
The Ultimate Back-To-School Combo pack is only available until September 28. The items seen above sell for $42. There are also Back to School items including a Tween Pack, Preschool shoe labels, and Book Label packages. Of course, there are many other durable items available from Mabel's as well. I think NHL is now jealous and wants us to order them. After my experience this time, I am sure there will be an order in our future.
As a teacher, I recommend that you do not skimp on labeling. The better you prepare the items in September, the less likely you are to need to replace them later in the year because they are lost.

Disclosure: I received a complimentary Ultimate Back-To-School Comb package from Mabels Labels in order to facilitate this review. No other compensation was given. The opinions expressed in the review are my own.
Sunday, August 26th, 2012
Over this summer, I have written about the reading program that the New York libraries were running. I love that each local branch can do things differently to encourage children to read. Thankfully, this summer I have not had to really push the boys to read. Keeping track of the books that have been read, now that is another issue in itself.
While shopping for books at Barnes & Noble, the woman helping us asked if we had taken a Summer Reading Journal for the boys to fill out. While I had heard about the program, and we had done it in the past, I forgot to do it this year. We took two of the forms home to fill out.
What is the program? Basically, Barnes & Noble encourages children to read over the summer. When they read eight books and fill out a form, they are eligible for a free book at their local store. The journal must be completed and brought into a store by September 4, 2012. Then, they may pick from a book on the list features within the journal. This weekend, we took the boys to our local store to select their books.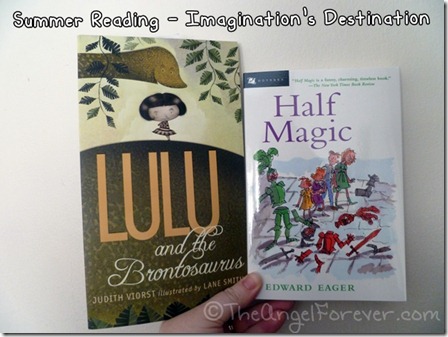 There were 18 books on the list, but not all of them were still on the section for the reading program. The boys picked out the books above. JSL likes dinosaurs and thought the new chapter book would be fun to start reading together. I can not wait to read LuLu and the Brontosaurus by Judith Viorst with him. TechyDad sold NHL on the quirk in the book Half Magic by Edward Eager.
I thought I would share this with others in case you were not aware of this. To print the reading journal at home, you can go here. The journal lists the books that may be available to select from when you get your reward. In addition to this, Barnes & Noble has an activity kit that teachers and parents may want to look at. It has some interactive sheets that look like a nice resource.
A huge thank you to Barnes & Noble for running this program. As an educator and parent, I love that you are encouraging literacy and introducing children to new books. Enjoy and happy reading with your family!
Tuesday, August 7th, 2012
We have a lot of books in our house. Not a shocking statement when you realize that I am a teacher. Many of our books were from when I was teaching and bought them for the boys. Other books were from my college days when I started to "collect" them.
We often gift books to the boys for special occasions, holidays, and just because. Sometimes, they get to help us to pick something special out. The other day we found some gift cards to the book store that were for the kids. It was a lot of fun wandering around with each of them to see what they would ask for. Much to my surprise, they both focused on the books and not the countless toys (albeit educational ones).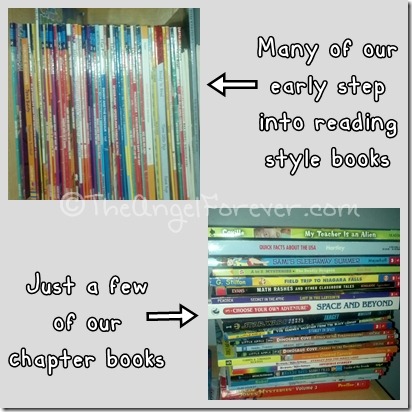 I walked around the store with JSL. He is getting very interested in reading on his own. As he get closer to starting Kindergarten, his reading readiness skills are increasing dramatically. Sure he loves to read the Magic Tree House books with me, but he is looking to smaller early readers. We went up and down the aisles and then something caught his eye. He saw a Jake and the Never Land Pirates book. When I flipped it over, I noticed there were other books listed. We went to someone working in the store to see if they would help us find them.
We located the early readers and he instantly fell in love because Bucky, Izzy, Jake, and the rest of the crew were inside the book. I noticed they were rebus style and although not in love with that, allowed him to put them into his buy pile. In the end, he opted not to get all four of the Jake and the Never Land Pirate books that they had and selected a World of Reading Phineas and Ferb book to round out the day. I know that in no time he will be reading these and others to me!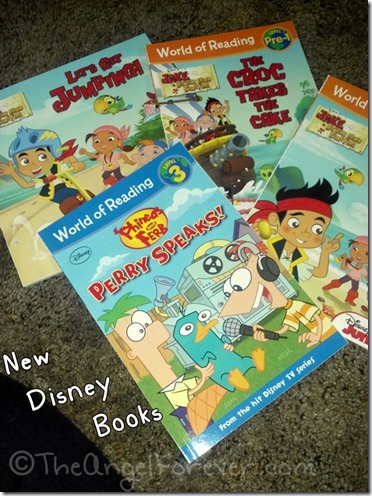 TechyDad went around the store with NHL. They were looking for a specific book in a series he has been enjoying. He wanted to purchase the second of the Tales of the Sixth Grade Muppets books since he enjoyed the first one so much. They eventually found it and I think NHL would have stopped shopping there.
The boys continued to look around since JSL and I were trying to debate on books. They spent quite a bit of time looking at books in the biography section. TechyDad said that NHL was very intrigued with a few of them. In the end, he narrowed it down to Walt Disney, Benjamin Franklin, Jim Henson (would have been second choice), and Abraham Lincoln. The one he selected was the Sixteenth President of the United States. NHL learned about him in school and wanted to read more.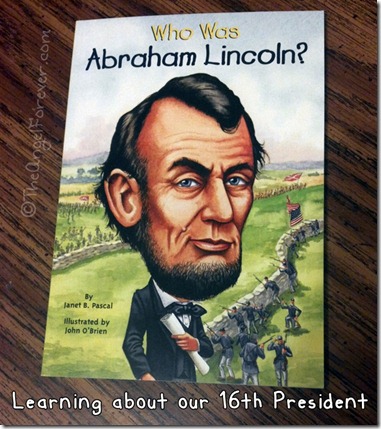 What type of books would your children select if given time to shop in a large book store? I would love to know.  Please be sure to link up to your book posts in the comments below and also let me know what you have been reading recently. Include something you read on your own, with a child, or someone else. Tuesday Tales are all about spreading the love for books.
BTW – If you are interested in the books that we purchased, the following are Amazon links to them. If you decide to buy them we will receive a percentage of the sale.
« Previous Entries