show
« Previous Entries
Sunday, October 7th, 2012
Right now my brain is whirling around and I feel like I am flying. Flying with dragons, of course, so it is a good thing. Thanks to just getting back from an amazing time at the DreamWorks How to Train Your Dragon Live Spectacular at the Times Union Center. TechyDad was contacted by PR from the show and he shared some of the specifics about it recently. After watching the movie with the boys the other day, I was excited to see what the VIP Hero's Welcome would be all about. As JSL (5) says, it was stupendous!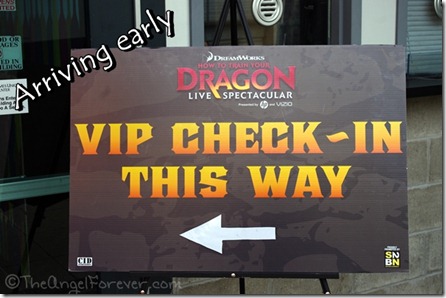 A huge thank you to the amazing VIP tour gentleman who was stationed outside. He was fantastic chatting with us and answering questions from our boys. He told us about previous cities and more about the upcoming shows throughout North America. After this, we were whisked away into the arena before they opened for the show. We received our Hero's Welcome badges, bags, and posters. Then, we were taken to an area to get dressed like Vikings for a family photo.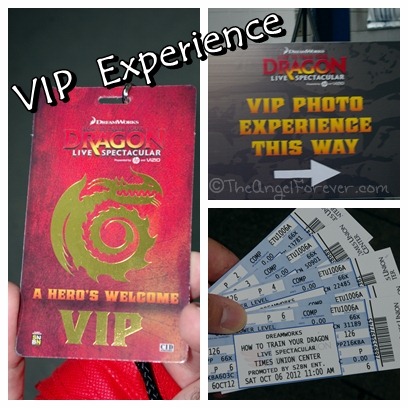 The crew helping to dress our Viking family was fantastic. We never told Papa about this part and he played along and had fun. Before long, the five of us were sporting chic Viking styles for our photo shoot.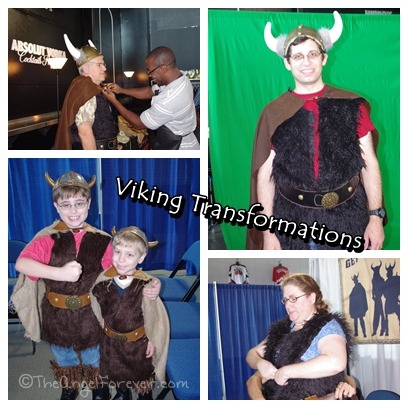 We were not able to get a photo with our camera dressed up, but we took a quick picture of the one they gave us. Yes, I present you with my Viking family in their finest attire and all of their weapons and shields.
Although it took some time to get this done, it was a worthwhile experience. Seeing the smiles on the kids faces and knowing that memories were being made was priceless. After we returned our Viking items to the bins, it was time to wait for the official Hero's Welcome. We went a small area with seats to wait and meet Hiccup and Astrid who are some of the stars from the show.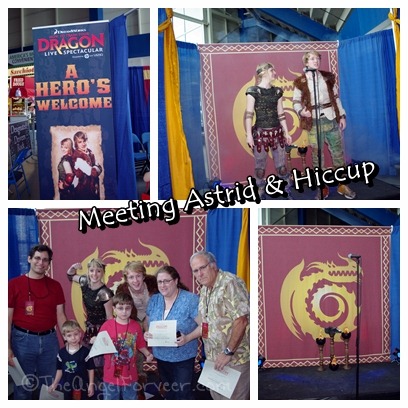 This was just the start of an amazing adventure with the Vikings and Dragons. More coming soon about the show and the Dragons 101 session after the performance. The session after was a geeks dream come true and the VIP team member from this part was also super (wish I could recall his name from the 11:00 am show). If you are in the Capital District and have a chance to see the show before it leaves town, I highly recommend it. It will also be touring to many other cities in the United States and Canada in the months ahead.
If you are interested in attending a show, you can find tour dates and tickets by going to http://www.dreamworksdragonslive.com/tickets.php.  You can also save 25% off the cost of select seats by using the promo code "MOM". Oh and do not forget to think about the VIP packages that you can add on for your family. All of the items seen above were thanks to that.

Disclaimer: TechyDad received tickets and the VIP package to the How to Train Your Dragon Live Spectacular for our family. No other compensation was given and all of the enthusiastic Tweets, Instagrams, and posts that follow are 100% my own opinion of the show.
Sunday, January 8th, 2012
Recently, I wrote about recalling memories of going to concerts as a child. TechyDad and I have taken the boys to several concerts over the years. When we had the opportunity to go to the Laurie Berkner concert yesterday, we jumped at it. My family has been fans of Laurie for a long time thanks to her appearances on Jack's Big Music Show. I will write more about the amazing show later, but now I wanted to share a few photo memories of our experience.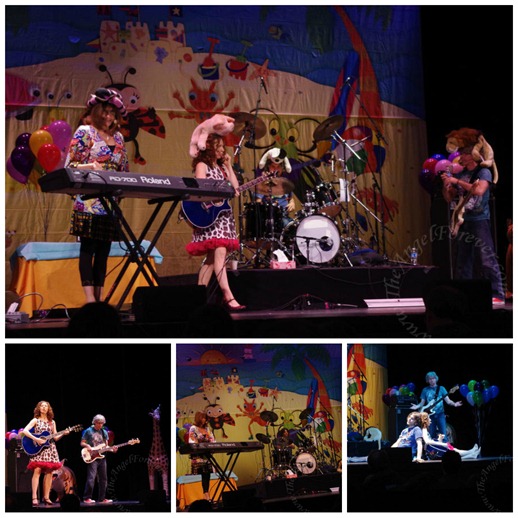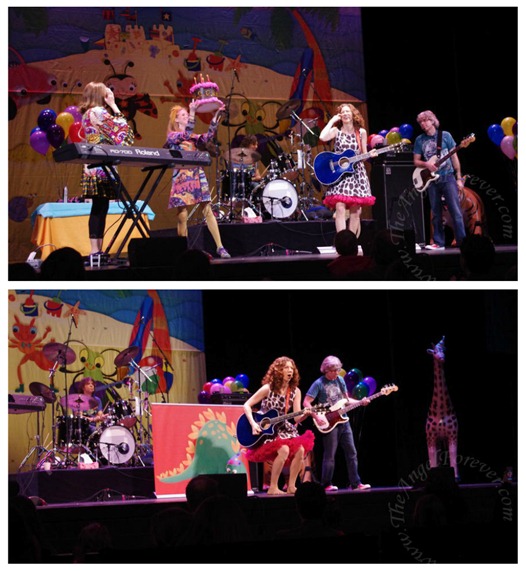 Of course, we will also remember this show because of something that happened toward the end. Laurie was on the stage floor "taking a nap" and Susie, Adam, and Bob were trying to get the audience to help wake her up. Suddenly, you hear Bob mention that they have a runner. TechyDad and I both captured this moment on video. A sweet little girl was dancing with a bunch of other children. Then, she bolted up onto the stage. What you will see the band members do is beyond magical. They went with the flow and worked it into the concert. Here is the video:
We have a lot of other videos and photos from the Laurie Berkner Band concert to share soon. A huge thank you to Laurie, Susie, Adam, Bob, and everyone else that made this concert at Proctors an extra special day for MY family and so many others.

Disclosure: My family and I received complementary tickets to the "Animal Party" concert thanks to The Laurie Berkner Band. The opinions are mine as a long time fan of Laurie Berkner and I received no other compensation. Posting this was done to share a fun experience and not expected in return for the tickets.
Friday, December 30th, 2011
Growing up, I have fond memories of my parents taking me to concerts. This is where I should laugh that some included Paul Simon, Barry Manilow, Neil Diamond, The Beach Boys, and countless other people and bands that they were fans of. Then there was the Rosenshontz concert that brought back the biggest memories. There was something special about being in that smaller theater and watching Gary Rosen and Bill Shontz rock out. Heck, I still remember seeing my mom and dad sing and participate along with them.
Now imagine me, rocking the mommy van with my Laurie Berkner music playing most mornings. As I take the kids to school, we often are belting out Victor Vito, BOOTS, I'm Gonna Catch You, or one of her other catchy tunes. I also have memories of JSL rocking out with Laurie and his play guitar in December 2009. He loved to watch her segments on Nick Jr. Of course, the inspiration for that was Laurie's song My Family. Here is a video about the song:
Our boys love going to concerts and we were lucky enough to be invited by the PR company representing The Laurie Berkner Band to see them next weekend for a stop on their  "Animal Party" concert tour. Yes, Capital Region friends – Laurie and company will be in Schenectady on the Mainstage at Proctor's Saturday, January 7 at 11:00 am. If you are not near Schenectady, NY – have no fear. The Laurie Berkner Band has other dates on this tour as well.
There are so many goodies on the website for Laurie Berkner, but I love the section about the concert. Check this little bit out:
The Laurie Berkner Band is throwing an Animal Party Concert!
What can you bring to an Animal Party Concert?
1. Your favorite stuffed animal (for your head). Any kind will do!
2. A party outfit!
3. Your dancin' shoes, so you can groove to the music!
I have a feeling Snowflake and Clumsy just may be joining us for our concert adventure! So my question to you this week is inspired by our love for family concerts:
Have you ever seen Laurie Berkner in concert? I would love to know about it or another concert you went to and your favorite song. No doubt there will be more coming on this after the concert.

Disclosure: My family and I will be receiving complementary tickets to the "Animal Party" concert next week. The opinions are mine as a long time fan of Laurie Berkner and I received no other compensation..
___________________________________________________________________________
Thanks to Kailani at An Island Life for starting this fun for Friday. Please be sure to head over to her blog to say hello and sign the linky there if you are participating.
Aloha #184
Sunday, December 18th, 2011
Heading to Disney on Ice, I knew that there would be a section of the show that would really get the attention of my little guy. You see, JSL loves pirates. We had his pirate birthday party earlier in the year. He has a pirate costume, and he is in love with Jake and the Never Land Pirates from Disney Junior. So when I heard that there was going to be a segment about Peter Pan, I knew that Captain Hook and his other pirate friends would be there.
Peter Pan was the last main segment before the finale of the Disney on Ice production of Mickey & Minnie's Magical Journey. We got to see Peter Pan, Wendy, Michael, and John fly around and it was magical.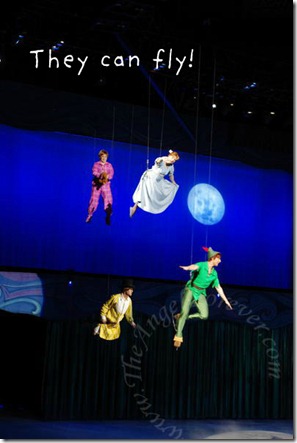 This was fantastic and I could see that the boys loved it, but their faces lit up when Captain Hook and Smee came onto the ice. Of course, that was nothing like the looks when a giant pirate ship, version of the Jolly Roger, came on with a slew of pirate friends.
I even captured part of this on video for the kids to enjoy later on.
Even two weeks after the show, the magical moments are still strong for our entire family. These are the items I cherish.

Sunday, December 11th, 2011
Growing up, I remember going to see ice shows with my family. Now, it's like The Lion King and a Circle of Life taking my own kids.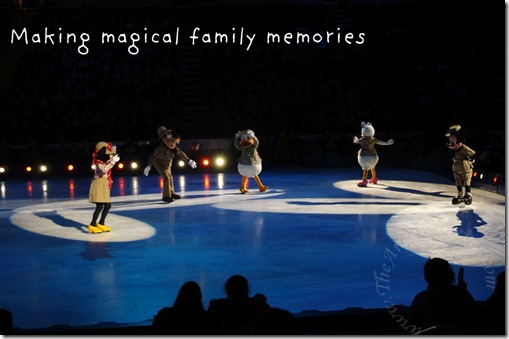 Back in the day, the Ice Capades were big. One year, back in the 80's, they featured The Smurfs. I remember taking my Smurfette doll and getting a program and button (that I still have). Of course, those shows often featured Olympic figure skating stars as part of the draw. These days, there are shows with just figure skating for the diehards, and then family shows like Disney's that tell beautiful stories with costumes and on ice artistry.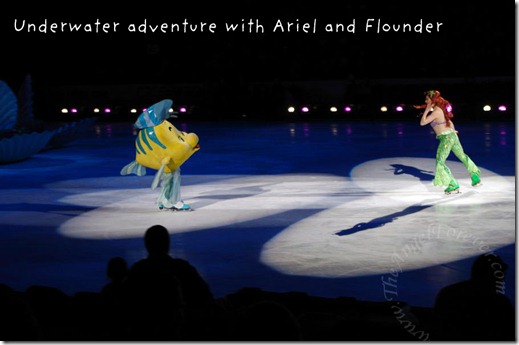 Seeing a Disney story come to life on skates is just beautiful. Here, I share a small section of the Mickey & Minnie's Magical Journey now on tour. This is the end of The Lion King section. Mickey and friends come back out to introduce us to the next part of their adventure and then Sebastian comes to bring us to the world of The Little Mermaid.
Have you ever been to the Ice Capades, Disney on Ice or another show like those? I would love to know and have you share your memories.

« Previous Entries