social media
« Previous Entries
Friday, April 26th, 2013
I adore the world of social media and what it has meant for me. I have been able to meet people that have had a huge impact in my life. Many have become real life friends that I have also been blessed to meet in person. The two amazing women below are Amy Lupold Bair and Shannan Powell. They are the force behind Resourceful Mommy Media.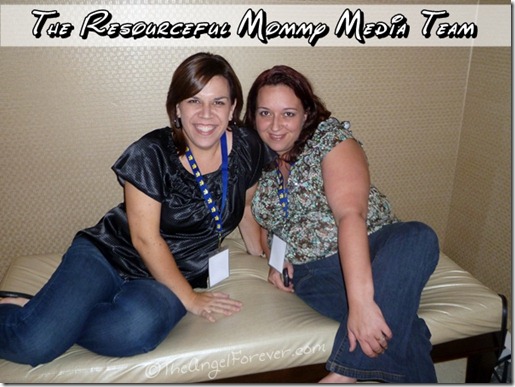 Looking back, I am not even sure how I met Amy, but I have to guess it was probably on Twitter and may have had something to do with Walt Disney World. I instantly made a connection with @ResourcefulMom (that's Amy) because she was also a teacher that was no longer in the classroom. We had two children that were similar in age, husbands that refused certain social media platforms, and our love for all things Disney went back to trips with our families when only one park ruled the Orlando land.
This past year, I have watched as Amy wrote her first book and now it is being launched. Yes, Raising Digital Families for Dummies is officially coming out and I already purchased my Kindle copy a short time ago.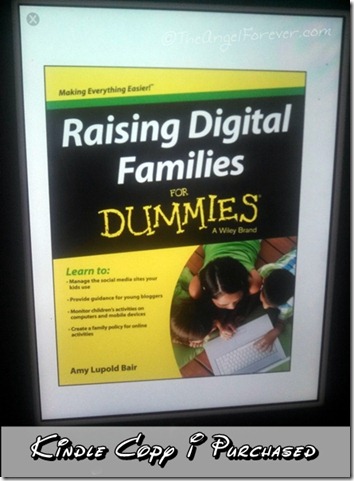 Amy's passion for social media is clear to everyone that knows her. In this book, she helps other families to see how to guide their children in the ever changing digital world that we live in. I look forward to exploring her book and working on a plan for our family.
Now, I am asking you to please help me to congratulate Amy and join her for the Twitter launch party on Monday, April 29. There is more information about it on her website, along with magical prizes being given out.
Once again a big Mazel Tov to my friend Amy on her first of what will likely be many books.

Disclosure: NONE – I wrote this because I am supporting a friend!
Thursday, December 13th, 2012
Blogging has opened up an entirely new world for me. When I started The Angel Forever almost six years ago, I had no idea that I would be building a brand. The reality is that slowly the need to think about how I present myself in Social Media and beyond as the person behind The Angel Forever became evident. I had to be the voice behind my blog and not simply Beth. Gone are the Tweets where I vent about things at school. Sometimes, you will still see personal items like notes about the crazy weather and parenting, but that is showing a side of my brand – the Mom.
At various Social Media events – including BlogHer, SheStreams, and Disney Social Media Moms – I took notes from people about how to build a brand. Slowly, I have been working on this. Of course, at the same time you also have to think about your online reputation. Not only do big companies have to think about this, but bloggers do as well.
Thanks to an opportunity with For Dummies, I was able to receive a copy of Online Reputation Management For Dummies
.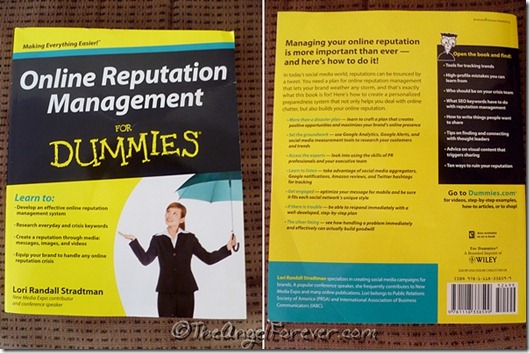 Heading into 2013, I have goals for myself. With these items in mind, I need to be ready to manage my online reputation. Author Lori Randall Stradtman mentions "Expecting the best and preparing for the worst."  The inner Eeyore in me laughed and nodded at that statement. The reality is that you must be prepared and have a plan ready. The last thing you want to do is panic and let emotions guide you IF you need to fix something. As a victim of cyberbulling by someone who has targeted many bloggers over the years, I am always looking to learn. I adore that Stradtman makes a point to remind people that Reputation Management is not simply another way of saying damage control. She's right. It's a process that takes time and her book helps others to do this.
Online Reputation Management for Dummies is broken down into six parts that go further into depth on specific areas. The sections are:
Getting Started with Online Reputation Management —Learning what this means and what approach will be best for you.
Organizing Your Teams – In addition to an everyday team, you need to think about people/professionals that can be on your crisis team.
Listening Is Love – What monitoring tools to use, how to utilize SEO Keywords, and setting everything up to check what is being said.
Establishing Your Reputation – Engagement via Social Media, making your brand, defining your message, reaching out to groups, tips on writing to get attention, using visual to get message out there, and getting others to spread your brand.
Responding to Crisis: Your Step-by-Step Plan – How to manage issues as they grow, working on a crisis, and making personal connections (this was a life saver in my situation).
The Part of Tens – Reputation tips for special events, faceplant moments, and making readers/fans happy.
Since the book arrived, I have had time to scan it over and get a general feel for what is inside. What I have realized, I need more time to read certain areas that are more of what I will utilize in the weeks ahead. I know I need to monitor a bit more, especially with the past cyberbully issues. I also need to really home in on defining my brand and working with the writing tips like catchy titles, adding SEO keywords, creating lists, how to, and other items within Chapter 12: Writing Your Way to the Top and Chapter 13: Using Visuals to Spread Your Message. I already use Facebook, Google+, Twitter, and Instagram. Now to use them more to build my brand via Online Reputation boosting strategies from Stradtman while also being prepared to protect and respond IF something should happen.
Now I have a plan of action with the Online Reputation Management Cheat Sheets available online, along with my own outlines. As I enter 2013, I have a plan on where to focus my attention so I can get more specifics to utilize in my strategy from this book.
Do you have an Online Reputation Management strategy? I would love to know your thoughts on this topic thanks to our new Social Media and online world.

Disclosure: I wrote this post as an Ambassador for Dummies books through a Global Influence campaign. I received a copy of this book for review purposes, but as a fan of Dummies books, the opinions expressed are 100% my own. Additional locations to purchase this book can be found on the following landing page. An Amazon Affiliate link is included in this post for the Dummies book mentioned. I will receive a percentage of money for the sale should you opt to purchase it through that link.
Friday, September 21st, 2012
Children learn early that is is not acceptable to steal written words from other people. Of course, that does not mean that everyone follows these copyright laws. As a teacher, I had ways to check to see if my students were plagiarizing their book reports, essays, and other items. It's sad to say that tools exist for teachers. This was probably part of the reason why I made book reports into projects that were more creative and outside of the box. They were more fun to correct and share. Plus, they were harder to copy from a source.
As a parent, I have had to explain to my nine year old that when he needs a photos for a project we have to go to sources that are acceptable. Simply using Google images to hunt something down is not allowed. This is something that many schools are starting to explain to students, but with budget cuts many technology education curriculums are being slashed. This often means internet usage and copyright laws are not being covered properly. We need to make sure that our children are following these.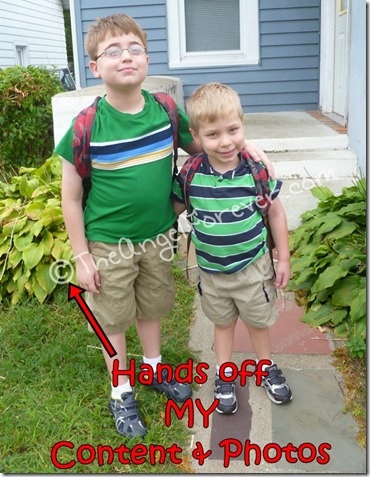 Now, you would think that grown adults would know better than to copy something that was not their work. This is not the case. Several months ago, I had a content scrapper pull an entire blog post about my anniversary. Every word, photo, link, and item was pasted onto their for-profit website. No permission was asked, it was simply taken. I caught it because of a ping-back on a link within my stolen post. I submitted a comment requesting the item be removed immediately and mentioned DMCA laws. After a week of nothing being removed and noting more and more stolen item on their website, TechyDad stepped into use his webmaster ways. Since they were pointing to MY photos hosted on my server, we replaced their call to them with this: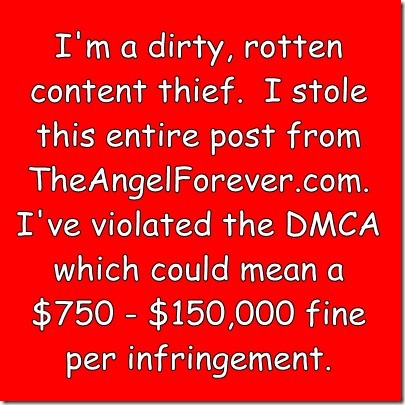 This remained on their website for a few days, then the website vanished. Of course, not all content thieves leave a trail. Case in point – the NickMom website (that I refuse to direct you to). If you have not heard about their massive blunder, you must head over to read Amy Lupold Bair's post where she introduced the blogging community about the tactics of NickMom. Kelby Carr, Type-A Mom, continues to update her post about how NickMom is sliming parent bloggers. More and more bloggers have written about how to protect your photos after they realized their items were stolen. The reality is that NickMom continues to publish content that is not theirs and will not remove it unless the owner notifies them. I love the way Emily, ColoradoMoms, puts it. The picture of her adorable son and the caption are spot on. Nichole Smith, The Guilty Parent, compares this tactic to stranger danger. These wonderful women, and so many others, have now written about this topic, but one post really hit home. It was from Sarah, Nerdy Apple, on why she left NickMom. As someone who once left a writing job because I was worried about my reputation, I applaud Sarah for standing up and protecting herself. As a community, we must unite to protect each other and stop people from thinking that it is acceptable to take content without permission.
So my question to you this week:
Had you heard about the NickMom drama and have you ever had someone take your writing, photos, or other work without your permission? Would love to know your take on this ever growing issue in the blogging world.

___________________________________________________________________________
Thanks to Kailani at An Island Life for starting this fun for Friday. Please be sure to head over to her blog to say hello and sign the linky there if you are participating.
Aloha #221
Friday, June 15th, 2012
When I received my new phone Violet, I was thrilled to be able to try new and different apps with her. Early on, I found that I really liked making a collage of photos that I had taken throughout the day. I still do this and often use PhotoShake and AddWatermark to make ones like this: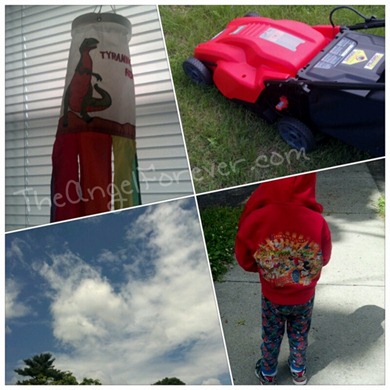 I do not take specific photos for the collages, they are just randomly shot during the day. Then, at the end of the day, I can send the collage on Instagram stating it is my "Views from today" Tweet.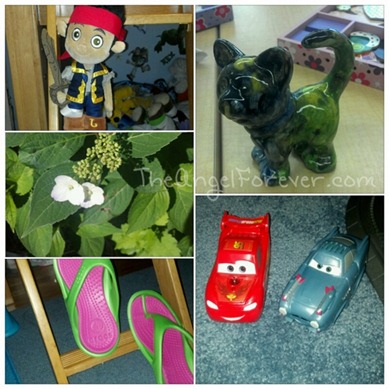 Once the kids are in bed, I sit with my phone for a few minutes to see what pictures I have snagged while out and about. It is interesting to see how, on some days, I have a lot of options to put into the collage. Then there are days where there are very few.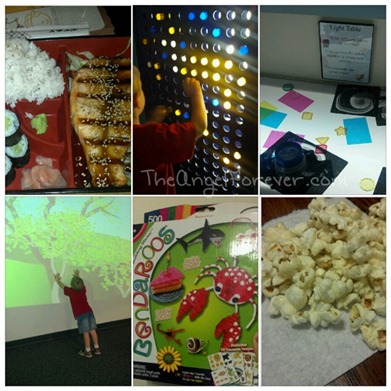 So my question to you this week:
Do you like to make photo collages? What programs do you use on your phone and/or computer to make them? I do use PhotoScape and PicMonkey (more on this soon) for blog collages and on my Facebook page.

___________________________________________________________________________
Thanks to Kailani at An Island Life for starting this fun for Friday. Please be sure to head over to her blog to say hello and sign the linky there if you are participating.
Aloha #207
Tuesday, June 12th, 2012
Alright, it's time to confess – have you gone to the dark side yet? I am not talking about Star Wars, although a lot of pins for related items will be found there. I am referring to Pinterest. As I have mentioned before, I joined Pinterest at the end of December and have written about it multiple time.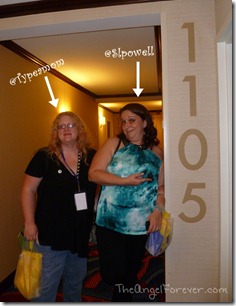 What I never mentioned was how I was hooked. Back in September 2011, I went to SheStreams in NYC. One of my roommates happened to be Kelby Carr.
While in our hotel room one evening, we got talking about Social Media. Yes, we are geeks at heart. Kelby, @Typeamom, was trying to sell Shannan and me on Pinterest. It was just a whisper at the time. I kept saying that I just did not have time to devote to another something. I was clueless and Kelby should have slapped me.
Fast forward to Christmas Eve. I was bored and mentioned something on Facebook. Kelby immediately told me that I should just join Pinterest and go to the Dark Side already. I made an excuse about not having an invitation. Seconds later, I had one in my e-mail from my dear friend. Yes, I was the Jewish girl learning, exploring, and pinning her way through Christmas Eve and Christmas Day.
Kelby Carr, the evil one that hooked me on Pinterest, is now an author of a book all about Pinterest.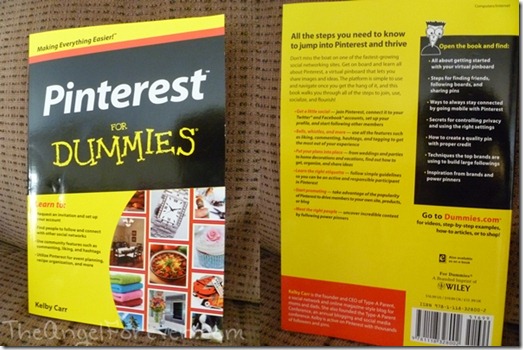 Why yes, Wiley knew the real deal and asked Kelby to write Pinterest For Dummies
which was released May 8. I was even in Florida when she received her first copy from Ellen.
Like other books from the Dummies line, Pinterest For Dummies really does take a new user step-by-step and explain the ropes. You learn what to do to get started, including getting an invitation, linking profiles, and adding a bio. Once that is settled, you venture into creating board. I love that Kelby shows how to name, pick a category, and then walk you through how to rearrange and edit things later on. The other chapters include:
Pinning and Repinning <—Beware this can become addictive, but great to organize
Socializing on Pinterest <—Always fun to see what friends have pinned.
Using Community Features
Finding Ways to Use Pinterest <— I think it is a great tool for parents/teachers!
Going Mobile with Pinterest <—Still sad it is not Android friendly.
Understanding Pinterest Etiquette <—Hot topic within the social media world.
Controlling Privacy and Other Settings
Self-Promoting on Pinterest
Ten Companies Using Pinterest Effectively
Ten Power Pinners to Follow
What I really enjoyed while reading and  browsing around Pinterest For Dummies was the Where's Waldo effect within the book. Seriously, Kelby's use of photos for examples in each step show cases some pretty cool people. Check this one out from page 68 in the book.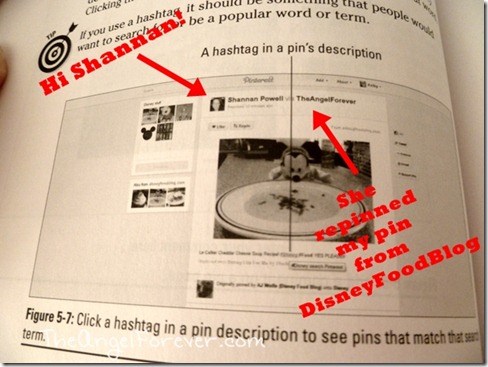 If you are new to Pinterest or really want to learn how to maximize the power behind it, I highly recommend this book. More related to the book can also be found on the Pinterest For Dummies board on Pinterest of course!
Are you a fan of Pinterest? Do you have thoughts on Pinterest For Dummies? Let me know where to find you on Pinterest and I will catch you there.
As always, Tuesday Tales are all about spreading the love for books and learning. What have you read recently? Please be sure to link up to your book posts in the comments below. Include something that you read on your own, with a child, or someone else.

Disclosure: I received Pinterest For Dummies from Wiley in order to facilitate this review. No other compensation was given. The opinions expressed in the review are my own. One Amazon Affiliate link is included in this post for the book mentioned and another is coming next. Kelby Carr's second book Pinterest Marketing For Dummies  will be coming out July 24, 2012 and you can already preorder it from Amazon.
I will receive a percentage of money for the sale should you opt to buy any of the books through my links.  I know I am looking forward to the next book.
« Previous Entries