winter
« Previous Entries
Friday, January 4th, 2013
I have lived in New York my entire life. The rather mild winter in 2011-2012 left us with almost no snow, ice, and bone chilling days. This winter started out in a similar fashion. December was filled with days that consistently went above the 32 degree mark. All of this changed when back to back snow storms hit our area.
Not only did we suddenly have at least a foot of snow on the ground, the temperatures dropped. Snow is beautiful to look at, but it turns to ice, forms dams on houses, and makes maneuvering outside tricky. None of this really phases the boys, they are happy to stay outside and play.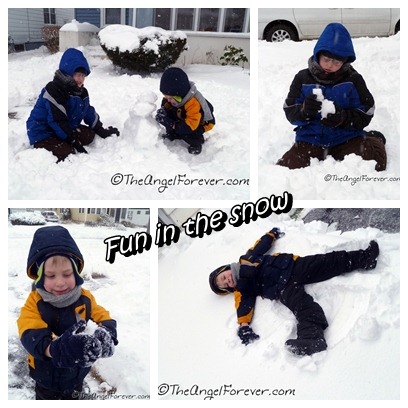 Thursday morning it was –2 when the boys had to walk into school. When you factor in the wind, it was –7. It was COLD and the sting factor was definitely there. I seriously will not complain about 30 degree weather again, it does seem rather balmy right now.
My question to you this week:
What is your ideal outdoors temperature and why do you prefer that?

___________________________________________________________________________
Thanks to Kailani at An Island Life for starting this fun for Friday. Please be sure to head over to her blog to say hello and sign the linky there if you are participating.
Aloha #236
Thursday, December 27th, 2012
I will be the first to admit that I am not a fan of snow. I loved playing in it when I was a child and made some amazing snow creations with neighbors. Then, when I learned to drive and we bought our house, things changed. Driving was suddenly dangerous, winter plans were harder to make, and keeping roofs clear of ice dams a reality.
Still, I can appreciate the beauty of the fresh white snow outside.
Later on, I will take one for the team and bundle up to watch the boys play in the snow (shoveling complete and TechyDad will rake the roof after work). You see, we already have more snow from this one storm than we had all last season. I have a five year old that jumps for joy when he sees one snow flake fall from the sky because he wants to play.

Saturday, December 1st, 2012
Dear NHL and JSL,
This morning, I asked you to look outside and check something out. Moments later, I heard the two of you jumping up and down, screaming, and planning to go outside to play.
Why yes, December arrived today and Mother Nature has delivered a little bit of snow to remind us that winter is coming. I guess this really means that we need to check to see if you both have boots that fit and haul up other winter gear from the basement. Too bad we can't simply use PicMonkey to prepare us like in the photo below.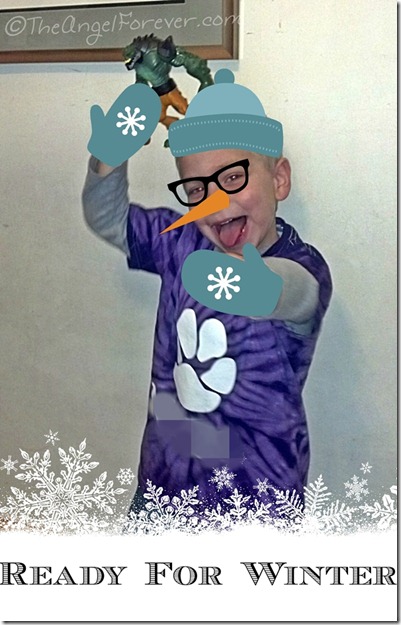 No doubt we will have plenty of snow coming in the month ahead for both of you to play in. Now to get ready before it arrives.
Love,

Saturday, March 3rd, 2012
Dear NHL and JSL,
I know the two of you do not understand how I could possibly dislike the snow. Both of you will probably understand that a lot more once you have to drive in it and own a home. Of course, I can remember being a kid and making snow forts and playing outside for hours at a time with my friends. This winter, I have watched the two of you celebrate when you see a snow flake form, only to realize that there was nothing to go outside and play with.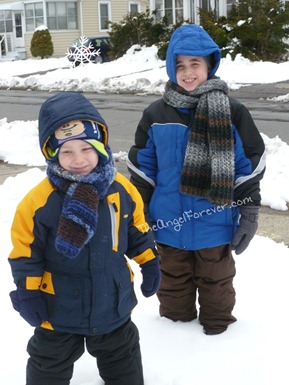 That certainly changed this week when we doubled the winter snowfall in a 24 hour period. Finally, the two of you would be able to test out new winter gear and romp in the snow. Of course, that had to wait a day. I was not feeling well during the snow day and both of you were so sweet taking care of me. I promised you before school on Friday that if it was not raining you would have time outside.
Once NHL was out of school, we ran into the house and got everything on you and then went outside to check out the snow. I have to admit, this was amazing snow for building things. It had just enough moisture to make perfect snowballs.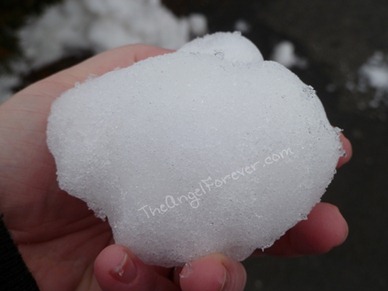 The two of you played, ran, dug, slid, and so much more. Watching you smile, concentrate, and hearing the laughter was worth my numb toes.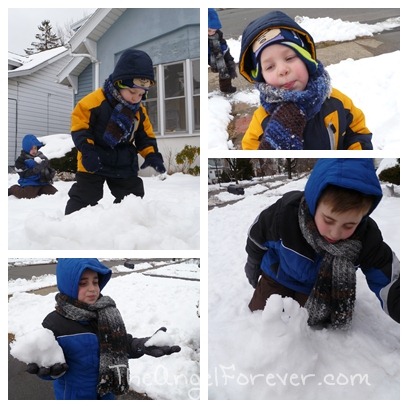 Of course, I had to laugh when you both noticed the spot on the lawn that was perfect with no marks in it. JSL immediately immediately tossed his body down and went into perfect snow angel form. NHL was not into this, instead you just plunked down and looked around taking everything in.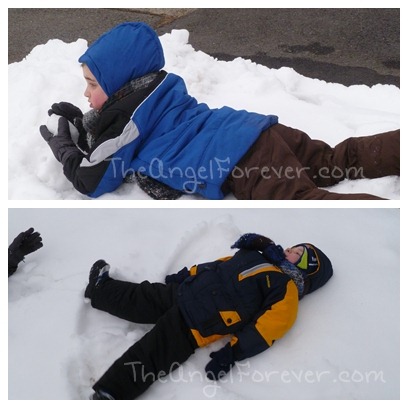 It may have been cold, but it was fun watching the two of you enjoy the time together being creative in the snow. I promise not to complain too much next time it snows – well, not for too long.
Love,
Mommy
Friday, March 2nd, 2012
Earlier in the week, I had almost forgotten about that white stuff that falls from the sky.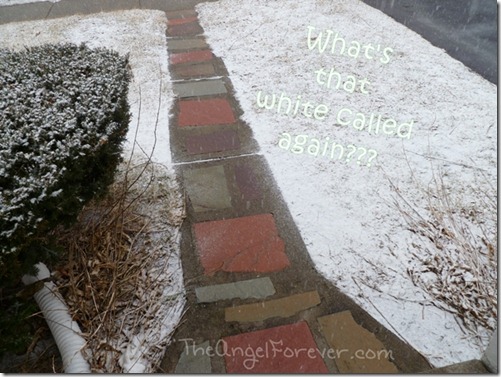 Of course, I know where we live and it is hard to forget the snow from last year. This could have been the least snowy on record for February, but it was not meant to be. No, that funny 29th day killed that plan thanks to Mother Nature sending us a dose of reality. As of Tuesday, we had only received .6" of snow during the month. With a storm coming on Leap Day, we were going to easily go over the 1.2" record.
The photo above was taken right before I went to get JSL from preschool on Wednesday. The snow had started quickly and was making an impact. By about 4:00, it looked like this outside the house: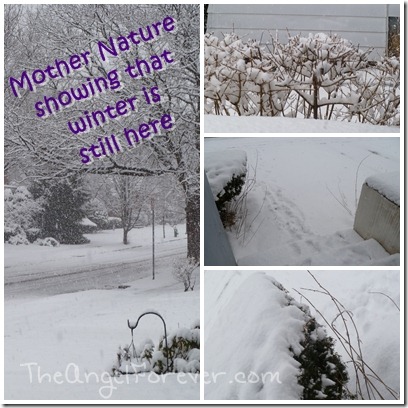 Thank goodness we all made it home safely, although skidding on the road was an issue. This morning, schools throughout the area were closed for the first time this season. The boys stayed home with me as more snow fell. After lunch, I went out to take some photos and get rid of the giant boulders of snow at the bottom of the driveway from the plows.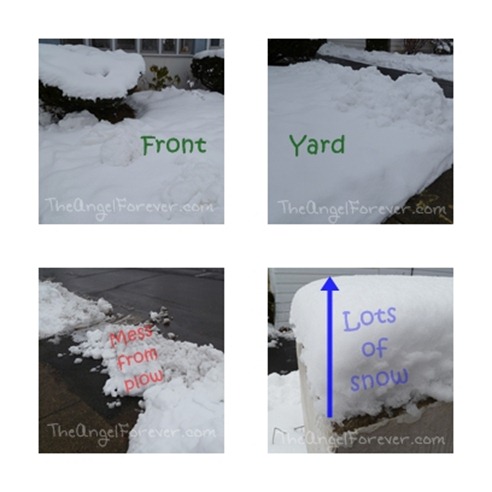 So my question to you this week:
How has the winter been by you? Mild, typical, snowy, tropical, or something in between. Share below and let me know what you think.

___________________________________________________________________________
Thanks to Kailani at An Island Life for starting this fun for Friday. Please be sure to head over to her blog to say hello and sign the linky there if you are participating.
Aloha #193
« Previous Entries