yummy
« Previous Entries
Next Entries »
Monday, May 21st, 2012
When you immerse yourself into the world of Walt Disney World, you quickly realize that part of the magic is thanks to the amazing Cast Members. Yes, I said Cast Members, not employees. As a member of the Disney production team, all individuals that work within the Disney umbrella are referred to as Cast Members (CMs in Disney lingo).
On our last visit to Walt Disney World, I wish I had gotten the name of several of the CMs that went far above and beyond what they needed to do. There was the CM in Mouse Keeping that arranged special friends and left us nightly surprises in our room.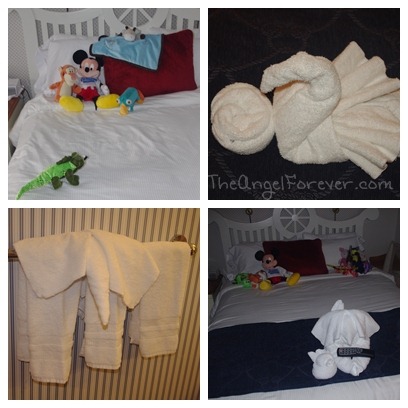 Luckily, we did keep track of a few names to make sure to recognize them.
Kimmy from Garden Grove, CA was the CM at Beaches and Cream that had the entire place sing Happy Birthday to JSL. He was so surprised since he thought the flashing lights were to present another Kitchen Sink at a table.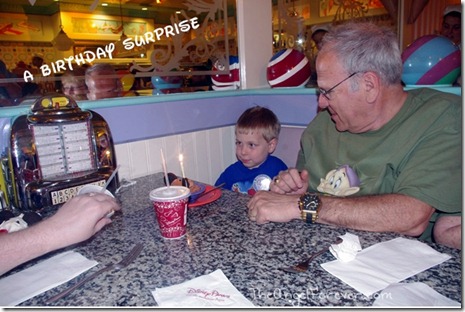 Countless CMs were involved in helping us through an emergency and then they left some Pixie Dust one evening. It was completely uncalled for, but very much appreciated. After taking the photo below, Papa and I walked down to the front desk to thank them and get names of the CMs responsible for this sweet gesture.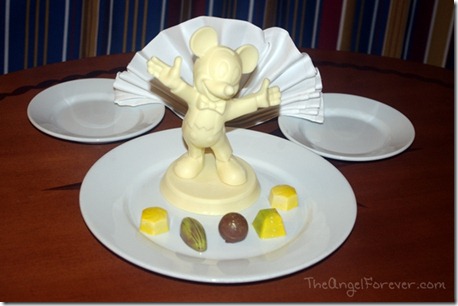 What I wish is that I had taken more photos of these amazing individuals that as a team made our trip even better. I have many names and will be writing to Disney to praise these individuals. Still, photos would have been nice – a face to personally thank them here on my blog.
There were also CMs that made us laugh like Steve from Wallingford, CT. Steve was our fearless Captain on The Jungle Cruise. He was absolutely amazing, keeping the kids happy and tossing in some much needed adult humor.
Another person that made me smile while I was having a rough last night was Stephani from Centerpoint, AL. While I was stressing over last minute purchases and packing at the Yacht Club Resort store, she made me laugh and smile. Suddenly, the idea for this post came into my head. I knew that I had to get a photo of this woman who had made me forget about the stresses of packing my family up to leave Walt Disney World. She laughed, but I explained that I was a blogger and there was a reason for this. She recalled the conference earlier, posed, and told me to make sure to spell her name properly.
It is because of these CMs and countless others that my family will always remember this magical trip that we had together. I will never be able to thank them enough, but hopefully by writing this and letting others share in the wonder – it will be at least something.
Do you have a magical CM tale to share? I would love to know how someone at Disney helped to make your trip even more special or went above and beyond. Let me know what this person or people did and how you thanked them.

Disclosure: Although we paid for our own trip to Disney World to attend the Disney Social Media Moms Celebration, we were given an incredible deal from Disney. Also note that Disney never asked us to blog about this event. As a long time Disney fan, it is my pleasure to share my experiences from the event and our extended stay.
Thursday, May 17th, 2012
From the minute we received the more detailed schedule for events of Disney Social Media Moms Celebration, something caught the attention of my children. Yes, NHL and JSL immediately noted the Swashbucker Soiree, especially after I read them this:
Ahoy matey! Aye – now this is a family dinner you won't want to miss! Brought to you by Disney Junior, join us for a buccaneer-themed evening along the beach with live music, a treasure hunt and plenty of fun for everyone.
The boys literally jumped up and down. They guessed that Jake from Jake and the Never Land Pirates would be there and possibly others. The boys, well, they are good at guessing.
After the Cocktail Reception – Passport to the World welcome, we went out to the beach by the Beach Club Resort to meet up with our families. With one quick look, you could see we were in for an amazing pirate party!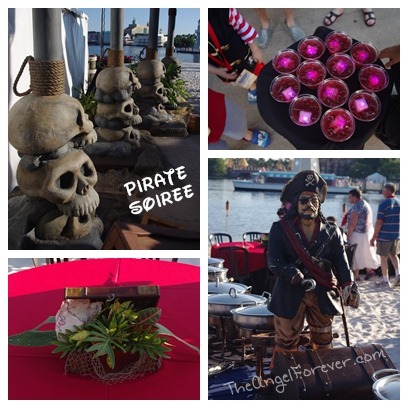 Disney Junior handed out pirate bandanas and pirates greeted us as we walked onto the beach where a pirate band was playing music for all of us to enjoy. Then, it was time not to walk the plank because there was an amazing buffet of pirate inspired goodies for all to devour.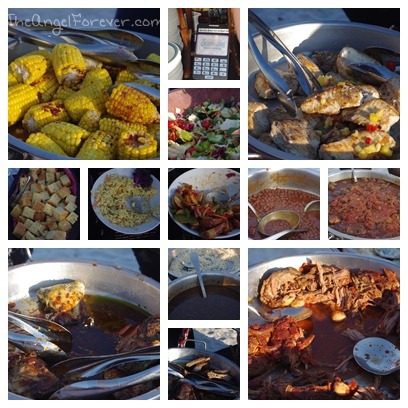 While the boys and Nana and Papa were eating, TechyDad and I were able to chat with some of our friends on the beach. We also caught up with head GEM (Good Enough Mother) Rene Syler and stopped for a photo. TechyDad helped the kids eat while we gabbed and gabbed with Rene and every other person I bumped into.
Of course, my little mateys had a hard time staying by their seats soon after this. You see, once they saw someone enter the area, they did not want to stay at the table. Check out who joined the party below.
Yes, that is Jake from Disney Junior's Jake and the Never Land Pirates. When Jake came out onto the Swashbuckler Soiree scene, many of the kids (including mine) were off to participate in the fun and games. Once NHL and JSL had their photo taken with Jake and the pirate slide behind them…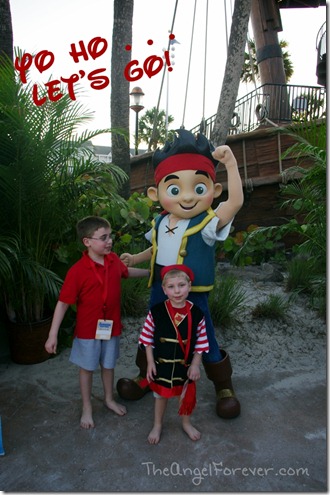 They had to beware of other pirates. This colorful crew of pirate misfits were teaching the kids how to perfect their pirate pose for the camera.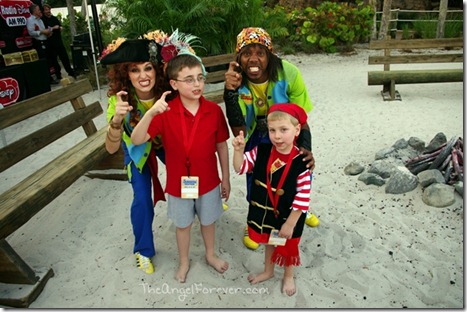 Looking back on it, I wonder if they were really just trying to help and protect the kids. Soon after this, two scallywags that you may recognize showed up to join the party.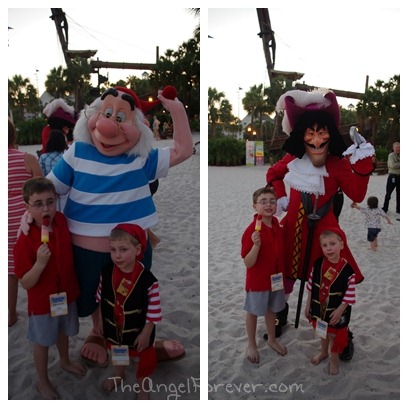 Of course, when you party like a pirate, it is important to stop to enjoy a cool ice cream treat.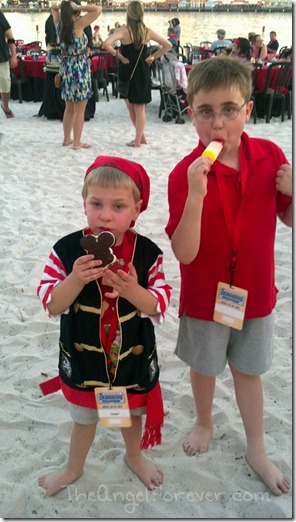 This break also means that it is the perfect time for the Pirate mother to send out an Instagram or two to share photos from the fun.  And for those that finish their Mickey Ice Cream sandwich early, it's always interesting to hide your feet in the sand!
Of course, little pirates that have been up since the wee hours of the morning get tired when the sun sets. We knew that we had many more adventures ahead on Friday and beyond. While others remained to dance in the dark, we went back to our room in the Yacht Club Resort to settle the boys in for some sweet pirate dreams.
More to share and lessons learned from our time at the Disney Social Media Moms Celebration coming soon.

Disclosure: Although we paid for our own trip to Disney World to attend the Disney Social Media Moms Celebration, we were given an incredible deal from Disney. Also note that Disney never asked us to blog about this event. As a long time Disney fan, it is my pleasure to share my experiences from the event.
Tuesday, May 15th, 2012
Yesterday was JSL's 5th birthday. Monday birthdays are tricky when you are in school. It means you can't do anything too big and elaborate, but still need to make the day extra special. On Sunday, JSL finally opted not to ask for an ice cream cake and wanted a chocolate cake with sprinkles in it. That can not really happen, so he picked something else, along with frosting and items to decorate the cake.
In the morning I took the boys to school. When I dropped JSL off, his teacher E had him make a special birthday crown. Later on when I went back in, the crown was complete.
Then it was time to have a birthday snack with everyone. When the kids were done singing to JSL, he was asked to share how old he is now. Yes, he now needs an entire hand.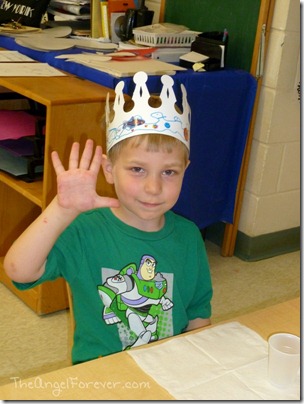 After a story and some dancing, we packed up to head home. We were on a mission. Before going to school JSL asked me only to bake the birthday cake. As a new big five year old, he wanted to help frost and decorate his own masterpiece. So I set out supplies and we started to work.
JSL soon learned that when you pull up on frosting…cake will follow along with it. Thanks to that, he also learned how to repair holes with more frosting.
Once the cake was covered in frosting, it was time to add some color. JSL was careful placing sprinkles at first, then he started to just dump them on, and eventually he wanted some gold to add a little sparkle.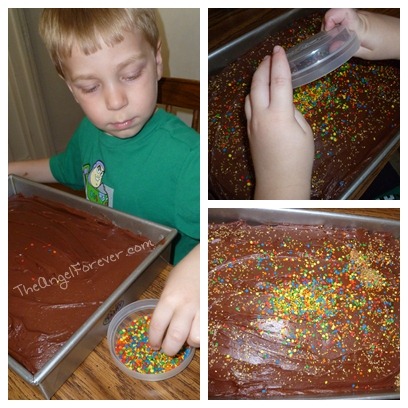 When the cake was finished we pulled out the present that he begged for. JSL wanted walkie-talkies for his birthday. These are the cool Perry ones that we found for the Phineas and Ferb fan:
Unfortunately, the walkie-talkies did not work. We called the company and they were amazing. Later on we brought them back to the Toys R Us and exchanged them for some the exact same item that worked perfectly. Then we came home to have some of the cake that JSL helped to make.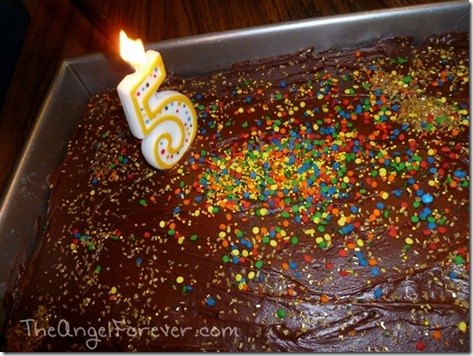 It is still so hard to believe that my "baby" is already five!

Friday, May 11th, 2012
Trying to find a healthy snack food that is low calorie, low fat, filling, and tastes good can be a difficult task. A few months ago, we were visiting my brother and his family. One night, he shared a snack that was absolutely delicious. I was immediately jealous because it was amazing and we had nothing like it near us. It was called Kim's Magic Pop.
The months went by and I never thought about them again until Nana and Papa had them at their house the other day. Yes, they were able to find them locally. Now, I think we may have a bit of an addiction. The boys and I love them and the kids loved watching them get made. Thanks to the Delice Global website, we now know all of the flavors that Kim's Magic Pop could come in. They include:
Original
Onion
Cinnamon
Cheddar Cheese
Potato
Strawberry
Whole Wheat
7 Grain (coming soon)
Super Fiber (coming soon)
Honey Wheat (coming soon)
Although I like them plain and right out of the bag, I think they would also be delicious with some hummus. No doubt we will continue to experiment with different ways to enjoy them. At just 15 calories each, the wow factor when crunching them has been worth the wait.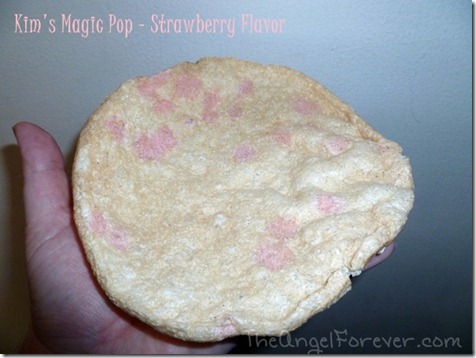 My question to you this week:
What is a new snack food that you are currently enjoying and why?

Disclosure: We have paid for many bags of Kim's Magic Pop with our own money. Just thought of this post one day while I was crunching on a delicious snack and wanted to share.
___________________________________________________________________________
Thanks to Kailani at An Island Life for starting this fun for Friday. Please be sure to head over to her blog to say hello and sign the linky there if you are participating.
Aloha #202
Monday, April 23rd, 2012
When I start to think about Walt Disney World, one refreshing treat comes to my mind. I immediately begin to imagine myself walking through the Magic Kingdom to Adventureland and getting one of these at Aloha Isle: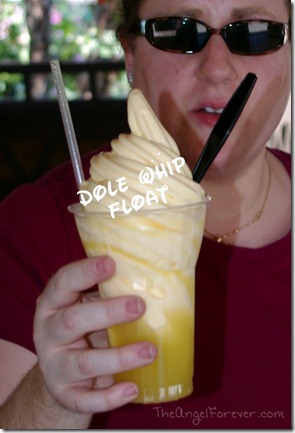 Please excuse the hot, sweaty, and frizzy haired me in the background. That photo of me holding my beloved Dole Whip Float was right after I finished the three hour African Trek. I called the boys and they were over at the Magic Kingdom. I immediately knew the place to meet. We introduced the boys to their first Dole Whip Float and they are definitely fans of this refreshing treat.
If you are a Dole Whip newbie, I suggest checking out AJ's post on The Disney Food Blog all about the beloved Dole Whips. From there, she links up to additional posts about the topic and even where you can find them outside of Disney parks. Zannaland also wrote about The Great Dole Whip Controversy. Yes, people are that serious about their Dole Whip preferences.
So let's talk frozen delights at Walt Disney World. Have you had a Dole Whip before and what is your favorite location to enjoy this delicious snacks?

« Previous Entries
Next Entries »