By TheAngelForever | May 17, 2013
Disclosure: As a member of the Verizon Lifestyle Bloggers, I recently received a Lucid 2 by LG to try and share ways that I use my cell phone to make life easier. This blog post utilizes the Lucid 2's QuickMemo™ to share images of apps. There was no other compensation. I am a long time Verizon customer, and all opinions are my own.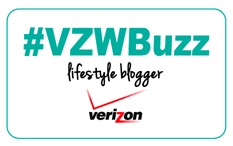 When I travel, I typically have posts written and scheduled ahead of time. Sometimes, I write them and have also had some amazing guest writers over the years. Still, I have found myself at Walt Disney World or other locations with something that I want to blog at that moment. In the past, I was limited to using my laptop if I brought it with me. While I prefer to blog with Windows Live Writer, I am flexible when I need to be. Thanks to my smartphones, I am able to use the WordPress app for Android and I can publish at any time with my 4G LTE connection via Verizon Wireless.
The fist time I used this app was when we were at the Disney Social Media Moms celebration last April. I wanted to share some of the magical memories that we were having. Since I did not bring my Laptop (TechyDad had his), I used my phone. My post, Moving to Disney World,  proved to me that mobile blogging is a possibility when I need it. When you look at that post, you can not really tell that it was done on the fly unless you notice the different watermarking and way that the photos are set up. Another example is Fantastic Memories from the same trip.
If you have never used the WordPress App it is really easy to install. Once you have it on your phone, you simply select if you have a WordPress.com blog, want a new blog, or use a self hosted WordPress blog like mine. Once you log in, you will have a dashboard of current published posts on the screen.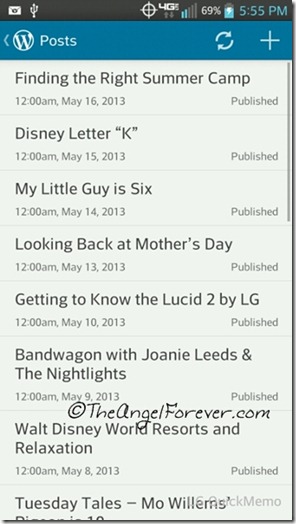 When you want to write a post, you simply press the "+" that you see in the screen shot above in the upper right corner. A blank post post will appear and it really does look like a smaller and more simple version of the WordPress publishing page. It took me a little while to remember how to use it since I use Live Writer to write, edit, and schedule my posts.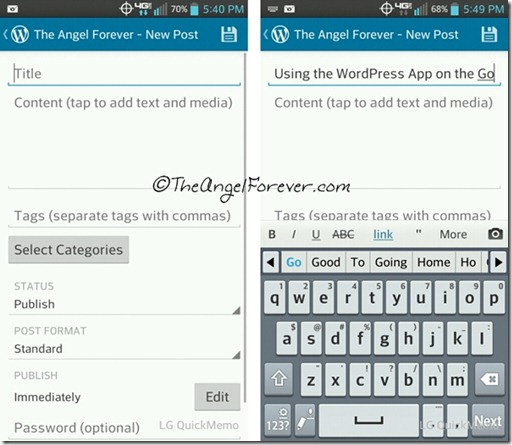 You simply go section by section through the screen. Give the post a title, then compose everything and add media from your phone, type in tags, and set other options the way you want them established.
Of course, the WordPress app also allows you to work with other items on your blog while out and about. From the main screen, you can open a menu by sliding your finger to the right to open up additional features. An item that TechyDad and I have had to use in the past is the comment area. If we get an e-mail about a comment and it is clearly spam, we can use this app to go in, mark it as spam and move on. Before we had smartphones, those comments would have to stay on our blogs unless we had computer access.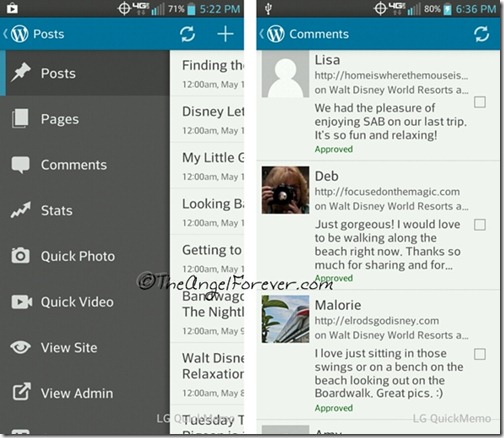 There is a lot more that you can do with the WordPress app, but these are some of the highlights. I know that I hope to use this app a lot more this summer while exploring new and fun locations with my family. Have you ever blogged on the go using the WordPress app? I would love to hear your experience.

Topics: Phone Apps, Technology | 1 Comment »
By TheAngelForever | May 16, 2013
The summer months are going to be here before we know it. In our area, kids are in school until the third week of June. This gives me a little more breathing room since I am slacking on plans. I seem to have forgotten that ready or not, summer will be coming. Perhaps it is denial, or maybe being caught up in living the moment with the kids. Either way you look at it, I have to get my act in gear.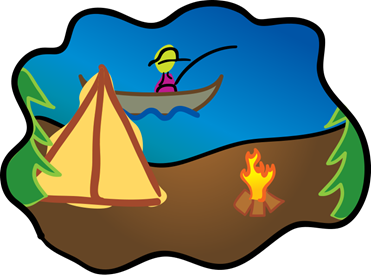 NHL is going to be heading into 5th grade and JSL into 1st grade. I really want to make sure they get a week or two at camp. My boys will are very different and will thrive at locations that will not be the same. My little guy loves to run, jump, play, sing, dance, and do crafts. He would probably love a very traditional summer camp like I went to growing up. NHL would not do well with this. He is a geek at heart and wants to explore the world of science, math, Harry Potter, and the like.
Looking at different options, (it isn't too late) brought me back to a post I wrote a while back. I thought about things that you need to think about when considering camps for your child.
_________________________________________________________
Have you started to think about camp options for your child?
I know I have. A few years ago, my oldest son went to camp for several weeks. Although he liked it at first, it was probably not the best fit for his interests. It was a little too focused on athletics. He would have preferred something that did not spend the entire day out on a field playing different sports. Perhaps something that included some swimming, crafts, acting, and more. Thanks to this experience, we are doing more research on camps this year.
When I was growing up, there were a few local camps to pick from. Parents could select from Camp Chingachgook, Boy/Girl Scout, Helderberg Workshop, the JCC, and a few other high profile places in the Capital District. Now, all bets are off. Parents and children have a wide variety of options throughout the area. There is a camp for almost anything and everything that you can think of. The best part is there are websites like Albany Kids Out and About to help you locate options. Albany Kid also has a wonder page with updates about How to Find Camps in the Capital Region including enrichment classes.
Before you are overwhelmed with the variety of options available, sit down and think about what you are looking for.
Do you want a full day camp experience? Will you require early drop off and extended day options?
Does you child want a camp specifically dedicated to Baseball, Soccer, Basketball, Dance, Acting, or something else that they have a passion for?
How far are you willing to travel to get to a camp? Are there transportation options available to/from the camp?
Would your child benefit from an enrichment camp opportunity? Many of the local universities and colleges have programs that help with academic support, as well as enrichment to children that may prefer something like this.
Have you heard anything from friends about a camp? Often word of mouth is a great starting point as you begin to research things.
These are just a few of the items to think about. Make a list, compare different options, ask about financial options, and think about questions that you have for camps when you talk to them. Hopefully this will assist your family as you sit down to contemplate summer plans.
Do you have any suggestions, I would love to hear them as I struggle to find the perfect camp for both of my boys.

Disclosure: Parts of this post were previously published on a project I worked on. The text is mostly the same, but I placed a new introduction to go along with a topic that continues to be important for families. The image above is Happy Camper from Open ClipArt and by Benji Park.
Topics: parenting, summer | 2 Comments »
By TheAngelForever | May 15, 2013
Looking at a trip to Walt Disney World by the letter is a great way to head down memory lane. Thanks to Focused on the Magic, we are able to scour our magical pictures once a month to see what fits with each new letter of the Disney alphabet. This month was a bit tricky for me, but my focus was a bit out there since it is birthday week for my youngest. Here are some Disney "K" items from my trip with TechyDad in December.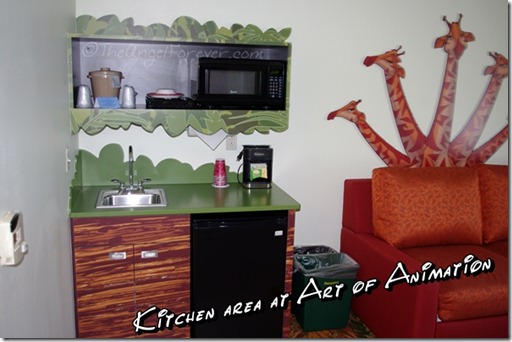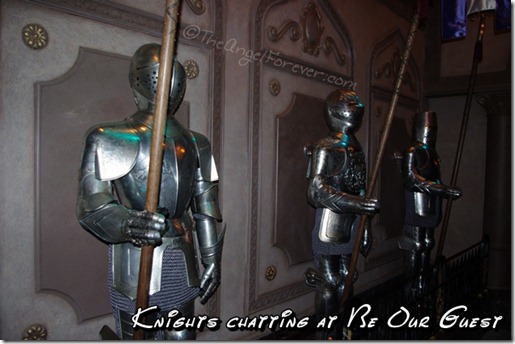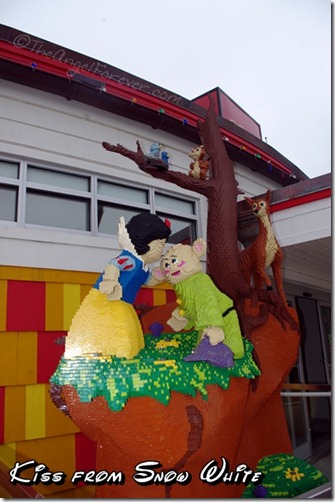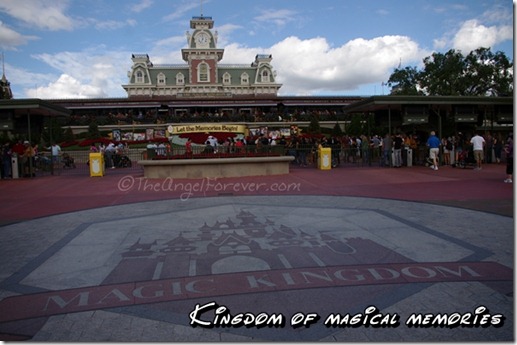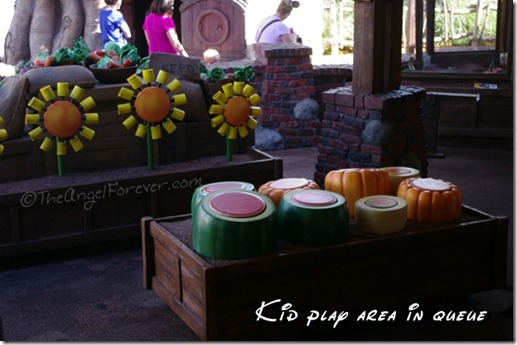 Be sure to stop by Focused on the Magic by clicking on the button above to join in the Disney magic this week.

Topics: Disney, travel, vacation | 4 Comments »
By TheAngelForever | May 14, 2013
Dear JSL,
For months now, I have been teasing you and begging you not to turn six. Of course, I knew that no matter how I wished and begged it was not really going to happen. Although I look forward to watching you grow up and become more independent, I am going to miss these moments because they are going so quickly.
My Kindergarten Kid is going to be heading into first grade soon. Not only did you learn all of your alphabet and letter sounds over the last year, you learned to read and write. Your sweet little messages makes me smile and I adore how you know just what to do or say to everyone to make them feel loved and special. Here is a look at your fifth year.
To celebrate being five, the two of us set out on an adventure last year. We started to read The Magic Tree House books. Over the months, we caught up to where the author was writing. Of course, Perry and Jake were always close by and you loved going to Nursery School. It was also the time where you learned how to ride your new scooter. (May 2012)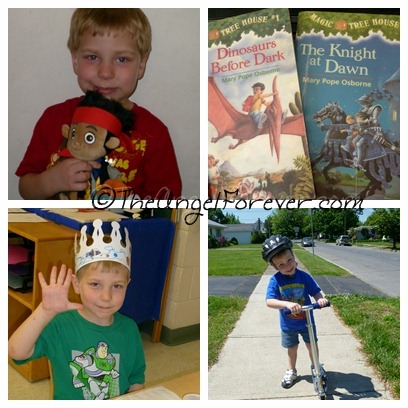 A lot of milestones happened soon after you turned five. You said goodbye to your amazing speech teacher and to everyone at nursery school. Suddenly, you were my new Kindergarten Kid. We had a few weeks together before NHL was finished with third grade. We went to craft events and had a lot of fun together. (June 2012)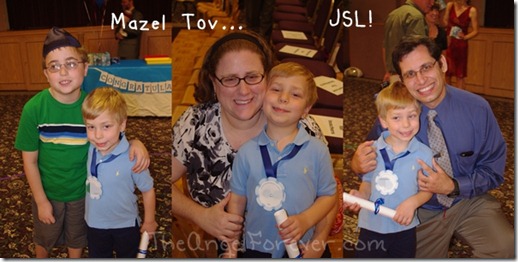 Over the summer, you, NHL, and I continued to have fun going to crafting events, checking out items at the library, and exploring other items. You quickly discovered that you really like mini-golf when we went with Nana and Papa for the 4th of July. Later in the month, you and I went out alone and made a new special friend while looking for a birthday present for NHL. (July 2012)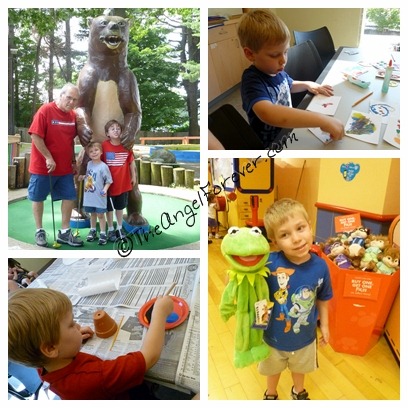 The reminder of the summer was filled with crafts, reading, going to the park, and birthdays for Daddy and NHL. We also went on a few special trips to Hoffman's and then, before we knew it, it was time for Kindergarten Orientation. (August 2012)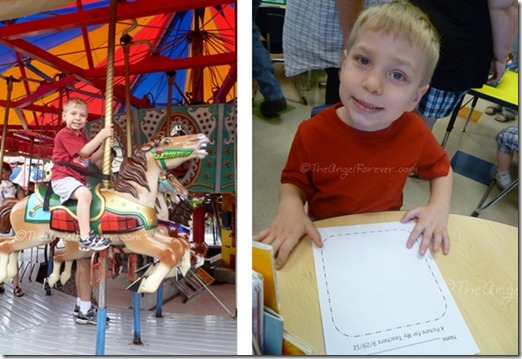 September was a tough month for both of us. Taking my baby to kindergarten was hard, but it was a big adjustment for you as well. Soon we had a new routine that we continue to this day. Each morning, we practice the Kissing Hand so we both feel better about being apart each day. You also expanded your ducky collection, got a new baby doll, and started Hebrew School that month. (September 2012)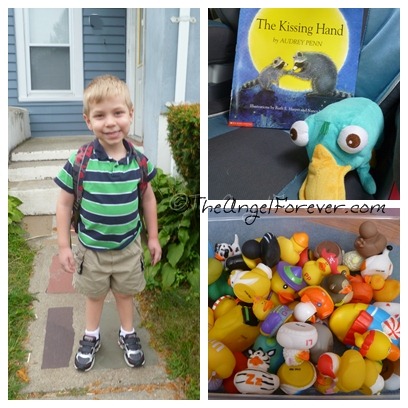 The Fall saw another hurricane threaten to come into the area. While you were home two days, we did crafts and played. We also went on your first kindergarten field trip to check out the apple orchard. No apple picking since the crops had a bad year. When the weather was nice, you played on your scooter and enjoyed looking at caterpillars. Halloween meant that Captain America saved the day for all of us with his fantastic smile. (October 2012)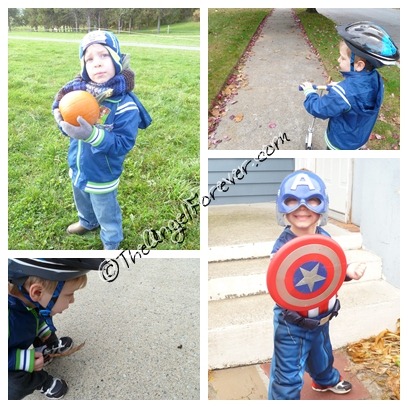 As the weather grew cooler, we worked on reading more and you started to get homework from school. Thanks to the book fair at your school, we found Pete the Cat and you fell in love with this silly singing feline. Thanksgiving weekend meant that cousins came into town and you loved seeing them and playing with some early Chanukah presents. (November 2012)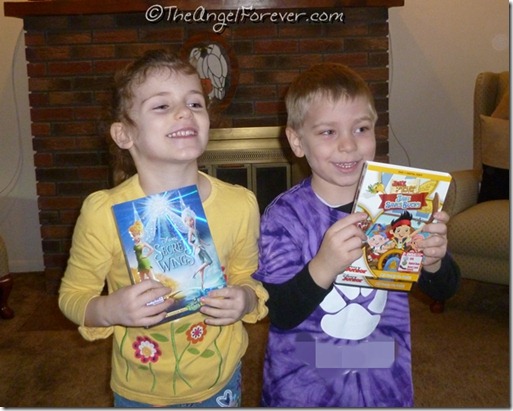 As 2012 came to a close, you were keeping busy. You finished up Art Club, became the Star of the Week, and stayed with Nana and Papa for a few days. You also fell in love with my new laminator. Together, we made Disney map projects for you to use on pirate play. Of course, you also loved lighting Chanukah candles, playing in the snow, and spending time with NHL and me during winter break. (December 2012)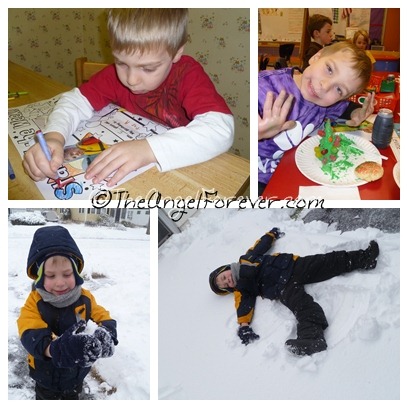 2013 started off and we spent a lot of time trying to stay warm outside of school each day waiting for NHL. At home, you loved doing homework, working on your reading, and making crafts. You spent some time helping me with reviews about iPad apps as well. While we never made a giant snowman, you loved creating one for a school project to share with your friends. (January 2013)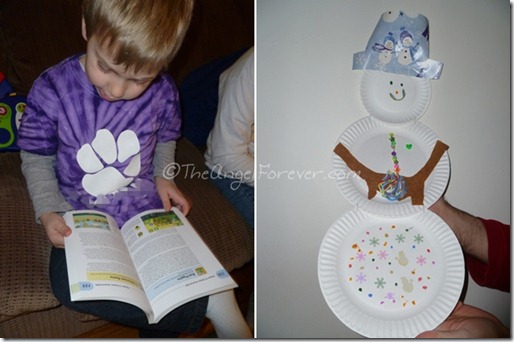 Snowstorms and power outages happened a few times over the winter. You had so much fun helping us to make forts and playing inside them. There may not have been snow outside, but you were keeping warm. You loved spending time in your fort with NHL using your LEGOs. Slime was also a big hit during winter break. You spent many hours using that over and over again. (February 2013)
After a long winter, you were ready for the spring and could not wait to get outside. You loved getting to test out your new Big Wheel and racing up and down the block. This was also the time we convinced you that you could read to all of us. It was so much fun sitting down to listen to you read us all a book. I quickly saw that my "baby" was growing up way too quickly during this time. (March 2013)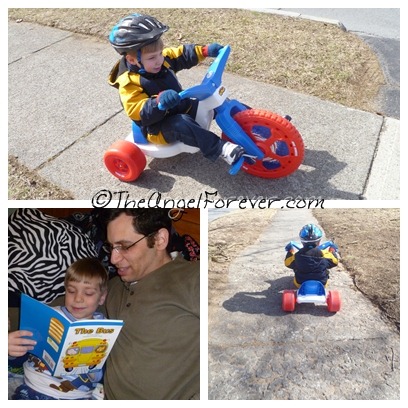 After we celebrated Passover, we spent time going out to places in our community. You adore going to the NY State Museum and had so much fun checking out all of the CANStruction items featured there. In addition to this, you loved meeting new authors and illustrators at the Book Festival. You were so proud of the book that you picked out, the drawing you made, and wearing your wizard hat. (April 2013)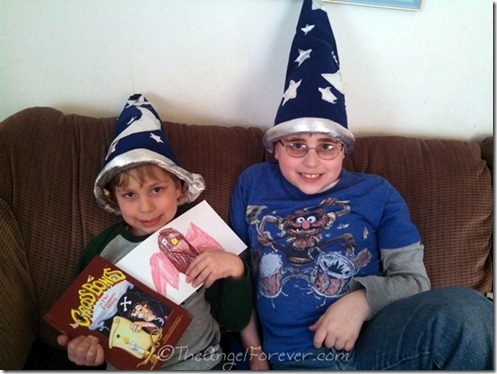 Now I look at how grown up you are and can hardly believe my eyes. In six short years, you have changed so much, but at the same time you are still the sweetest little guy who genuinely wants to help and make others happy.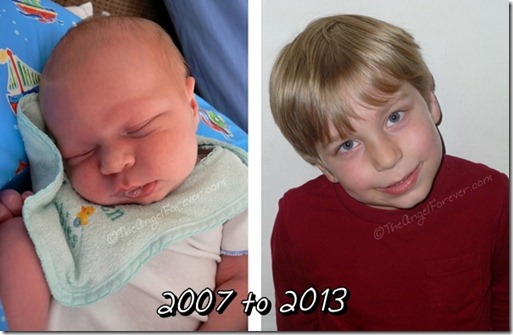 Though I have tears in my eyes as I type this, I am excited to see the little boy that you are becoming. I can not wait to see more of your personality come alive in the years ahead. Thank you, JSL, for letting me be a part of this journey with you. As much as I am sad to see you get older, I am excited.
Happy 6th birthday sweetie and here is to many more happy and wonderful memories ahead.
Love,
Mommy
Past B-day posts to JSL:
Topics: birthday, looking back, milestone | 3 Comments »
By TheAngelForever | May 13, 2013
Ten years ago in May, I was  expecting my first son and looking forward to being a new mother. I had no idea how my life was about to change and the love that I would immediately feel for this new little life.
NHL changed the way that I forever see the world. This is nothing negative, but he has given me the inner "Mama Bear" moments where I will fight and advocate until I am blue in the face.
Six years ago, I spent mothers day, extremely pregnant with my second son. I was days from my due date and feeling so tired because I was also battling an infection during the last month or so. Little did I know that the very next morning, I would see my second little boy and fall head over heals in love with another child. At the time, I worried that I would not have enough love for both of my children. Of course, I quickly learned that it would simply expand to fit the needs of our growing family.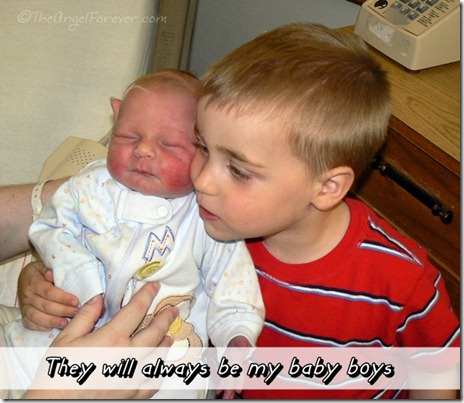 Watching the boys on the day that we took JSL home was amazing. The boys have grown so much over the last six years and are now such good friends. They have their moments as all siblings do, but the two will protect each other like nobody else can.
I rarely take photos with the boys because I am usually the one with the camera in my hands, but this mother's day I asked TechyDad to get one of the three of us.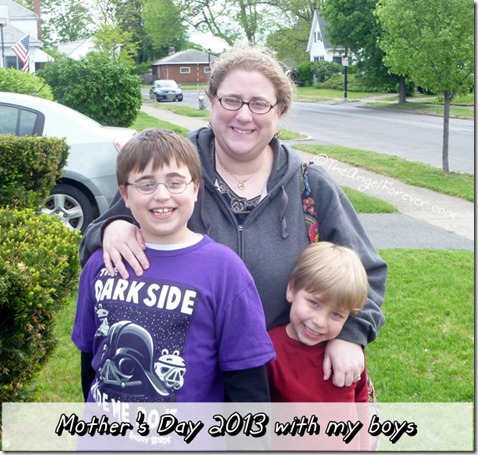 I always want to remember these moments because my babies are growing up before my eyes and each time I blink more and more milestones are gone forever.

Topics: family, holidays, looking back | No Comments »
« Previous Entries
Next Entries »