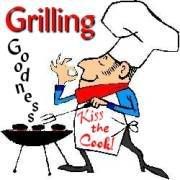 1. What do you like most about your skin? – Most of the time my skin is really clear. I will see that as good through my way fair coloring and freckles.
2. Does your spouse mind grocery shopping for you or with you? – We typically do a trip together. Neither of us mind going alone and JL will often go alone on his way home from work. Since he does most of the cooking he can look for what he wants.
3. Do you have access to a pool for the summer? – There are a few public pools locally, but not too sure about them. I miss going to my Nana and Papa's pool and spending almost all summer there.
4. Do you have plans for Father's Day? – It depends on the weather. We may try to go strawberry picking, or perhaps to Six Flags to use our passes for the first time this year. Of course, the constant rain may stop that. We will probably do lunch out where hubby wants and then we are having pizza and wings with my parents for dinner.
5. Is there anything that terrified you as a child that you find …. now? – Can not think of anything really.
6. If you could do something instantly, what would it be? – If it was for the family, get a new/bigger house. If it was for me, drop the rest of the weight that I have been working on.
7. What would you do to entertain visitors from out of town? – Would take them to one of the local museums. There are several so lots to pick from. We could go up north to more historic areas and the lake (no less Six Flags). We are also close to caves that are a great things to go and see.
8. If your best friend owes you money, do you bug them until you get it? – I used to be bad at asking for money back. I never kept track, but now I do and patiently ask for it from time to time.
Head over to Golden Goodness to play along!