Dear NHL and JSL,
This morning, we decided to surprise both of you with a trip to Lowe's for their Build and Grow event. We had not gone to a Lowe's event in a while because they seemed too complicated and lacked reliable instructions. Still, when I saw the project this week, I thought it was cute and would make a fun present.
When we arrived, you saw the project for the first time. The mission was to build a music box for Valentine's Day. 50 people had actually signed up for the event, so it was held on quickly put together platform "tables" with bucket chairs for people that wanted them. At this point, we should have run far, far away.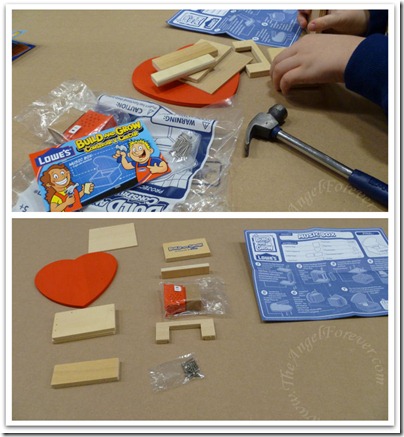 We stayed and it quickly became clear to us that it was not a good situation. The instructions were NOT clear (Home Depot does a much better job) and several times parts broke when we tried to hammer a nail in. Daddy and I finally decided to pack you both up and head to another location. Both of you were very upset and JSL even cried. I do not believe that we will be heading back to Lowe's anytime soon. Just not worth the stress involved in what should be a fun activity.
We went to a few locations, went home for lunch, and then went to the library for some more books and things. When we got home, we decided to watch Despicable Me together. It was so nice sitting on the couch as a family and laughing together at the movie. I hope we can do this again soon.
Love,
Mommy
_______________________________________
If you want to participate in Dear Kid Saturday, head on over to Cutest Kid Ever by clicking on the button below.