Monday and Tuesday night were late nights for our family. Yes, TechyDad and I are typically up working late – but the kids are asleep for many of those hours. For some reason midnight seemed a lot later when both boys were still up and running around.
We had a wonderful time at Aunt S and Uncle M's house for both of the Seders. Extended family were in town to help celebrate and remember the traditions of Pesach. Thank you Aunt S and Uncle M for including us and giving our boys fabulous memories of Passover Seders.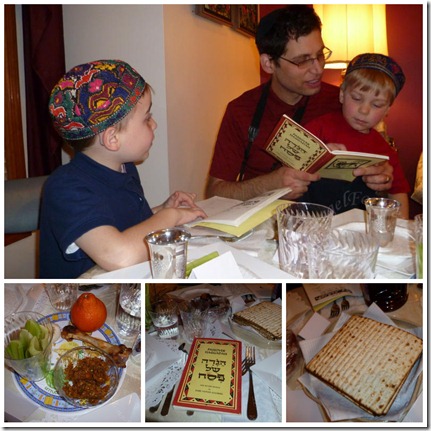 There is so much to write about, but right now I am on Mom duty. Both boys are home for Spring Break and the little guy woke up feeling a bit off. Poor kid is miserable and I have laundry to work on thanks to it. Not sure if he is sick, or just so exhausted he is getting sick (not eating isn't helping either). So if I am scarce for a few days, no need to send in the troops – just taking care of the family and trying to get everyone back on track while limited to Passover foods.
If you have any suggestions on things to feed an almost four year old that refuses to eat Passover food – I would love them.