As I write this, I am in my car driving to Disney World. I have been a Disney fan for as long as I can remember. As soon as I turned eighteen I applied for a job at the Disney Store (they don't hire anyone under eighteen). I can sing a long with any Disney soundtrack and no one I know will play Disney trivia with me because I always win.
I have passed this love onto my children. My son's first in theater movie was Wall-E. Since then he has seen every Disney movie that has come through the theaters. My daughters' own just about every Disney Princess book they sell at Barnes and Nobel. We took all of them to see Tangled opening weekend last November. My daughters' are begging me to transform their Fab 5 (that's Mickey, Minnie, Donald, Goofy and Pluto for anyone who does not know) room into a Princess room. They are Disney enthusiasts to say the least.
Last summer we took the kids to Disney World for the first time. In preparation for the trip I decided I was going to make the kids Disney wardrobes. All three kids had a Disney outfit for every single day. It was so fun. Plus, I kept it a secret and surprised them with it on arrival. I had a lot of fun making things that fit my kids' personalities. I was able to make things that you just can't find anywhere. I made my daughter a Lightning McQueen dress and a Buzz Lightyear dress. This summer not only do the girls have "boy" character dresses but each of my (now) four children have matching outfits of Mickey, Pooh and McQueen. You just can't find that anywhere. It's fun to turn the traditional "boy" characters into something for the girls. And one day I will figure out how to "boy up" princess things for the boys, like my son, who like them as well.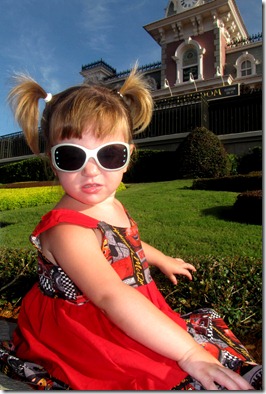 They got many compliments the whole week. Many people asked where I got the dresses or the shorts. People seemed surprised that I had made them. Some asked if I sold them. We came home and I spent time making different things for my children. Trying to hone my skills, to improve and feel like I actually could sell these things I make. After several months, many different internal debates and some cold feet. I opened up an etsy shop – My Fun Clothes.
I have had so much fun over the last few months making things for my children (they did, of course, need a whole new wardrobe for this Disney trip) but for other children as well. I have been proud of the fact that other children are wearing clothes I originally designed for my kids. As a matter of fact their is a little girl who will be in Disney while we are there who has two dresses that I made. I have had the opportunity to make many custom things that have been designed by parents to be the perfect fit for their children. A Tinker Bell dress – specifically green fabric Tinker Bell because the mom wanted green and Tink, a Nemo dress made from Nemo fabric I had on a different style of dress and ruffle pants with the fabric from the Tinker Bell dress – I didn't even make that style of pants yet but the mom emailed me and we designed it together. Mostly, I have enjoyed getting to do something I love while being able to bring people exactly what they want – characters, colors and designs.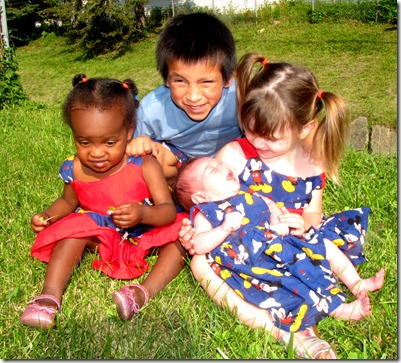 Whether your children are Disney enthusiasts as well or you are just looking for something different than everyone else has please come on by and check out the shop. I have recently added some fall and Halloween things. If you do not see exactly what you are looking for just get in touch with me and we can make anything you like. It just takes a little magic and some pixie dust to make your wish upon a star come true.
_____________________________________________________________
I am Upstatemamma and I blog over at Our Life Upstate. I tend to write about a little of everything – from life with four kiddos to sewing to homeschooling to marriage stuff to breastfeeding to the occasional political rant and anything else that pops into my brain.