As a little girl, I remember a Chanukah gift that I received. It was nothing flashy, it did not require batteries, but it was extremely special to me. What was it? It was a book that someone bought me that had me as a main character in the book. It also had other fun details about me and was amazing. I often wondered how this book was made. I do believe that book is still at my parent's house because I adored it so much.
I have often wanted to get a personalized book for the boys, but never knew where to order one. Thanks to Family Review Network, I connected with Just Kids Gifts to review and giveaway one of their books. Not only do they have personalized books for children, they also offer children's personalized music CD's, photo DVD's, and music DVD's.
When the book arrived, I asked JSL to come onto the couch to read it with me. When we started, it just looked like a typical book to him. Here is the cover of the hard cover book: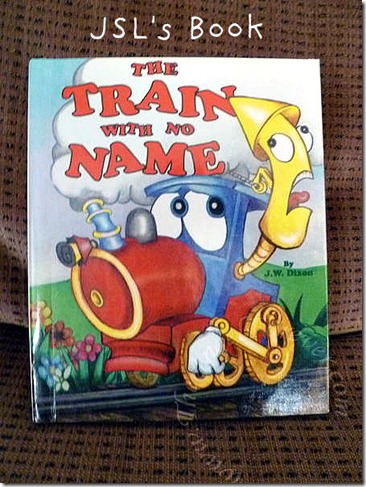 Since he is into trains, he jumped onto the couch and even big brother, NHL, came over to listen. When I read the front page of the book, the boys attention was even more intense. This is what they heard:
Once JSL stopped jumping up and down, and singing that this book was just for him we continued to read The Train With No Name. This is the summary of the book from Just Kids Books:
The little track tester isn't important enough to have either a name or an engineer…That is, until your child steps in and helps the little track tester to save the circus train. This educational book helps teach about compassion, helping others and most of all, they'll learn that you don't have to be big to be important!
As a parent (and educator), I really liked that the book taught a lesson. By using JSL's name it held his attention and made him think about what the author was trying to get. At four some of it may have gone over his head, but NHL (8) completely understood the point. With older children, not only will they love seeing their name in the book, along with friends, there is more to talk about afterward.
I know that if we have a holiday, birthday, or other gift for a child – we will be checking out other possibilities from Just Kids Gifts (they are also on Facebook). Thanks to their quick service, and great customer support I highly recommend them and will be purchasing more in the near future. I also love to support a business that is run by parents (to an 18 month old) and located in NY. We may have to get NHL his own book since he was so jealous of the one JSL received.
Giveaway:
Thanks to Just Kids Gifts, one lucky reader will have a chance to win their own personalized book.
Rules for Giveaway:
MAIN RULE – What personalized book would you select for the child on your holiday gift list and why?
The following Bonus Entries may also be done. Please be sure to leave separate comments for each that you complete below to make sure you get the right number of entries.
1 Bonus Entry – Follow  TheAngelForever on Twitter
1 Bonus Entry – Follow Just Kids Gifts on Twitter
1 Bonus Entry – Tweet the following about the giveaway (May be done three times a day, but at least an hour between each Tweet):  Enter to #win a @JustKidsGifts personalized kids book from @TheAngelForever http://bit.ly/uNOcGq #Giveaway
2 Bonus Entries – Stop by The Angel Forever on Facebook to say hello and leave me a comment on a status message. Let me know you have done so here.
1 Bonus Entry – Subscribe to my RSS feed (or let me know if you already are) in a separate comment.
1 Bonus Entry – Leave a comment on any of my non-giveaway posts from the months of October/November. Leave a comment here to let me know which one. This Bonus entry may be done twice per day.
3 Bonus Entries – Add my blog button to your website and/or add me to your blogroll. Be sure to leave a link with the location.
1 Bonus Entry – Head over to TechyDad's blog and say hello to him. Let me know where you posted a comment. May be done once a day.
To enter, please follow the rules above within the comment section. Contest starts today November 1, 2011 and ends at 10:59 EST on November 14, 2011. You do not have to be a blogger to enter, but must leave a valid e-mail address for me to contact you for mailing address once the giveaway is over. I will select the winner using random.org and contact you via e-mail. You will have 48 hours to claim the prize. If there is no response, another winner will be selected. Open to U.S. residents only.

Disclosure: This post was written for Family Review Network & Just Kids Gifts who provided the complimentary product in exchange for my honest review. No other compensation was given and all opinions are 100% mine. Just Kids Gifts is also providing the giveaway item to one reader.