This afternoon we had a horrible system of thunder storms with down pours come through the area. This was at the time that Jl went to pick up NHL The boys were at the grocery store when it was REALLY bad and the power there went out. I told Jason at that time that I really thought that lightning must have hit near us. (remember this for later)
When they finally got home our front porch was flooded thanks to windows being open and the rain coming in at strange angles. I told JL he had to check our basement and attic. Before he was able to go down our neighbor called. She got the following words out "I'm sorry if I am the bearer of bad words" I immediately blurted out "Oh no, please don't say we're flooded!"
Sure enough the flash floods must have been too much for the water systems here and our basements were in 2-3 inches of water. Luckily it's gone down, but we're very damp and don't want to use the washer and dryer (had a load in) since they may have been wet underneath (we really need to get them off the ground now). Nothing like more fun and excitement for the day. I was bad and went to the basement to look, but am not doing anything because I like the fact that the bleeding is slowing to almost nothing!
So JL went to bring our stuff to dry at my parents house. He called me from the road. I was right. Lightning did strike near us. Check out the photos below of the damage to the tree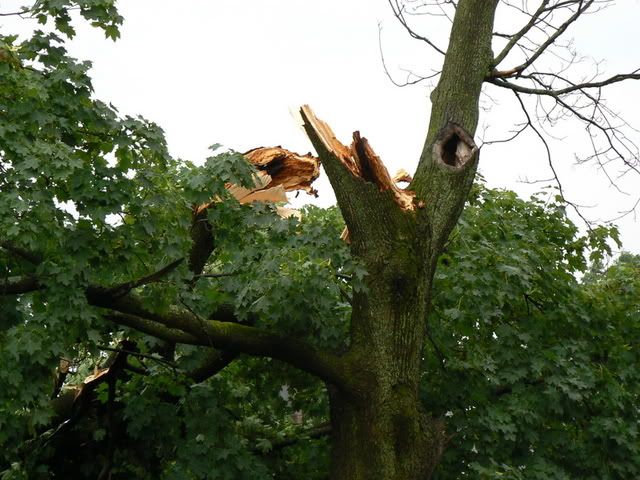 Ugh, never a dull moment!
C'est Moi