So once JL was home we packed up the boys and did birthday dinner. Originally NHL had requested going to Moe's. Then suddenly he opted for something else. He selected Wendy's. Strange request, but we said okay. So we went to Wendy's. Upon arriving in the parking lot I noted a 57 passenger bus parked outside and nothing else. NEVER a good sign. So the other people that pulled in at the same time as us went in and came flying out and got back in their car and went to the drive thru. I had JL and NHL go to look before I took JSL out of the car. Sure enough half of the seats were taken and about 30 additional people were still waiting on line to order food.
UGH!
So we piled into the car and went to order at the drive thru. We were lucky and it didn't take us much to order our bargain dinner. We spent $6.31 including tax for 3 of us to eat. The food went with us to my parents house and we ate.
After dinner while waiting for H & J to come over we opened the presents from Nana and Papa. Here are some photos from that time:
The birthday "crown" from Nana & Papa
Lots of things to open
Balloons from Nana and Papa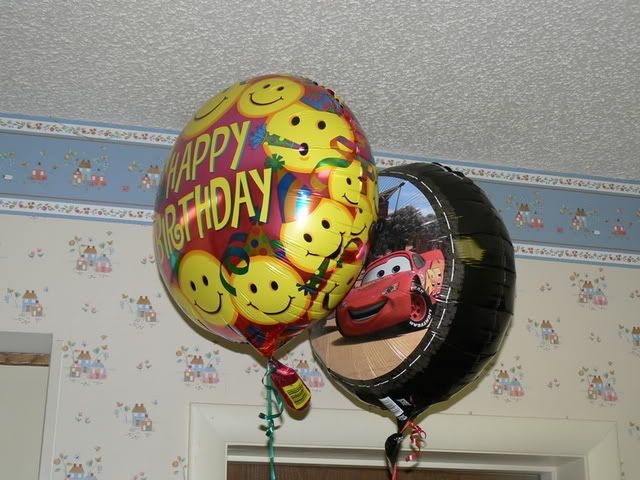 All smiles thanks to a Spiderman Card
Shake N' Go Airplane
USA Puzzle
Check out this reaction!
Yum! Chocolate sport balls
Meanwhile JSL is busy doing his favorite hobby – fist sucking!
Cars sheets
And last but not least was a coloring book and here's the activity book. Perfect for Mommy and NHL to work on these few weeks while home before starting PreK.
At about this time H & J arrived. NHL was so happy to see them. He immediately dug into his present from them (being nice and not blogging the photo of H wearing NHL's B-day crown).
A gorgeous Cars backpack that had a lunch bag that attached to it. The colors were amazing. I really hope H & J know it was a great gift and understood the 4 year olds reaction to jump on to cake and toys.
Next it was time to dig into the cookie cake. Here are some photos of NHL digging into it. We all had too much fun showing each other our beautiful blue tongues. Yes, the adults were more into it than the 4 year old – sad isn't it?
Waiting to blow out the candle
Blowing out the candle
Eating the YUMMY cake!
So much for the dentist cleaning the other day.
Charming view n'est pas?
And one more of the blue tongue
We stayed around for a little while to talk with everyone and let NHL play. JSL took a mini-nap on H's shoulder. Then when he woke up and NHL was SO tired we packed it up and went home.
It was a busy day and certainly not the last of the birthday celebrations. We did more today with Aunt S and have his family party this coming Sunday.
C'est Moi