This Tuesday 5 Minutes for Books featured Children's Classics that are Newbery Winners.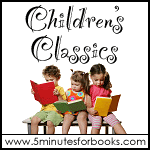 As a student in college taking a children's literature class, we were introduced to many of these great books. I have a lot of these in my own personal collection. While teaching, I read many others and selected many of the Newbery winners and honor books as part of my curriculum. I thought I would list some of the books that I have read with some of my thoughts about the books.
2003 Honor Book: Hoot by Carl Hiaasen – I have been hoping to read this for some time now. So many of my students selected this book to use for their book report projects. I remember reading the reports and viewing their items that were included to show me the book and being fascinated with them.
2001Honor Book: Because of Winn-Dixie by Kate DiCamillo – I know that I read this, but I hate to admit I do not recall much more. I know that the kids that read this loved it.
2000 Medal Winner: Bud, Not Buddy by Christopher Paul Curtis – I own this book and have not read it yet, sad but true.
1999 Medal Winner: Holes by Louis Sachar – I loved this book. The plot was very unique and the characters were very interesting. It was like no other book that I had read at the time. I often wanted to use this while teaching LA, but always opted for other books because SO many of the kids had already read this.
1998 Medal Winner: Out of the Dust by Karen Hesse – I read this in college and really enjoyed it, but do not recall many of the details. Sad how that is the case when you read so many books for teaching.
1998 Honor Book: Ella Enchanted by Gail Carson Levine – I used this book in my 6th grade Language Arts class. To segway into the unit that I developed we read different Cinderella Tales from around the world to compare and contrast the elements. When the book was finished, we watched the movie and the kids were then able to see how Hollywood often alters the plots and storylines within books for the movies. This was a great book because you really could see the spin on the Cinderella story and the vocabulary was quite impressive.
1997 Medal Winner: The View from Saturday by E.L. Konigsburg – I loved this book so much when I read it for a report in college. I took this book and created a unit to use in my Language Arts class. This is an unconventional book in that multiple characters tell the story of the group via their own flashbacks. Although confusing for some kids at first it is a fabulous book. The book also shows how children from different cultures/backgrounds met and became friends. One of the characters flashbacks is about his time with his grandparents in Florida and helping to plan a wedding for two people in the retirement community. The talk about a Jewish wedding ceremony. I brought in the video of my wedding to show them what the vocabulary was to make it more real to the kids. Highly recommend this book!
1995 Medal Winner: Walk Two Moons by Sharon Creech – I own this book, but have not had time to read it just yet. I know many fellow teachers and students that have raved about this book.
1994 Medal Winner: The Giver by Lois Lowry (Houghton) – Fascinating book that really makes you think. I love Lois Lowry and how her books are so differnt. She truly is a wonderfully talented author.
1992 Medal Winner: Shiloh by Phyllis Reynolds Naylor – This book was being read by part of the students when I was a student teacher in a 4/5 classroom. I was not in charge of that and admit that I did not read it. I know a lot of interest came out for this piece of literature when it was made into a movie. One day I will read this with my boys.
1990 Medal Winner: Number the Stars by Lois Lowry – The most amazing book that I have read for chilren. The book is a historic fiction about a little girls and her heroic actions during the Holocaust. So many books about this topic are quite graphic and not appropriate for children. This book hits the topics, but leaves it up to the maturity of the audience to take what is best for them. One year I taught this book to my 6th grade class. We spent a lot of time talking about the history of the period (tied in nicely with Social Studies). My only regret was that I was unable to get a Holocaust Survivor to come to talk to my kids. I highly recommend this book to any adult and children that are at least in 4th to 5th grade. In my mind, this is a MUST read!
1986 Medal Winner: 1986 Medal Winner: Sarah, Plain and Tall by Patricia MacLachlan – Amazing book that packs so much into a short number of pages. I made a unit plan based on this book while doing my undergraduate work. I also enjoyed the two sequel books that continued the story of Sarah and her newly formed family.
1984 Medal Winner: Dear Mr. Henshaw by Beverly Cleary – When I read this book in elementary school I loved the format of letter writing. It was so unique and telling. It made me want to have a pen pal to write to. This book is great for children to show how authors can write in different ways.
1982 Honor Book: Ramona Quimby, Age 8 by Beverly Cleary – I think this was one of the first big chapter books that I read on my own as a child. I loved the quirky and fun loving Ramona and quickly found the rest of the series by Cleary and read them all. I can not wait to find my copy of this book to read with my son because I know he will love Ramona as well.
1978 Medal Winner: Bridge to Terabithia by Katherine Paterson – I hate to admit that I have never read this book. I always wanted to, but found something else that I wanted to read more. When the movie of this classic was released, I promised myself that I would read it before watching the movie (a rule I have). Thanks to my son being born at around this time I never read the book, but had a copy of the movie to watch. One day I will read the book so I can compare the two versions.
1978 Honor Book: Ramona and Her Father by Beverly Cleary – As mentioned above with Ramona Quimby, Age 8, I love Cleary and all of her Ramona books.
1977 Medal Winner: Roll of Thunder, Hear My Cry by Mildred D. Taylor – I read this in 7th grade. I think this was one of the first pieces of literature that I HAD to read in school (aside from The Diary of Anne Frank) that I really loved.
1973 Honor Book: Frog and Toad Together by Arnold Lobel – Who does not love Frog and Toad? I have these books and really need to take them out to read with my kindergarten kid, I think he will thoroughly enjoy them.
1968 Honor Book: The Egypt Game by Zilpha Keatley Snyder – I selected this book to use with my 6th grade class to coordinate with their Egypt unit in Social Studies. It was a great mystery with nice vocabulary. It really kept the kids guessing until the end when everything was revealed. Highly recommend this book.
1960 Honor Book: My Side of the Mountain by Jean Craighead George – While student teaching in a 4/5 classroom, I was assigned the 5th grade reading group that was reading this book. I have to admit that I was not in love with this book. It was just not a topic that I loved. Still it taught me a valuable lesson on how to sell books to kids. I found that most of the girls would have easily skipped the books, yet the boys loved the outdoors adventure.
1953 Honor Book: Charlotte's Web by E. B. White – Classic . . . enough said! My son has already asked to read this with me, I must find a copy soon.
1939 Honor Book: Mr. Popper's Penguins by Richard & Florence Atwater – Many happy memories of reading this when I was in elementary school. I know this will be another on my list to read with my boys
For a complete list of all of the Newbery winner and honor books head over here.