Thanks to Kim at Beanish and Other Languages I'm Learning I found a fun new meme that is perfect for a snowy Sunday morning.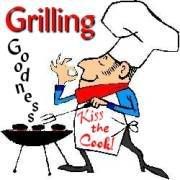 Here is the Grilling Goodness questions for this week. Please head over and play along.
1. Do you like scary movies? Not really. I still remember when I read a scene from Silence of the Lambs that I had not watched (hiding behind a blanket) and was unable to sleep for nights. I can only imagine if I had seen it.
2. What kind of cell phone do you have? A very basic LG phone.
3. Do you have a passport? Not yet. We have only been to Canada and do not need it to travel there yet.
4. Has anything sad happened in your life this week? Thursday we heard that JL's grandmother is not doing well. We are trying to arrange for him to go and visit her.
5. Have you ever broken any bones? No I have not.
6. Did you do anything this week that you don't normally do? Thursday I spent the afternoon with my mother. She had the day off since she is working this weekend. We sat part of the afternoon and looked at menus for Disney World.
7. What's the worst thing you ever had in your wardrobe? That would be hard to say since I was a teen in the 80's!
8. Did you have braces on your teeth? No, I had a procedure when I was little that allowed my two front teeth to go together and avoided years of orthodontics.
Thanks to Tina at Golden Goodness for hosting all of this fun!