While in college, I developed a few not too wonderful habits. Though I had no interest in drinking alcoholic beverages, I was very addicted to Mountain Dew for breakfast and Snapple Ice Tea for lunch. Several years into school, I kicked most caffeine intake to help with my headaches. That lasted until my little guy was born and suddenly I needed a small amount of caffeine to keep my headaches away.
With the warm weather coming quickly, coffee is not always an option. While my beverage of choice is usually water in my giant Nalgene water bottle, I do like to have a special treat. Rather than crave chocolate, I now like to treat myself to a cold glass of this: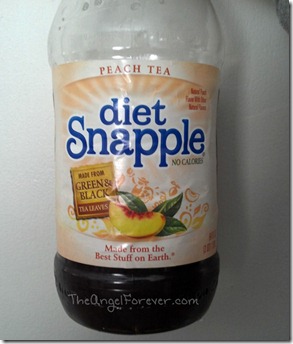 Yes, this is a giant bottle of Snapple Diet Peach Ice Tea that lasts me quite a while. Of course, it brings me back to my college days. I think I missed this, but will admit that there is no desire to restart my Mountain Dew habit.
Aside from a cold glass of water during the warmer months, what is your beverage of choice?

___________________________________________________________________________
Thanks to Kailani at An Island Life for starting this fun for Friday. Please be sure to head over to her blog to say hello and sign the linky there if you are participating.
Aloha #199