Yes, I am one of those people that will sit under a blanket or two in the winter eating some ice cream. Of course, in the summer ice cream is a splurge and fantastic treat on a warm day. Most of the places around here have soft serve in the summer months, but also hard ice cream.
For me, the choice is a no brainer. There is nothing like soft serve vanilla and chocolate twist ice cream with rainbow sprinkles in a cone. This takes me back to my childhood when my parents would take me to the local Carvel store. On our anniversary, I told TechyDad that I wanted to get ice cream for lunch. It was late, warm, and nobody felt like eating anything extreme. We went to a local place and my lunch is seen below.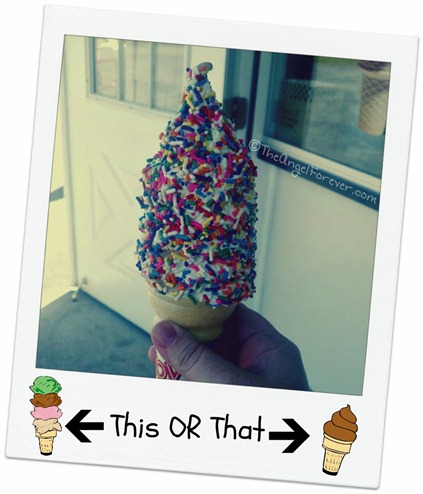 So my question to you this week is inspired by the photo above:
What type of ice cream is your favorite in the summer? Do you prefer soft serve or hard ice cream? Be sure to let me know if there is a certain flavor that you prefer (there are so many these days) and splurge and let me know sprinkle or dip preference as well.

___________________________________________________________________________
Thanks to Kailani at An Island Life for starting this fun for Friday. Please be sure to head over to her blog to say hello and sign the linky there if you are participating.
Aloha #210