The summer months are going to be here before we know it. In our area, kids are in school until the third week of June. This gives me a little more breathing room since I am slacking on plans. I seem to have forgotten that ready or not, summer will be coming. Perhaps it is denial, or maybe being caught up in living the moment with the kids. Either way you look at it, I have to get my act in gear.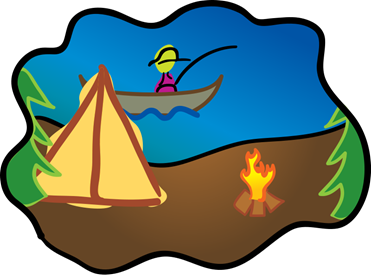 NHL is going to be heading into 5th grade and JSL into 1st grade. I really want to make sure they get a week or two at camp. My boys will are very different and will thrive at locations that will not be the same. My little guy loves to run, jump, play, sing, dance, and do crafts. He would probably love a very traditional summer camp like I went to growing up. NHL would not do well with this. He is a geek at heart and wants to explore the world of science, math, Harry Potter, and the like.
Looking at different options, (it isn't too late) brought me back to a post I wrote a while back. I thought about things that you need to think about when considering camps for your child.
_________________________________________________________
Have you started to think about camp options for your child?
I know I have. A few years ago, my oldest son went to camp for several weeks. Although he liked it at first, it was probably not the best fit for his interests. It was a little too focused on athletics. He would have preferred something that did not spend the entire day out on a field playing different sports. Perhaps something that included some swimming, crafts, acting, and more. Thanks to this experience, we are doing more research on camps this year.
When I was growing up, there were a few local camps to pick from. Parents could select from Camp Chingachgook, Boy/Girl Scout, Helderberg Workshop, the JCC, and a few other high profile places in the Capital District. Now, all bets are off. Parents and children have a wide variety of options throughout the area. There is a camp for almost anything and everything that you can think of. The best part is there are websites like Albany Kids Out and About to help you locate options. Albany Kid also has a wonder page with updates about How to Find Camps in the Capital Region including enrichment classes.
Before you are overwhelmed with the variety of options available, sit down and think about what you are looking for.
Do you want a full day camp experience? Will you require early drop off and extended day options?
Does you child want a camp specifically dedicated to Baseball, Soccer, Basketball, Dance, Acting, or something else that they have a passion for?
How far are you willing to travel to get to a camp? Are there transportation options available to/from the camp?
Would your child benefit from an enrichment camp opportunity? Many of the local universities and colleges have programs that help with academic support, as well as enrichment to children that may prefer something like this.
Have you heard anything from friends about a camp? Often word of mouth is a great starting point as you begin to research things.
These are just a few of the items to think about. Make a list, compare different options, ask about financial options, and think about questions that you have for camps when you talk to them. Hopefully this will assist your family as you sit down to contemplate summer plans.
Do you have any suggestions, I would love to hear them as I struggle to find the perfect camp for both of my boys.

Disclosure: Parts of this post were previously published on a project I worked on. The text is mostly the same, but I placed a new introduction to go along with a topic that continues to be important for families. The image above is Happy Camper from Open ClipArt and by Benji Park.