Growing up, my family would often go to Ocean City Maryland for a week during the summer. While I loved the time with our extended family, I was not a fan of the beach. Do not get me wrong, I love sitting by the water and listening to the waves and sounds. I am just not a fan of being in the sand and blazing sun. I burn easily and do not tan no matter what, so give me a book and some shade and I'm good go. If I want to cool off in water, I prefer a pool and chlorine as well.
On Independence Day, we had a magical day at Saratoga Lake with family. It was a gorgeous day. The sun came out, there was no rain (finally), and even the humidity was not too bad once you were on a boat. The wind in our hair and the views of the lake were amazing.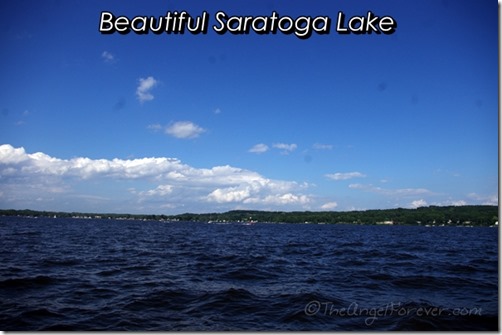 When we got off the boat, we promised the boys we would go to the beach. Please insert Twilight Zone music here. I told TechyDad that I would head down with him, but I had no plans to put my bathing suit on and would prefer just to be a spectator. He knows why and was fine. So I found a chair, plunked myself down, and watched the boys. They were laughing, splashing, and having a wonderful time swimming in the lake. I sat there in the sun enjoying the view of the boats, water, and my boys smiling. I did wander over to the water a few times to get some photos and to cool my feet off.
Here is the view from my perching location. Please excuse the toe nails that are not pretty (need to do that one day) and the do not look directly into my pale legs.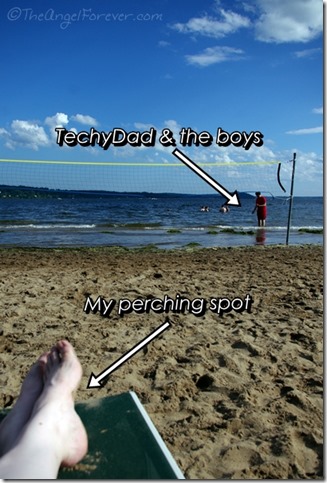 So my question to you this week is inspired by our sandy visit:
Are you a fan of the beach or more of a pool person? I would love to know which one and why you feel this way.

___________________________________________________________________________ Thanks to Kailani at An Island Life for starting this Friday fun. These days, Pamela at A Renaissance Woman is reviving the fun Friday Meme. Head over there to link up and join in the fun.
Aloha #245