As the summer winds down, I am getting a little sentimental. My boys are growing up. I think it hit me last night when JSL woke up out of the blue early in the evening. He came over to the couch where I was sitting and getting some work done. The next thing I knew, he was curled up in my arms and fell fast asleep.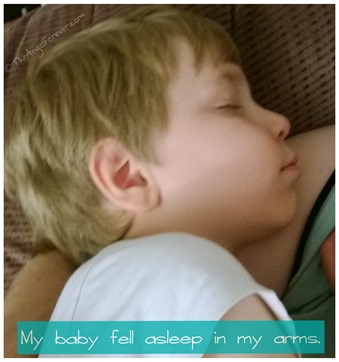 My heart melted at that moment. I immediately took a photo to capture this moment because you never know if a six year old will do something like this again. It left me wondering how many more moments like this I would be able to experience with my boys. They truly are growing up too quickly.
It has been a great summer. Each of the boys went to camp one week and loved their experience where I signed them up. While one went to camp, the other kiddo and I did special things together. JSL and I went to lunch, saw the new shows at the planetarium that we are members at, and kept cool in the crazy hot week by playing at Nana and Papa's house. NHL and I went to Menchie's to try it before everyone else in our family. We also were able to see Smurfs 2 and Turbo. I was able to get to know each of them a little better without the other being there. While our summer as a group has been nice, being able to give one child all of your attention and not worrying about the other was refreshing.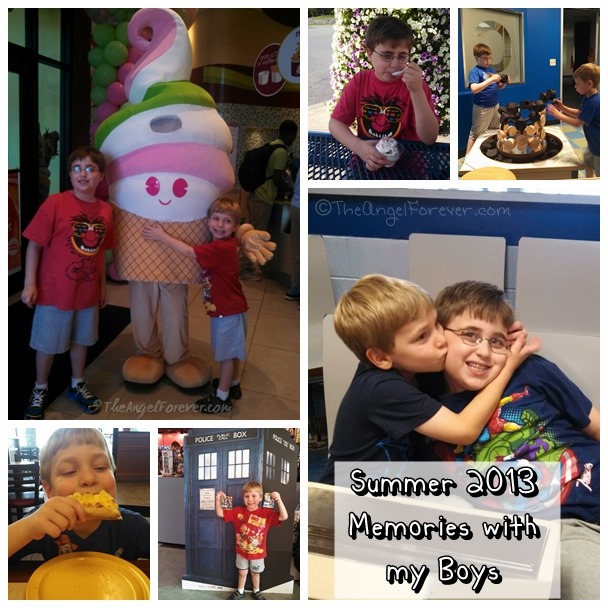 These moments made me think that while TechyDad and I need to have special moments with the boys together, I think we need to add another item. Perhaps we will set a time each month where we do something special with one of the boys alone. They could use this time and it would be interesting to see if we go for a hike, make a craft, read a book, or something else like that. We do not have to spend money, just make memories before the kids are grown up.
Do you ever have special "dates" with just one of your children at a time? I would love to know some of the things that you have done or what you would like to do if you tried something like this.