For weeks, I have been dreading this week. Not because of my birthday (today) and getting another year older. It has more to do with the crazy that is the week. Winter band/chorus concert, orthodontist appointment, Hebrew School, meeting, and another doctor appointment. In addition to these items, I need to turn up the heat on my public school advocacy. Some recent events have me even more concerned about the damage being done to children by education reform, specifically Common Core. Happy Birthday to me writing and calling more members of the NYS Assembly, more NYS Senators, and following up about something that still brings tears to my eyes from last week.
To distract me after plans for the weekend changed, my family thought ahead and asked to celebrate my birthday a day early. Sunday night we had a delicious dinner and ice cream cake (my childhood favorite) at Nana and Papa's house.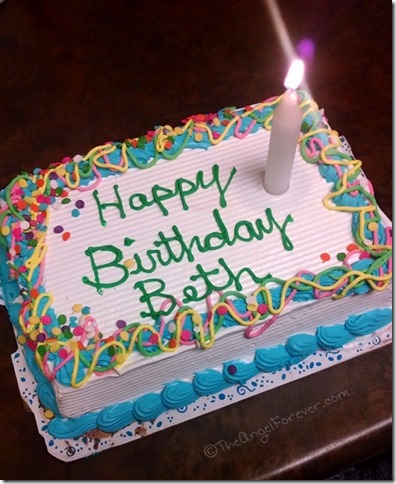 Earlier in the day, TechyDad and I went shopping before the malls were super busy. I finally made it to the newly opened Vera Bradley store at the mall. I had received an amazing coupon to use and usually spent it online. It was such a great experience to go into the store and see the patterns and different items in person. In the end, I scored an amazing deal on a Backpack and wallet in Indigo Pop. Something very different, practical for my use, and fun colors to brighten the days and my travels.
Assuming we do not have a school delay for ice/snow, I hope to have a quiet day getting some work done and crocheting a bit. Now I will take a deep breath, count to ten, and get ready for whatever this week and the year ahead bring me.