While many parents have already sent their kids back to school, my boys are still home until after Labor Day. School supply shopping was finally finished over the weekend when we picked up a few odds and ends. As a parent and teacher, I know how important it is to label items brought into school. When Mabel's Labels asked me if I wanted to try their Stylish Scholars Combo pack, I immediately said yes please!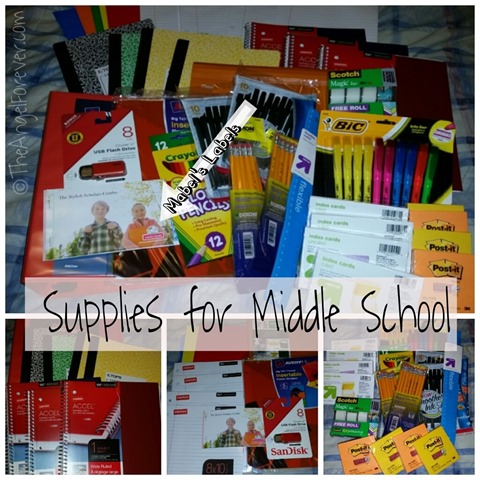 Mabel's Labels are not new to us. We have used them for a few years now and they stay right where you put them. The Skinny-Minis™ are able to go into the dishwasher and microwave, the Tag Mates™ may be washed and dried, and the Round Labels and Teeny Tags™ are waterproof and UV resistant. The labels honestly last the entire school year and beyond. While I knew I could get some for JSL to use in second grade, I wanted to focus on my new middle school student. Yes, I needed something for NHL to take to sixth grade and the start of his new middle school career.
Middle school is a rough time in life for kids, so I wanted to find something that was subtle and not babyish. While a hockey stick or robot may have been fine in the past, you never know what another kid may make fun of. The Stylish Scholars Combo had a dozen choices for patterns. When I saw the Camo, I knew it would be perfect for NHL. It was subtle, masculine, and his backpack also has a camouflage pattern. Rather than put his full name on everything, we opted for just our last name. Everything arrived and looks perfect. We had plenty for the supplies needed now and any that crop up during the rest of the year.
I highly recommend Mabel's Labels and adore the back to school packages that are available now. There are a wide variety of designs available for young children, Tweens, teens, and adults (talk about a fun teacher gift).
Now please excuse me. I need to figure out how we are hauling the items shown above and more to middle school. Oh and I also plan on cherishing the last few days of our summer before heading back to the hectic school routine.
Happy 2014-2015 school year wishes to everyone as you begin another academic year.

Disclosure: I received a complimentary Stylish Scholars Combo package from Mabel's Labels in order to facilitate this review. No other compensation was given. The opinions expressed in the review are my own.