This shop has been compensated by Collective Bias, Inc. and its advertiser. All opinions are mine alone.
It's hard to believe that the summer is over and kids all around will be back in school. Over the last month or so, Price Chopper supermarket has been helping parents like me to get ready. In addition to their back to school savings, they have great recipe suggestions to help everyone transition back to the more hectic autumn schedules.
Snack time is important at our house. I want to get something nutritious into the boys to give them energy to head outside to play and get homework done. After a long day at school, it helps to have a variety of options available. To get ready for the first week back, the boys and I went to Price Chopper together. We often go shopping as a family, but this time we were on a #PriceChopperB2S mission for snacks thanks to #CollectiveBias. 
NHL and JSL had ideas of their own. They asked us to buy ingredients to make smoothies for warm days after school. They both agreed on vanilla Yoplait Greek yogurt, frozen blueberries, and bananas. In addition to that,  I told the boys that I wanted to try to make a trail mix with a twist. My idea was to mix Honey Nut Cheerios into different flavors of Yoplait Greek Yogurt and freeze them. These would then be added to some more traditional trail mix items. The boys had fun going up and down the aisles looking for different choices to put into our trail mix. In the end we picked out roasted edamame (NHL has braces and can not eat nuts), pretzel sticks, and semi-sweet chocolate chips. The next big decision was what flavor of Greek yogurt to select. NHL asked for blueberry and JSL requested strawberry. TechyDad and I also allowed the kids to get a splurge item because we rarely have juice pouches in the house. The new Capri Sun Super V Fruit & Vegetable Juice Drink looked interesting and will help on Hebrew School days when we are rushing.
FYI, did you see that sign in my photo above about winning an iPad mini? Price Chopper customers can enter a first day of school photo contest running from August 17 to September 20. You can vote on your favorite from September 21 to 27. The five winners with the most votes and five random winners will each receive an iPad mini.
Yogurt Covered Cereal Trail Mix
The boys adore Greek yogurt, but they take it in their lunch most days. To switch it up and have something munchy, crunchy, and fun we made a trail mix that included frozen Greek yogurt covered Honey Nut Cheerio clusters. These need to be made ahead of time and added to the mix right when the kids are ready to eat. They will melt, but the cool snack adds a fun twist to a family favorite.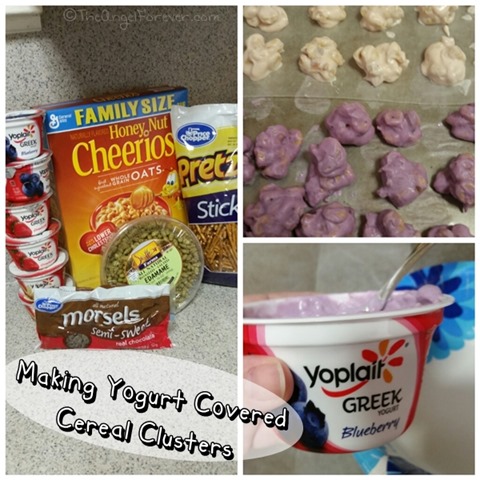 We set up the kitchen into a mini assembly line. A large cookie sheet was covered with wax paper ahead of time. Each of the boys opened up their container of yogurt and we mixed the cereal in. We put half a cup into each 5.3 ounce container. Once they were mixed well, we put small dollops onto the lined sheet. This was placed into the freezer. After about half an hour they were set and ready to go.
If you are using this snack later on, I suggest taking the clusters off of the cookie sheet and storing them in a freezer safe container. The yogurt clusters will melt if it is warm and that defeats the purpose of the snack. Just mix some of each ingredient into a bowl and voila – it's snack time! Of course, some kiddos many like a bowl of yogurt clusters on their own. The boys enjoyed the twist on this snack and also asked for some left over Yoplait Greek Yogurt with a quarter cup of Honey Nut Cheerios in it for breakfast the next day. Score!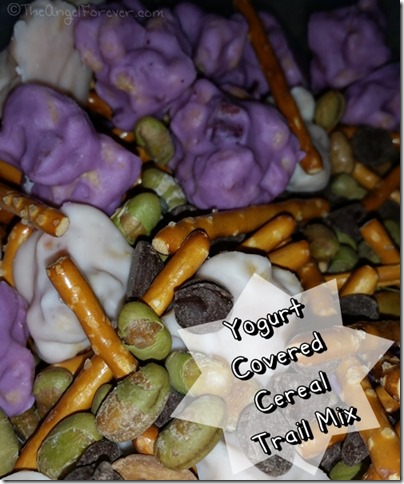 What are some of your favorite snacks for after school? I would love to hear your ideas and whether or not you get the kids involved in the process.

Disclosure: I am a member of Collective Bias® Social Fabric® Community. This shop has been compensated as part of a social shopper insights study for Collective Bias and its client. I am a frequent Price Chopper customer and have written about them on my blog in the past.