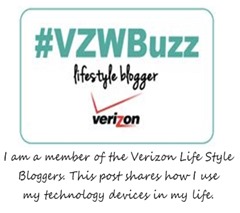 No matter how you spell it, The Festival of Lights begins at sundown on December 16, 2014. That means that we will just finish lighting the candles on our menorah before everyone else is celebrating Christmas. To get into the holiday spirit, I thought I would share some fun apps that my family will be enjoying this Hanukkah (or Chanukah).
This app is a virtual menorah that will help users to light their Chanukah candles each night. There is an animation that will actually show you which way to add and light candles once the holiday begins. In addition to this, you may listen to Chanukah prayers with music. The menu at the bottom also allows you to follow along with the prayers in Hebrew, English, or the transliteration.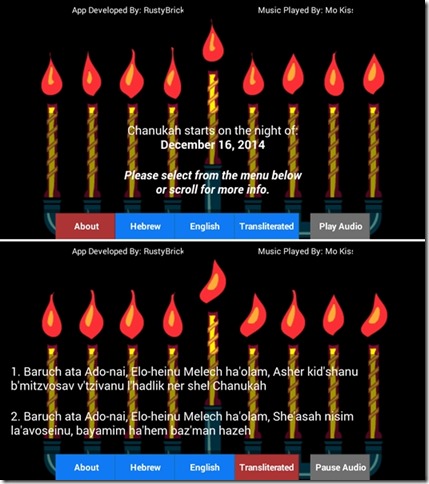 The boys and I can not wait to have this to listen to while we light our candles each night.
For some reason, we never found this game last year, but this year we are going to be addicted. Match 8 Hanukkah is a game that adds a touch of math with a twist. You must combine candles on the menorah so they add up to the number eight. As you do this, the candles will be burning and you do not want them to burn out. It is a simple and very addictive game. As you increase levels it gets a lot faster. You need to be quick with your fingers to combine candles before they burn and time runs out.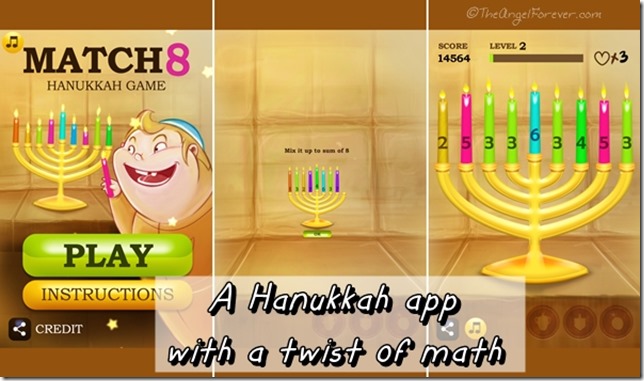 I have a feeling we will be having Match 8 competitions over the next few weeks.
Oh dreidel, dreidel, dreidel, I play it on an app. When it's time for Chanukah, I spin my 3D top! Yes Droidel is an Android version of the dreidel game. The count down calendar let's us know how many more days until the Festival of Lights begins. We can customize the game for 2-4 players, change the song that plays, add a name to the droidel, and keep track of the spin statistics. The boys are having a blast using this one already and I have a feeling they may compete with the Droidel and reals dreidels once the holiday begins.
,
When I put this onto my phone, I missed the fact that it is not compatible with my Galaxy S5. It does work, but I am unable to get the settings menu which is there for other Android devices. Be sure to check and see if it will work with yours before you download. Without the menu, you will not be able to adjust the player options, see your spin statistics, change the type of dreidel, or access other customizations.
What are some of your favorite apps for the holiday season? I would love to know, so please share in the comments below.

Disclosure: As a member of the Verizon Lifestyle Bloggers, I receive devices like the Samsung Galaxy S5 to test out and share ways that I use it in my life. I am a long time Verizon customer, and all opinions are my own.