Who knew that it would be so hard to say goodbye? Yes, I am talking about our old couch in the photo above. Thursday evening we set it outside on the curb and much to my surprise I stood there with tears rolling down my cheeks. While it may seem just just an old couch, it apparently means a lot more to me than I expected.
You see that couch with the squishy cushions and spring that had sprung was more to me than a piece of furniture. It was filled with memories of years gone by.
This couch was something that TechyDad and I picked out right before we got married. It was our first purchase together. Little known fact, I used money my Nana and Papa left me to buy this and other items that we got when we started our life together.

I was sitting on this couch reading the sixth Harry Potter book when I was nine months pregnant with NHL. I stood up because I was uncomfortable and felt a pop and whoosh! Yes, my water broke and the big kiddo was on his way into the world almost twelve years ago.

Countless hours were spent on this couch nursing both of my babies. My rear went numb at times, but those snuggles made the couch my happy place.

Over the years, I watched the boys grow up on this couch before my eyes. They would nap, snuggle, bond, and yes even wrestle each other in this very location.

Almost every year, we would scramble to take photos of the kids for our New Years cards on this couch. We would often dress up the area with a blanket, stuffed buddies, or something else.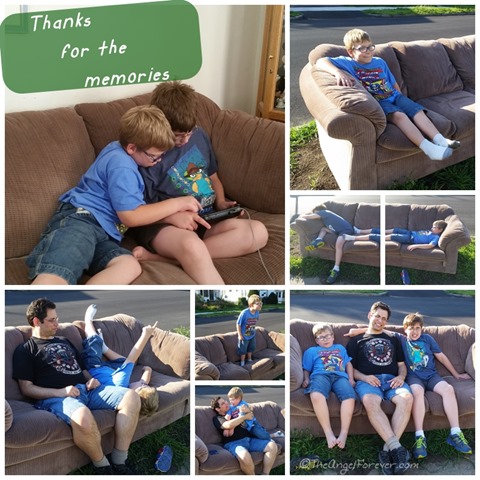 In the end, I know it was time to say goodbye to my old friend, but I will miss her. Of course, I am also excited about our new couch coming this weekend and making new memories. Now, who wants to help me alphabetize the list of rules for the kids?