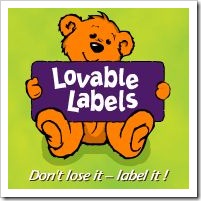 As a teacher, I am big into labeling items that we own. I used to put my name on everything in my classroom. I do mean everything – down to the single crayon! I know it was a bit much, but when you spend so much in supplies you get to be a bit protective.
The same goes with items that belong to my kids. NHL is in second grade and I put his name on everything with a permanent marker. Of course, over the years we have found some items that do not work well with markers. Some items do not have labels to write on, or are so dark a black marker will not work.
When JSL started nursery school this year, I toyed with buying some labels. At about the same time a person from Loveable Labels contacted me about doing a review on my blog. Perfect timing indeed!
About Loveable Labels: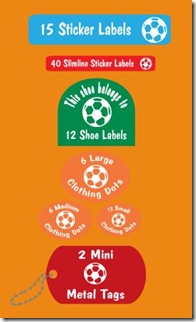 Loveable Labels was born in 2003 when Owner and President of the company Laura Porreca's first child entered daycare. She was faced with labeling all of the items that belonged to her son. She realized that there was a need for personalized labels that would hold up the wear and tear that kids would put them through each and every day.
The original Loveable Labels included Regular and Slimline Stickers, Shoe Labels, Iron-ons and bag tags. The Regular and Slimline labels are microwave and dishwasher safe, the Iron-on labels can go in the washer and dryer, the Shoe Labels have an extra strength adhesive to stay put, and the Bag Tags are made of a durable and flexible plastic.
Seven years later, Loveable Labels offers many more items including metal tags, safety products for medical alert, household labels, and much more.
What we thought:
We received the Holly Jolly Gift Pack – Santa's Pick (Christmas Jewels is in colors for girls). The photo above shows all of the individual labels that were included. The boys opted to have a hockey puck and stick on the ones made for us, along with our last name. There was a little bit of everything from Loveable Labels included to give us a nice sample of their products. When the package arrived, it was small and I wondered how it could all be inside. When I opened it up this is what I saw: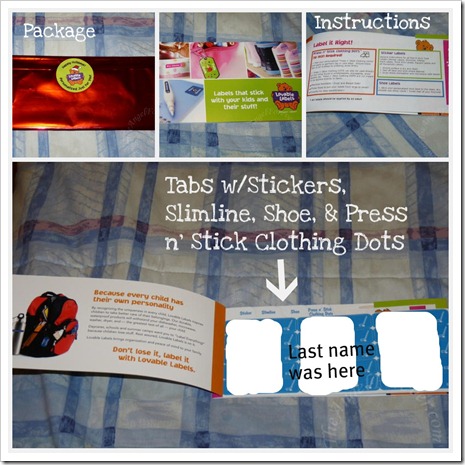 As a mom, I loved how organized everything was inside the package. The tabs were labeled so I could quickly get what I needed. The instructions were right in the back in case I needed them Best of all, everything was together for safe storage.
I think the Slimline stickers are going to be my favorite. Since they are smaller and fit on more items, they work well for putting on items that are around the house and head into school. Since NHL is taking our Nintendo DS all over, I decided that a first stop for our labels would be the DS and the carry case.
I am still trying to figure out how to use the Shoe Labels on my son's boots. I am waiting to get some help from TechyDad to open them up and see if we can figure out a non-furry location where they will stay and be seen. I really hope we can find a spot since most of the boys at school have similar boots and labels would be an asset. In addition to this, I have put a clothing dot on the inside of JSL's snow pants that will stay at nursery school. Love that the bright label will help him to recognize his own in the sea of similar looking pants within his classroom.
We are still testing the labels, but so far I am really impressed. I like how durable they appear and easy to read. My next goal is to wash some items and see how they hold up. I know some kosher labels that already own do very well in the microwave and dish washer.
Giveaway:
Thanks to Loveable Labels, one lucky winner will receive a Holly Jolly Gift Pack like the one I reviewed.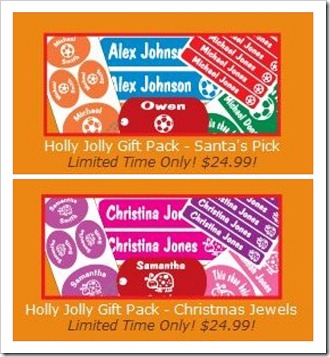 Rules for Giveaway:
MAIN RULE – Go to the Loveable Labels website and let me know which icon you would like on your personalized labels if you win. There are 45, so lots of choices for boys and girls.


The following Bonus Entries may also be done. Please be sure to leave separate comments for each that you complete below to make sure you get the right number of entries.

1 Bonus Entry – What is the first item you need to label and why?
1 Bonus Entry – Tweet the following about the giveaway (May be done once a day): Chance to #win a holiday pack of labels from @mylovablelabels and @TheAngelForever. Many ways to enter the #giveaway http://bit.ly/exPdRP
1 Bonus Entry – Subscribe to my RSS feed (or let me know if you already are) in a separate comment.
1 Bonus Entry – Leave a comment on any of my non-giveaway posts from the month of November/December. Leave a comment here to let me know which one. This Bonus entry may be done three times per person.
3 Bonus Entries – Add my blog button to your website and leave a link with the location. Be sure to give yourself 3 comments for credit.
5 Bonus Entries – Write a post on your blog linking to my blog about the giveaway. Be sure to leave 5 comments about this to get credit for all of your extra entries.
To enter, please follow the rules above within the comment section. Contest starts today December 2 and ends at 10:59 EST on December 12, 2010. You do not have to be a blogger to enter, but must leave a valid e-mail address for me to contact you for mailing address once the giveaway is over. I will select the winner using random.org and contact you via e-mail. You will have 48 hours to claim the prize. If there is no response, another winner will be selected. Open to U.S. and Canadian residents only.
Disclosure: The review and giveaway were made possible by Loveable Labels. They provided me with the items shown above to facilitate this review. The opinions of this review are mine and I received no other compensation.