it's time to celebrate Chanukah! Why yes, Adam Sandler's song is one of many that we play during the Festival of Lights at our house. For the first night on Wednesday, we put on the Pandora Hanukkah Station to see what new songs were there. I was surprised that a lot of the songs were all in Hebrew – yikes!
After we lit the candles, the boys received a gift. I will spare you with the comments that we received after handing them their presents. Suffice to say the little guy was not pleased with clothing and said it was not a Chanukah gift – oy!
Thursday evening we lit the candles for night two. TechyDad and I did not buy a lot of items for the boys this year. They receive plenty during the year and from family. I wanted to give them something that would keep them busy. So we pulled out a shared gift and some Chanukah coloring books. The little guy cried again – although I think it was over needing a tissue. The big kid was happy to watch the DVD and color in his book.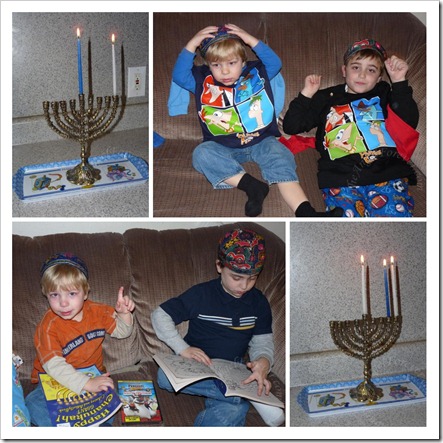 So my question to you this week:
What was your least favorite holiday gift that you ever received and why?
P.S. – Please stop by and check out my guest post on Chopper Shopper Chatter about Creating Chanukah Traditions. Oh and don't forget to enter my two giveaways. #1 for an Aurora stuffed gift (ends 12/5) and the other a gift pack from Loveable Labels (ends 12/12)
_____________________________________________________________________________
Thanks to Kailani at An Island Life for starting this fun for Friday. Please be sure to head over to her blog to say hello and sign the linky there if you are participating.
Aloha #128