Dear NHL and JSL,
Tonight we went to Nana and Papa's house. We decided to have Chanukah dinner there over the weekend so we did not have to worry about school or work the next day. The two of you were so excited because you knew that Mimi and Aunt T were going to be there.
As soon as Mimi and Aunt T arrived, the two of you were busy showing them your Chanukah presents from last night. The photo of the two of you was priceless. Of course, the timing of the gift was rather magical given the news that we received earlier in the day. Yes, we are going to see Mickey and friends thanks to the Disney Social Media Moms Conference.
Dinner was delicious. Nana made pierogies (favorite for both of you), along with latkes, veggies, tilapia, sour cream, and apple sauce. When dinner was over, both of you played. Then it was time to light the candles and exchange some presents. The two of you made out quite well. Toy Story 3 DVD, Bed Bugs game (UGH – Nana was trying to be funny with that one), a new Mario DS game, and Handy Manny game for the iXL.
Once we were finished with dessert, we all went into the living room to watch Shalom Sesame. This DVD was all about Chanukah and being in Israel. When it was over, it was time to head home since you were both exhausted. Here are a few photos from the evening on my new camera.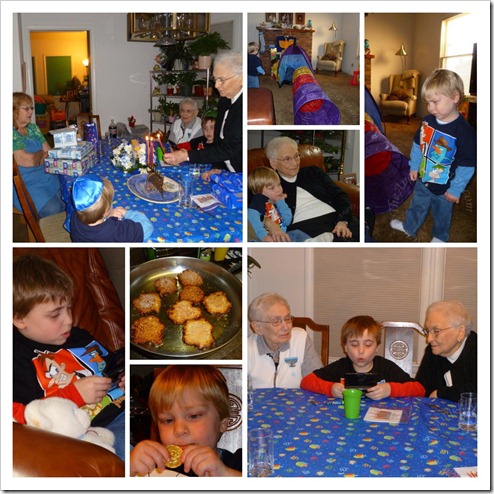 It truly was a fun evening with our extended family (of course I wish more family had been here). I hope the two of you cherish these times as much as I do.
Love,
Mommy
_______________________________________
If you want to participate in Dear Kid Saturday, head on over to Cutest Kid Ever by clicking on the button below.