Dear JSL,
Eight years ago today, you came into the world and completed our family. Watching you grow up has taken my breath away at times. I think some of this is thanks to being able to see so much of myself in you. You get sarcasm and have certainly learned to dish it out in recent months. While most people think that you are so quiet and serious, I know a super silly and spontaneous JSL is hidden inside.
Over the last year, you have grown up so much. Right before you turned seven you set a goal to learn to ride your bike without training wheels. You did this in a matter of days and were ready for a new bike soon after that. You love to ride your bike and were so excited when Daddy pulled out a bike to clean it off and ride with you. The simple things really do make you happy.
Your love for the world of art and being an artist came out a lot over the last year. You beg to do art projects and ask for gifts that are related to crafting. It should be no surprise that when it was time to get your first pair of glasses, they could not be plain. No, you insisted on a blue pair because that is what an artist would wear. We also went to a local museum where your artwork was selected to be on display. You were SO proud of this accomplishment. In addition to this, you became quite the book worm this year. Out of the blue, you learned to love reading chapter books. Solo book reading opened up the world for you and you always have a book with you. Thank goodness you still like to read with me. We are reading the Harry Potter series together and it's fun to watch your reaction to everything taking place.
It should be no surprise that you also focused in on being more of a geek. You love Star Wars, Minecraft, Doctor Who, and superheroes. While you may drive me batty walking around humming the Imperial March, it makes me smile to see you move up from the Indiana Jones tune.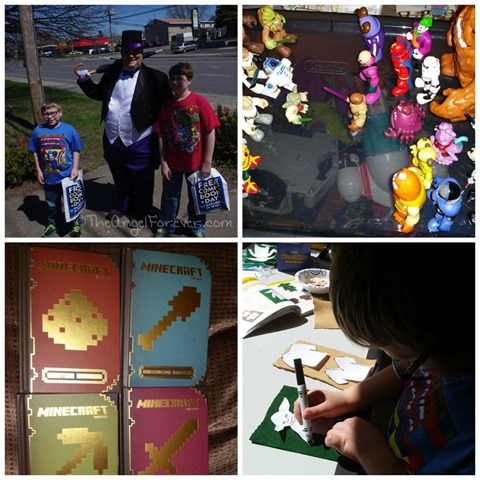 Thank you for sharing these special moments with me JSL. I love you with all of my heart and am so lucky to be your mother. I can't wait to watch you finish up second grade and continue to be excited to learn, write, explore, and create as an eight year old.
Love,
Mom
Past B-day posts to JSL: