Recently, I wrote about telling your child that they will be having surgery. While JSL cried after I told him, he did really the week before his surgery. There seemed to be enough distractions that kept his mind busy. On the morning of his surgery, we had him pick out some toys and a stuffed friend to bring with him. As we checked into the hospital, JSL and his friend George Jr. were given ID bands to wear to the surgical waiting area.
After a short time, they called us to go back to the pre-op area where JSL was weighed and measured for anesthesia. Then the nurse brought him over to the area where he would be staying until it was time to go back for his surgery. I have to say, this was probably the hardest part for him. It was bright, there were a lot of people waiting in many areas, and the reality started to sink in. Suddenly, he had a lot of questions about anything and everything.
The ENT and anesthesiologist also came to visit and talk to us. It was around this time that he started to cry. Something that the anesthesiologist said really bothered him. She was probably the only person that I was not a fan of because her bedside manner with children was clearly non-existent.
Next, JSL was given a hospital gown to put on. The nurse also handed him a pile of stickers for being a brave kiddo when it was time to take his medicine. He was not a fan of the Versed and had a hard time swallowing all of it without something to drink.
There is something magical about the medicine that they give kids before surgery. In a short period of time, JSL did not have a worry in the world. He was playing with his Jedi Force characters one moment and then, he asked to curl up because he was tired.
The timing was beautiful because that is right around the time that the OR nurse and NA came to wheel him away. He did not cry and barely looked up when we told him he was a brave boy and that we loved him.
TechyDad and I then went back to the surgical waiting room. The ENT told us that the three procedures would probably take 30-45 minutes from start to finish. He would come out to see us as soon as he was finished. We each made a few phone calls and let family know that he was in surgery and then we were walking into a room to talk to the doctor.
Everything went very well. One part of the surgery surprised the doctor a little bit, so some stitches were required. He explained restrictions and a few other items to us and said they would call us as soon as JSL woke up so we could see him. About 15-20 minutes later we walked into see JSL half asleep with a popsicle in his hand.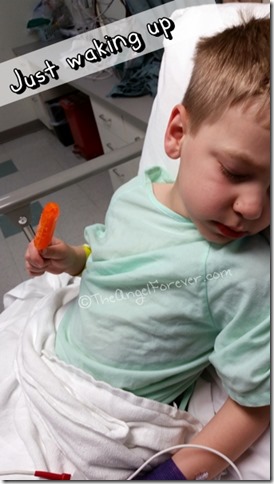 A short time later, JSL was moved into a small room of his own. He would stay here until discharged. The nurse was fantastic and helped us to get water, some more pain medicine (his throat was hurting him from the tubes), and tried to get him to eat a slushy. We tried to use his tablet as a distraction to help while the additional medication started to work.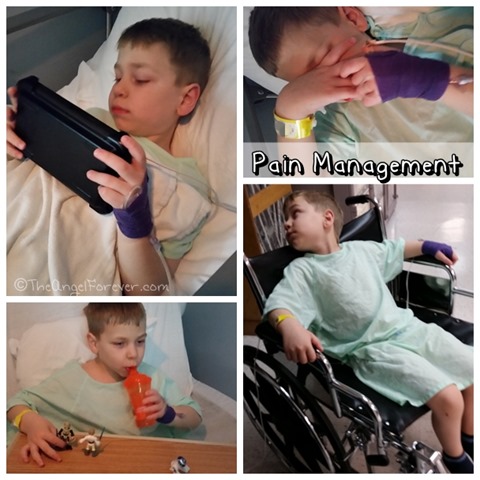 Five hours from the time we arrived, we were heading home with instructions. We knew that the next few days would be a challenge, but I think we were a bit naïve. More about this coming soon.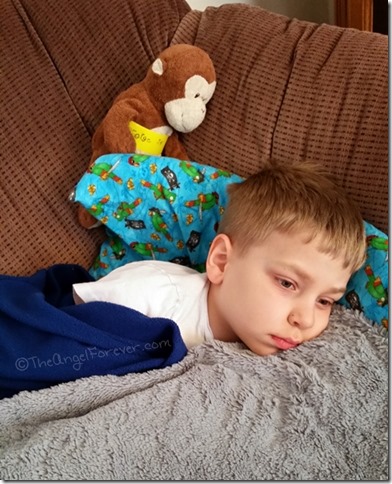 To those who have had children home post-op, how do you keep their spirits up while they desperately want to play outside and do things that are not permitted?