It seems like it was just September. I remember the morning when I brought my baby to kindergarten for the first time. It was something new for us in this school, and I was nervous. Of course, I knew that JSL was ready to read, write, and learn more. Still, having both boys in school for the entire day was a major milestone.
The year has been absolutely amazing for my little guy. He has grown, flourished, learned a lot, and is really coming out of his shell. While he still tells me he is nervous in the morning (I think he wants extra hugs and kissing hand moments), the huge smile on his face at the end of the day tells me he is fine. Oh, and the other thing that tugs at my heart – every day he gives his teacher a hug on the way out the door.
Last week, JSL had his Kindergarten Celebration at school. TechyDad, Nana, Mimi, Aunt S, and I all went to be with him on this special day. The teachers and other support staff in the building did an amazing job. The focus was on the kids and celebrating their accomplishments. Each of the classes performed a song. Then, we watched a slide show of kindergarten memories. I have to admit, I wiped away a few tears. It hit me that my kids are really growing up. My little guy is going into first grade and my big kid has only a year before he heads off to middle school. Once this was over, the classes marched across the stage and back to their classrooms for some refreshments with family and friends.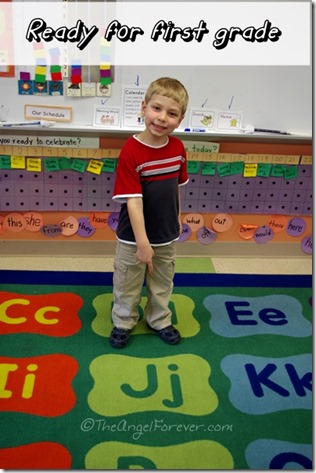 I can honestly say, our kindergarten experience this year was beyond amazing. There was never a moment that I doubted his teachers, worried about my son's well being, or questioned anything that the school could control. The truth is, I am sad to see it end. While I know JSL is ready for first grade, I am not ready to let go of this amazing year that he had because I know in my heart that this was something so special.