Dear JSL,
As much as I begged you not to turn four, you have gone ahead and continued to grow up before my eyes. My baby is not a baby anymore and it is hard to imagine. It seems like you were born just yesterday and looked like this curled up in your Boppy.
Now you are a four year old little boy determined to figure out everything before you. You want to know why, what, how, and everything in between. Of course, you always want to do things on your own. This year you have grown up and done so much. Here is a look at your third year.
To celebrate turning three, we took you to Build a Bear to make your first special friend. You picked out a puppy and HAD to have him be Buzz Lightyear. (May 2010)
June is the month for weddings. Thanks to Cousin R getting married, you went to your first ever wedding. You were quite the party animal and loved dancing until we pulled you away to go to sleep for the night. (June 2010)
On the 4th of July, we took you to see your first movie at the theater. As a huge Buzz Lightyear fan, it was only fitting that Toy Story 3 marked this huge milestone. After all of the excitement you took what would become a very rare nap. (July 2010)
Your first ever nights away from home came in August when Mommy and Daddy both went to NYC for BlogHer. This was when you learned the word swag and met your recent best friend Eggbert – not seen below. (August 2010)
Your first time to school was met with a little bit of fear. Looking back, it is amazing to see how far you have come and how excited you get going to school these days. I will admit that I love my alone time, but I miss you when at school. The house is just too quiet. (September 2010)
Thank goodness you stayed healthy for Halloween this year. You were so happy to bounce like a Tigger and let everyone know you could act the part. (October 2010)
Much to my surprise, you loved getting homework. Whether it was for speech, or a project you really got into it. For Thanksgiving, you made a poster to bring in to share with your friends at school. You were so excited to bring it in all by yourself. (November 2010)
When it was time for your Chanukah party at school, Mimi and I went to watch you sing and dance. Of course, the surprise was on us when you and the rest of the boys stood there during the festivities. There must have been a pact signed by all of you not to do anything. It was still really cute to watch. (December 2010)
There was a LOT of snow in January. We spent a lot of time digging out, but you also liked to play out in the cold. One of your favorite activities was the big brother sleigh ride. (January 2011)
Most of February was spent listening to you ask if we were going to Disney World. You knew that we were heading there for a conference, but you did not understand why we had to wait. I have to admit, I could not get that part either. To pass the time, we wore our Mickey ears and pretended to go to Disney to visit the characters and rides. (February 2011)
When we finally made it to Disney World, you were a different kiddo. You loved heading over to the characters and wanted to try any ride you could go on. So many happy memories from our family time together. (March 2011)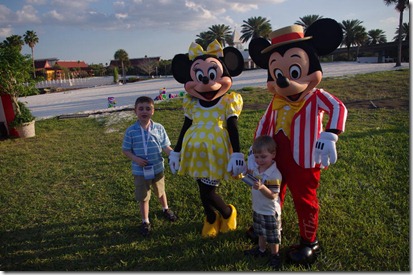 You were home a lot in April, thanks to Passover. We spent a lot of time trying to figure out what you would eat, after a hunger strike. I think your face below shows my feelings for much of the events of the month. (April 2011)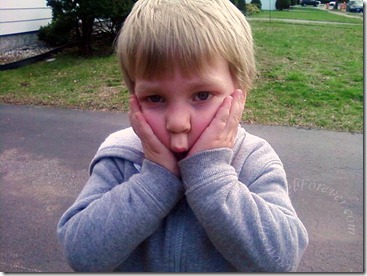 Please excuse me if I cry today. It is just hard to believe that my little Pookaloo is now four years old. I love watching you grow up before my eyes and become a true personality plus.
No matter how old you get, you will always be my baby boy. I love you my Super JSL Buzz Lightyear. Happy 4th birthday sweetie and here is to many more happy and wonderful memories ahead.
Love,
Mommy
Past B-day posts to JSL:
_______________________________________
If you want to participate in Dear Kid Saturday, head on over to Cutest Kid Ever by clicking on the button below.