Confession: I am always forgetting to take our little video camera with us. While I usually have my point and shoot camera with me, the quality of the video is not the best if I need to zoom in from a distance. Thanks to being a member of the Verizon Lifestyle Bloggers, I have the new Nokia Lumia Icon smartphone. While in NYC on Friday, representatives from Nokia came to talk with us about the technology available from this powerhouse. They began by sharing this slide, which really was a powerful statement.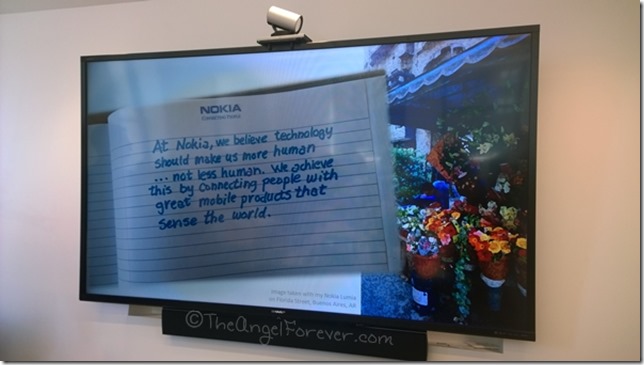 I sat there thinking about those words for a while as we learned more of the Nokia specific technology within this phone. When they were talking about the video camera, I knew that I had just tested it out at my son's band concert. With over 100 children on the stage and countless families moving around in their seats, I wanted to see – at least for a short time – what the video on the Nokia Lumia Icon could do. I knew that it would record in full HD, but would the PureView imaging help me to get closer to the stage during the concert without reducing the quality of the recording? How would the four high-performance microphones and Nokia Rich Recording work together to capture the music rather than the background noise of people sitting in the seats around me?
While my video is not very long, I think it showcases several items in the low light auditorium. Here it is to see what you think.
As you can see, it was a low light venue with a lot of things going on in the background. The audio clearly picks up the instruments on the stage and not my wiggly six year old sitting next to me. In addition to this, the zoom feature works and does not take away from the quality of the video. I now want to test this out in better light to see if it helps a bit and add in my portable tri-pod to help. The Icon has image stabilization built in and it definitely helped with my shaking hand.
So time to fess up. How often have you had to use your smartphone to capture video on the go and did it live up to your expectations to capture those priceless memories?

Disclosure: As a member of the Verizon Lifestyle Bloggers, I receive devices like the Icon to test out and share ways that I use it in my life. My trip to NYC was paid for by Verizon Wireless. I am a long time Verizon customer, and all opinions are my own.