When JSL woke up, the first thing he did was run out of bed to see his big brother. After that, he came into our room to announce that NHL was the first one to wish him a happy birthday. After this, we opened up his new VTech Kidizoom Plus camera and put the batteries in. Then, NHL gave him his present.
We got dressed and went to Nana and Papa's house. Uncle I, Aunt M, and Cousins GG and BA were at their house. JSL was too excited to eat since he was running around the house taking photos of everything.
The kids played with the new pirate toys and watching some Jake and the Neverland Pirates. I have a feeling that JSL's camera is likely filled with photos similar to this one: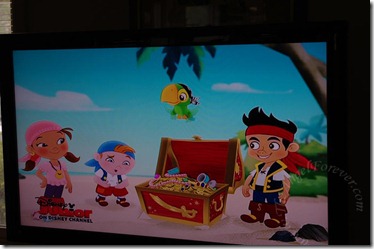 While the kids played, I was busy in the kitchen making pirate cupcakes today. They will be decorated for the party early Sunday morning.
When we asked JSL where he wanted to have his birthday lunch, his answer did not shock me. He wanted to go to Cici's for Mac and Cheese pizza. He was a very happy birthday boy.
Next, we went to Scoops for some ice cream. JSL had a blast taking photos of their cows and running around with Cousin SG. Of course, NHL was proud when he yelled that baby BA was trying to sneak into the cow area.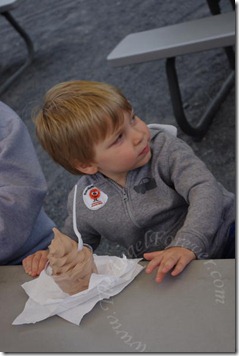 We tried to play at the park. A little running by the pond got in before the rain came to stop the fun. To try to stop JSL from being upset we got him to sing the pirate song. When we got back to Nana and Papa's house he belted out a bunch of the only verse he really knows.
Then, Aunt M and I went to get some items for the party tomorrow. We happened to find a cake that was perfect to have on JSL's actual birthday. We sang him his song and then it was time to blow out the candle.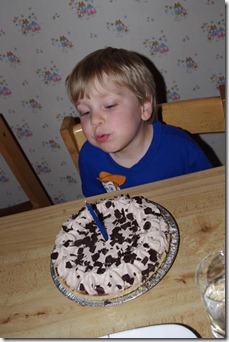 Aunt M, Uncle I, and the kids wanted to give the birthday boy something on his birthday so he could use it at the Pirate Party. Here is JSL right about when he figured out what was inside.
Now check out why he has such a HUGE smile on his face: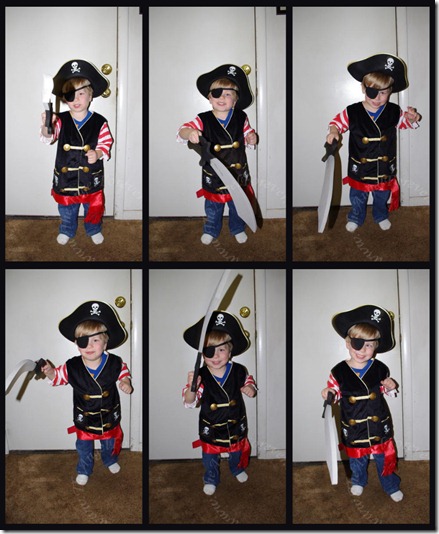 Yes, Pirate JSL was quite thrilled with his new costume by Melissa & Doug. Eventually, we were able to get him to take it off so we could head home. I have a feeling we will be seeing a pirate show at his party at one point or another.
Lots to report from the party and more soon.