As a child, I have strong memories of playing parachute games at school and during girl scouts. The parachute we used was huge. Lots of girls from our troop and others could gather around it to play games, run, jump, sing, and have a great time. Fast forward to this summer when I won a parachute from Let's Play on Selfish Mom. On Saturday, we had a party to share the Unreal Candy (more on that soon) that we had received. Since the weather was beautiful, we packed up the scooters, helmets, parachute, and some other outside toys.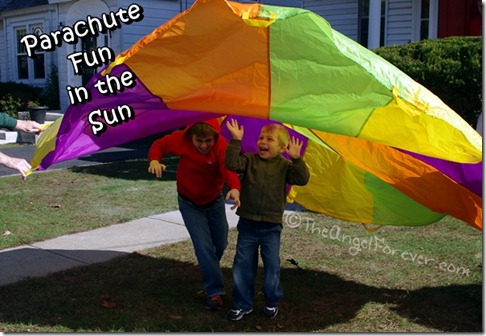 The kids all had a great time playing with the parachute. I actually wish I had taken some time to research some parachute games for them to play before we arrived. Unfortunately, I forgot to do this. Thank goodness, kids have great imaginations. They were able to make things up. Once back home, I looked on Pinterest and found a bunch of games that I remember playing as a child. Kid Activities had a great variety, but Woodlands Junior School had fantastic photos of their suggestions. The kids actually managed to do some variations of two of them, and added a new superhero approach.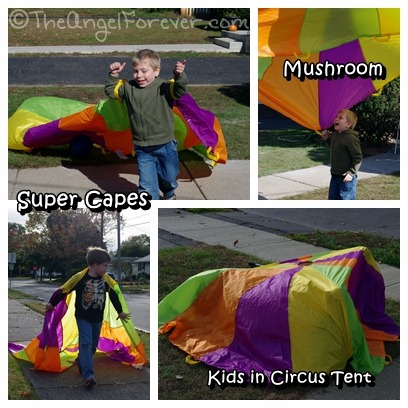 We tried a variation of popcorn, but the balls we had were too big for the parachute. Next time, I will make sure we pull out some bean bags or other smaller items to use. Of course, the parachute was also a great place to sit down and watch the kids as they were running, jumping, and playing together for some fun in the sun while the sun was shining.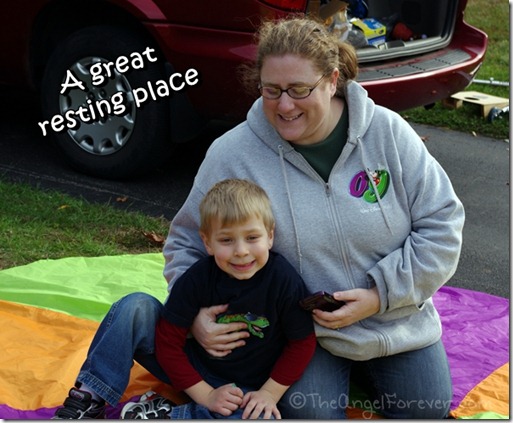 Have you ever played parachute games as a child or with your children? I would love to know what you have done so I can add to my list of possibilities for when the weather cooperates.