They often tell you not to judge a book by its cover. Please toss that suggestion out the window for a minute and think about the possibilities when you check this out: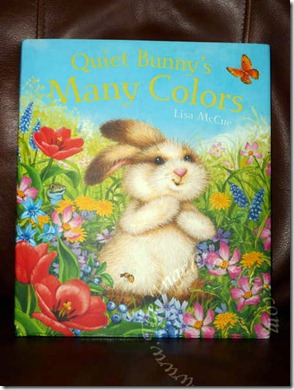 Yes, this bright, color, and cute book by Lisa McCue was recently sent to me from Sterling Children's Books to read and review with my family. It arrived the night before we left for Disney World, so I tucked it away to share once we got home. I noted to TechyDad that the cover made me think about the beautiful gardens that we would soon be seeing at the Epcot Flower and Garden Show.
This week, I plan on sharing Quiet Bunny's Many Colors with my boys. Of course, I could not wait, and had to read it the other day.
More about Quiet Bunny's Many Colors:
From the Press Release:
Quiet Bunny loves the bright colors of spring: the yellow ducks, green frogs, and blue jays-everything but his own brown, wintry white fur. However, each attempt to change the color of his coat results in unintentionally humorous mishaps. Covering himself in yellow honey and dandelions makes the poor bunny sneeze. The thick red mud he coats himself in hardens under the warm sun, and Quiet Bunny can no longer hop. It takes the help of a wise old own for Quiet Bunny to realize that it's the rainbow of colors – including his own – that make the world beautiful
Lisa McCue has illustrated more than 150 children's books, and was chosen to rework the classic Corduroy titles and Margaret Wise Brown's picture books. Her beautifulls detailed art has frequently been selected for exhibition by the Society of Illustrators. She began her professional career illustrating books even before graduating from the University of Massachusetts over twenty years ago. Lisa finds inspiration for her wonderful illustrations in everyday life, whether it's the neighborhood pets or the view from her window which overlooks the Chesapeake Bay, where she enjoys creating charming characters and beautiful natural settings to enliven stories for children. Quiet Bunny's Many Colors is the second book she has both written and illustrated. Lisa currently lives in Annapolis, Maryland, with her husband and two sons.
Quiet Bunny's Many Colors – Written and Illustrated by Lisa McCue – Sterling Children's Books– March 2011 – ISBN 978-1-4027-7209-2 – $14.95 (hardcover) – Ages 4-6
What I Thought:
As soon as you open the pages of Quiet Bunny's Many Colors, you are welcomed into the wonderfully colorful world of Quiet Bunny. The hues on each page tell their own story and help the reader to become a part of the main characters environment. Highlighting a yellow, green, blue, and red on each page will allow children to think about other items in nature or their life that could have been included. Younger children will also like to practice the sounds that are made as Quiet Bunny goes on his quest to become more colorful.
The life lesson told by McCue is huge. Older children will quickly understand the life lesson that Quiet Bunny learns along his way thanks to the wise owl. Accepting yourself, embracing the rainbow of others around you, and seeing the beauty in differences is a huge item for children to understand. This would make a nice addition to a character building curriculum, or lesson on building self esteem and self confidence in middle elementary aged children.
From the minute I looked at the inside of the book, I knew I recognized Lisa McCue's illustrations. She was the brilliant artist behind the illustrations in Tuesday Tales – Little Chimp's Big Day. Then I read about the inspiration of the Quiet Bunny books. Lisa McCue wrote them because of her own struggles with a speech impediment. Her original story Quiet Bunny is about the adorable bunny's search for his own way to stand out in a forest filled with everyone else's sounds. McCue worked with a Speech Language Pathologist to utilize the interactive story to help children with their early development sounds. I know these will be a great addition with my own little guy who receives Speech Therapy.
I would highly recommend this book to others and can not wait to read Quiet Bunny's Many Colors with my children.
What have you read recently? Please be sure to link up to your Book Posts, and/or leave a comment below. Include something you read on your own, with a child or someone else. Tuesday Tales are all about spreading the love for books.
Disclosure: I received this book complimentary of Sterling Children's Books in order to facilitate this review. No other compensation was given. The opinions expressed in the review are my own. One widget within the review is for my Amazon Affiliate where I will receive a percentage of money for the sale of the books should you opt to buy the book mentioned.