Are you a fan of audiobooks? I am a big fan and have written about them many times in the past. Personally, I adore audiobooks because they allow me to multitask while reading a book. In addition to this, I know they are beneficial for many kids that struggle with reading or are reluctant readers. The parent and certified reading teacher in me encourages my own children to explore the world of literature with audiobooks.
While we were at the library recently, something caught NHL's eye. Near the audiobook CD collection, there was a Playaway section. Intrigued, we went over to the librarian to ask about using and taking them out.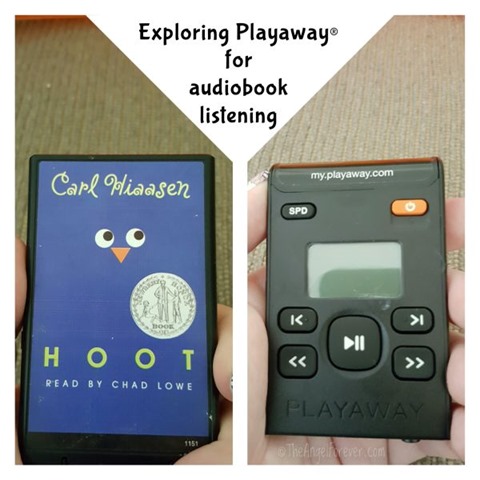 What is Playaway? It is a pre-loaded, all-in-one, compact device with an audiobook.There is no need to use up precious battery life on your smartphone or tablet. Now you can select the book on Playaway that you want to listen to and plug in your own headphones in the universal headphone jack. The pint sized device uses one AAA battery to run. Once your headphones are plugged in, turn on the power button and press play. The device gives you five narration speeds, volume control, and reverse/forward within or by chapter on a backlit LCD screen.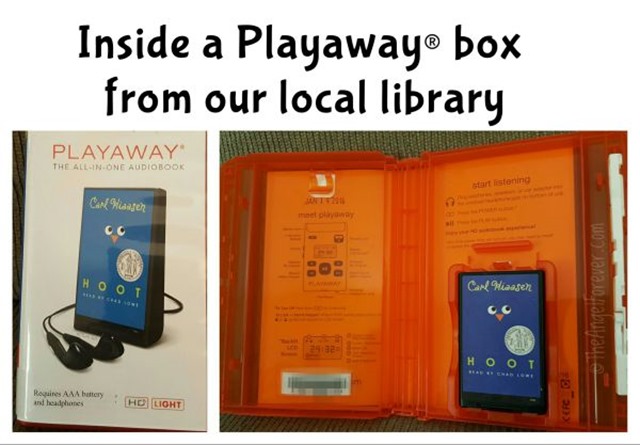 NHL is really enjoying this reading experience. We do not have to download an app, search online for an audiobook that is currently available, or haul a big tablet around. I adore that he's reading different books and expanding his interests. I was jealous of this convenient portable book. I figured it would be great while walking, crocheting, or even to listen in the car. Not only can I read new kiddie literature options, there are plenty of books available for all ages. Many local libraries are now carrying Playaway circulation packs like the one above. Educators will love that you can purchase Playaway book packs that pair the device with a print copy of the book.
Has anyone in your home tried a Playaway all-in-one audiobook? I would love to know about your experience. As always, Tuesday Tales is about sharing our love of books. Please let me know what you have read recently. Be sure to link up to your book posts in the comments below. Include something you read on your own, with a child, or someone else.