Imagine dancing around your Passover Seder and singing the Afikomen Mambo with your children as you search high and low.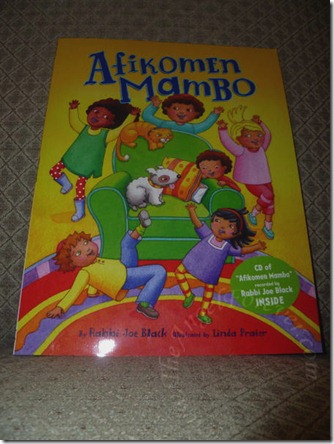 Thanks to Kar-Ben Publishing, I recently received a copy of the book and CD Afikomen Mambo by Rabbi Joe Black. In a few short weeks, we will be celebrating Passover with extended family and look forward to bringing this book along to our seder. I think the boys will have a blast singing and reenacting the scenes from the book.
More about Afikomen Mambo:
You can put it in your pocket
Put it under the TV
But you can't hide the afikomen from me!
Popular children's songster Rabbi Joe Black returns with a catchy rhyme to enliven the afikomen hunt at your seder. Afikomen Mambo, a story-and-song combo for the holiday of Passover, makes a greast "afikomen finding" present and can entertain kids both at the family seder and leading up to the holiday. Includes a CD.
Joe Black is a Congregational Rabbi, a singer, songwriter and guitarist whose music for children is celebrated and sung in Jewish communities throughout the United States, Canada, and Israel. Rabbi Black's recordings have received accolades from The New York Times, Hadassah Magazine, and The American Library Journal. He has shared his music with hundreds of communities. His previous children's book was Boker Tov! He lives in Denver with his wife and two children.
Afikomen Mambo – Written by Rabbi Joe Black– Illustrated by Linda Prater– Kar-Ben Publishing – Spring 2011 – ISBN 978-0-7613-5639-4 – $8.95 (paperback) – Ages 1-4 (PreK)
What I Thought:
Over the years, we have collected a number of Passover books for our kids. Afikomen Mambo is not like any of the others that we have. Rather than tell the story of Passover and guide us through the seder, it focuses the importance of the afikomen. The reality is that if we do not have the afikomen, the seder can not be finished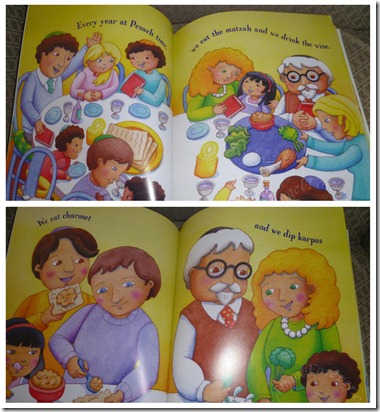 Rabbi Joe Black does a great job for the preschool set. He incorporates just enough key terms from the seder with karpas, charoset, four questions, and other items in a fun rhyming way to keep the beat of the song going. When you listen to the CD, you can imagine a room full of kids dancing around searching for the afikomen during a mock seder. I can not wait to bring this to my son's preschool to let them dance around to while learning about Passover.
If you are looking for a light hearted book about Passover for younger children, this is a great book for you. Rabbi Joe Black's singing and fun mambo beat will keep your family dancing while you search for your afikomen.
What have you read recently? Please be sure to link up to your Book Posts, and/or leave a comment below. Include something you read on your own, with a child or someone else. Tuesday Tales are all about spreading the love for books.
Disclosure: I received this book complimentary of Kar-Ben Publishing in order to facilitate this review. No other compensation was given. The opinions expressed in the review are my own. One widget within the review is for my Amazon Affiliate where I will receive a percentage of money for the sale of the books should you opt to buy the book mentioned.