As a child, I have many memories of going to camp during the summer. I went to a JCC camp, Girl Scout Camp, a local nature/crafting camp, and some others over the years. These days, the options of camps are even more extensive if you know where to look. Summer vacation in our area does not begin until the end of June. I have been so busy with other items, that I have not secured camp for the boys yet. I know; I need to get cracking on that.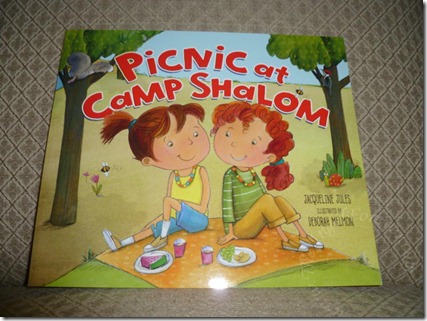 While reading Picnic at Camp Shalom, a new book out from Kar-Ben Publishing, it made me think back on my camp experiences. I remember being in a summer play that was a spoof of The Wizard of Oz with a Purim theme. I dressed up and recall singing "Follow the Hamantaschen Road" with my friends. I need to dig around to find the photos to show my boys as I investigate camps for them.
More about Picnic at Camp Shalom:
When Carly makes fun of Sara's last name at mail call, her bunkmate at Camp Shalom thinks she's just being mean and refuses to be consoled. Little does Sara know that Carly had a reason for her outburst. When their mutual love of music brings harmony to Shabbat dinner as well as to their friendship, Carly finally gets the chance to reveal her secret.
Here is a trailer from the author about the book:
Picnic at Camp Shalom – Written by Jacqueline Jules – Illustrated by Deborah Melmon -  Kar-Ben Publishing – March 2011 – ISBN 978-0-7613-6662-1 – $7.95 (paperback) – Ages 5-9
What I Thought: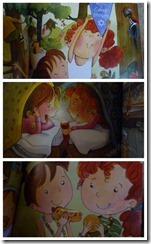 Summer camp is a milestone that most children will eventually participate in. Making new friends and getting to know them is part of the excitement of the experience. Of course, when you do not know someone well, you could easily hurt their feelings. Jacqueline Jules shows us how Carly makes an honest mistake that results in Sara pulling away from her new friend. We watch as Carly learns from her mistake and explains to Sara that she is sorry for upsetting her. The beautiful illustrations from Deborah Melmon take us into the world of Camp Shalom and let us go on the flag hunt and join in Shabbat dinner with the campers. Traditions of summers at camp, being Jewish, and making new friends are strong themes in the book.
As a teacher and parent, I really like another aspect of Picnic at Camp Shalom. Children often act in an impulsive fashion. Without even thinking, they can say words that sting and hurt their friends and others in their lives. This book would be great to use with children to show them why it is so important to stop and think before saying something too quickly. Take time to discuss what happened to Carly as a result of what she said to Sara. How could she have done things differently? What would you do if you were in that situation? Do you think your feeling would be hurt if someone did that to you? As you can see there are a lot of questions you could generate from this. I can not wait to share this book with my almost eight year old son. Lots of lessons to be learned from it.
What have you read recently? Please be sure to link up to your Book Posts, and/or leave a comment below. Include something you read on your own, with a child or someone else. Tuesday Tales are all about spreading the love for books.
Disclosure: I received this book complimentary of Kar-Ben Publishing in order to facilitate this review. No other compensation was given. The opinions expressed in the review are my own. One widget within the review is for my Amazon Affiliate where I will receive a percentage of money for the sale of the books should you opt to buy the book mentioned.