When NHL asked me to make his birthday party an animal, specifically lion, theme I did not cringe – well not right away. First, we went to the craft store, party supply place, and I went to Google to see what was out there. Thanks to a quick search on YouTube, I found a fun video and was all ready.
Let me take you on an adventure as I got ready for my practice run of the lion cupcakes. First, I had some of my items set to start. No comments about mixing Pillsbury and Betty Crocker items please.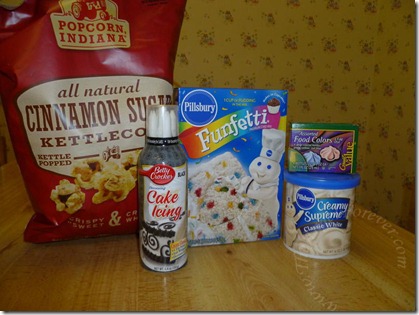 Cake mix – Or, if you want, use a from scratch recipe
Frosting – I had two cans so I could have plenty of the two colors I needed to make
Black icing – Note: This did not work well. Thanks to this, I bought Wilton black sparkle
Food coloring – To make 2 shades of orange for the lion face
Popcorn – We now wonder if popcorn from our Whirly Pop with some salt may have been better to add a salty/sweet contrast
Not seen in the photo:
Pretzel sticks – lion whiskers
Mini chocolate chips – lion eyes
Cheerios – lion ears
Eggs – We did not use eggs because my niece is very allergic to them. I used the item below.
When making the practice batch of cupcakes, JSL wanted to help me out. He had a lot of fun making the "eggs" and mixing everything else together.
Then, the cupcakes were ready to head into the oven.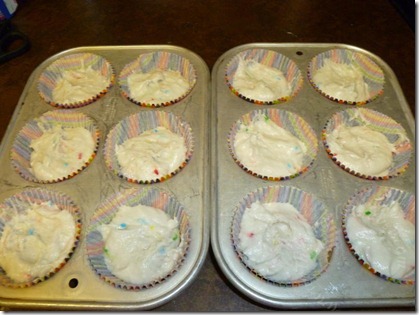 Thanks to the egg replacer, they bake faster and are still a bit "squishy" when they come out of the oven. While I was waiting for the cupcakes to cool, I set up an assembly line of sorts. For some reason, I took the photo before the cheerios were here. Then, my hands were full of icing and I never went back. You get the idea.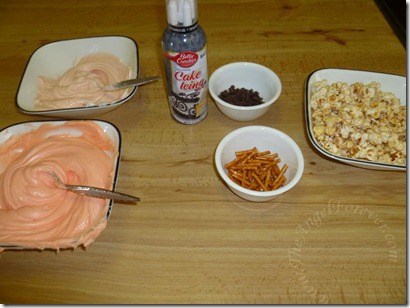 First, you use the darker orange to cover the entire cupcake and then put a smaller light orange circle within that.
Then, JSL helped me to put the popcorn mane around the entire cupcake.
Up next were the Cheerio ears and pretzel whiskers.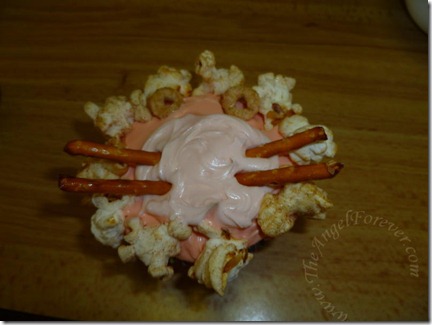 Then, we gently placed the mini-chips for the eyes and drew on the nose and smile.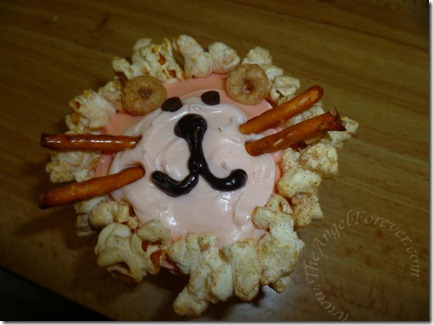 Here are my practice lions. You can see the blobs that happened with the original black icing that I bought.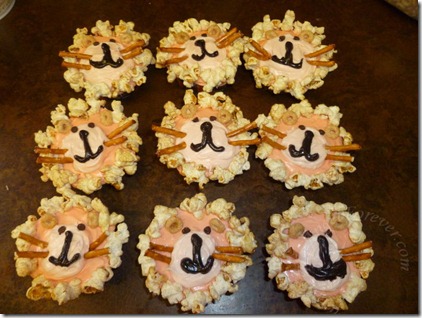 The boys were not upset with the blob faces on the lions. They thought they were quite fun and delicious.
When I made them on Sunday, I tried a few different things to make them a little easier. Although I liked the ease of the Wilton gel, it was runny and the faces did not stay the way I made them. Perhaps if there was room in the refrigerator that would have helped. Still, they came out cute. Here's a view from the party: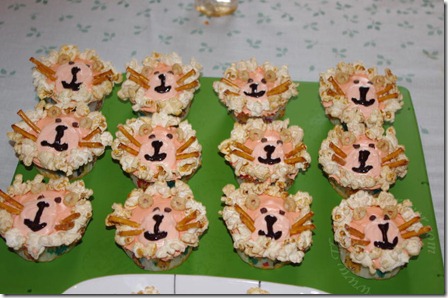 If you are curious about the video I used, or the other animals here it is. The Howdini video: Jungle Animal Cupcakes: Monkey, Lion, Tiger, and Zebra Cupcakes.
So there you have it. Have you ever made cupcakes that were a little different? I would love to hear about it since I am on a cupcake kick!